Description
This event is part of the Abundant Justice & Prophetic Imagination gathering being hosted by St John's Cathedral, and others from 16-18 July 2018.
The full ticket to #AbundantJustice18 includes entry to this special evening event plus 2 others. For more details, full program and bookings please go to www.abundantjustice.com
---
"Pirate Church is what happens when a seminary drop-out and a cynical priest decide to create an evening of comedy about religion. And pirates.

Comedy about religion is pretty common. Just about every comic has their material about the bizarre things that religious freaks get up to.

Pirate Church is a loving satire about the wacky world of religion, and Christianity in particular. The catch is that's it being done by two people who are themselves believers. Admittedly, not very good ones. Pirate Church has appeared at FringeWorld Festival, Beyond Festival and Melbourne International Comedy Festival.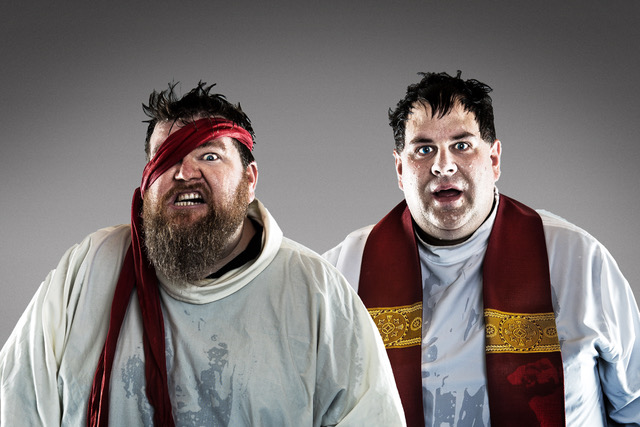 Werzel Montague is 'The King of Perth Comedy'. Like Tony Abbot, Werzel dropped out of training for the priesthood to pursue another calling. Unlike Mr Abbot, he avoids wearing speedos in public.

Chris Bedding is an improvisor, stand-up comedian, activist, musician and expert at sleeping-in. In his spare time, he is Rector of a parish in the Perth Hills.

The pair have teamed up to create a unique piece of entertainment. It's an enigma, wrapped in mystery and hoisted up the mast like the jolly roger.

So what's with the pirates?

Well, it seems that faith has become a game for landlubbers. People who don't understand the terror and glory of The Deep. People who've forgotten a Captain who was wild and untameable and feared no one. Folks who don't search for buried treasure.

Pirate Church is for mischief-makers and free-spirits. It's for those who long to dance a jig at twilight in the salty air. It's for those who love a good fight and a good yarn"
(Above Information from www.piratechurch.com.au)