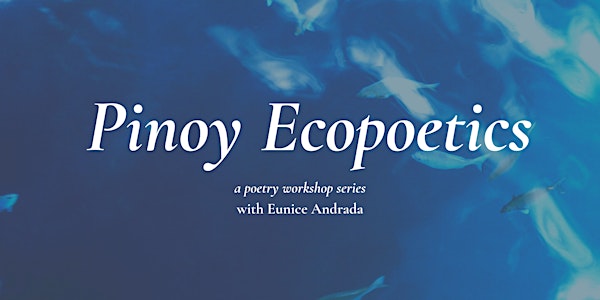 Pinoy Ecopoetics: Poetry Workshop Series
A community learning space for Filipino poets, artists, and thinkers
About this event
Join Eunice Andrada in a series of free workshops exploring Pinoy ecopoetics. Created for Filipino poets, artists, and thinkers, these workshops encourage participants to interrogate the literary terrain of popular ecopoetics, which has long been dominated by colonial, anthropocentric perspectives on land and water.
ABOUT THE WORKSHOPS
Moving away from an ecopoetics centred on Western ideations of anthropocene and apocalypse, participants will explore the vast ecosystem of Pinoy ecopoetics, tracing the entanglements of human and non-human communities, lands, and waters against the dimensions of race, ethnicity, gender, class, and the ongoing violence of imperialism.
Recognising the vastness of Pinoy identities, we will honour the specificity and complexity of island to island imaginations. Together, participants will explore the following questions, and more:
How do Filipino poets write about, for, and towards the environment when we come from one of the countries most vulnerable to the effects of climate change?
How do Filipino understandings of "apocalypse" differ to Western ideations of it? How is this reflected in Pinoy ecopoetics?
How have Filipino poets in diaspora written about settlership and complicity in imperialist violence?
How have Filipino poets built—and continue to build—an ecopoetics centred on resistance?
Attendance in all four workshops is recommended as the sessions are interconnected. In this community learning space, participants will collaborate, write and share in each workshop.
This workshop series is made possible by support from Australia Council for the Arts.
ABOUT THE FACILITATOR
Eunice Andrada is an Ilonggo poet and educator. Her poetry collections include Flood Damages (2018) and TAKE CARE (2021), which can be ordered here. She lives on unceded Gadigal land.