Description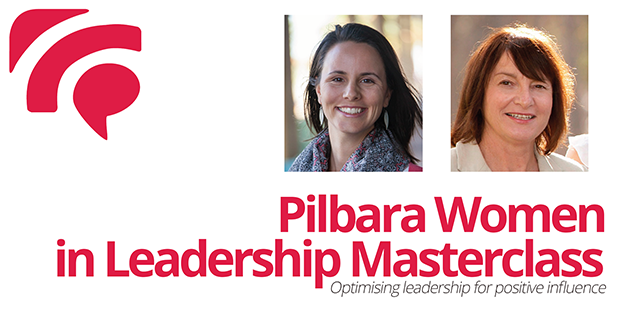 March 3-4, 2016
This enlightening, two day 'Pilbara Women in Leadership Masterclass' is a game changer for aspiring female leaders, and those seeking to take their leadership to the next level.

Designed to develop leaders who are empowered, resilient and engaged, it covers
a range of insightful and interactive content that participants can start putting into practice straight away.
Expert facilitators, Kylah Morrison and Violet Dhu, will give you the tools to fulfil your leadership potential and lead with confidence. Strictly limited to 12 people, this masterclass offers real and lasting value.


Content and key outcomes
Drawing on Violet and Kylah's wealth of experience and knowledge, the masterclass uses a strengths-based approach to help you become self-aware, bring more fun to the workplace and create strategies for success. You will come away with greater confidence in your natural strengths as a leader, and a range of practical tools and strategies to help you achieve high performance.


Key topics include:
Day 1 - Your leadership potential
• Mindfulness for management of workplace stress and anxiety
• Realizing and nurturing your natural leadership strengths
• Developing and using emotional intelligence
• Developing self-confidence and building resilience in leadership
• Authentic Communication when taking the lead
• The power of vulnerability, and the importance of empathy and listening


Day 2 - Your leadership influence
• Developing your leadership philosophy
• Unlocking potential, and inspiring and motivating teams
• Planning for the future: the power of purpose and vision
• How to adopt a 'gameful' approach to leadership
• Expectations of leaders and organisations by Y-generation
• Mastering work-life integration


To register:

The masterclass is strictly limited to 12 people. Register today to book your place or contact us for more information.
Contact Kylah:
0456 110 240 / kylah@zestebiz.com

Contact Violet:
0408 930 993 / violet@violetdhu.com.au