Event Information
Refund policy
Refunds up to 7 days before event
A 4-week term of Mat Pilates: strengthen your core & pelvic floor with mindful movement.
About this event
This 6-week Mat Pilates term has been designed for you to gently and progressively increase mobility, flexibility, strength and endurance by embracing the 6 principles of Pilates;
• Breath
• Concentration
• Centre
• Control
• Precision
• Flow
Each of the exercises and stretches performed in the sessions are done in a mindful, flowing sequence, in sync with the breath, often employing the core as the base of stability.
The result of practicing these movements is improvements in flexibility and mobility, an increase in strength and the release of muscle tension that often forms due to poor posture, repetitive movements, and too much/too little exercise.
Each week you will spend time doing breathwork and connect into the body with body scanning. This will allow your body to recharge and rejuvenate and encourage greater let go of your muscles.
It also facilitates greater body awareness, allowing you to become more conscious of how your body moves so it can be moved in health promoting ways on and off the mat.
15 places only in each class.
Book Monday, Wednesday or Thursday 6 - 7 pm.
Monday - Feb 28th - 4th Apr
Tuesday - Mar 2nd - 6th Apr
Wednesday - Mar 3rd - 7th Apr
Bookings can be made by calling 0418 229 662.
Proof of COVID-19 Vaccination Requirements
Proof of vaccination for attendees aged 16 years and over will be required from Monday 31 January 2022 as per the WA Government requirements.
Attendees to Restful Waters can show proof of vaccination either in a digital or paper-based form, along with acceptable forms of Photo Identification, or the ServiceWA app.
Restful Waters is a gorgeous wellness centre in Bedfordale, fast becoming Perth's largest provider of quality retreats, wellness events and courses. See all upcoming events at bit.ly/rw-events. Call us on 0418 229 662 with any more questions.
To view our privacy policy please follow this link https://www.restfulwaters.org/privacy-policy/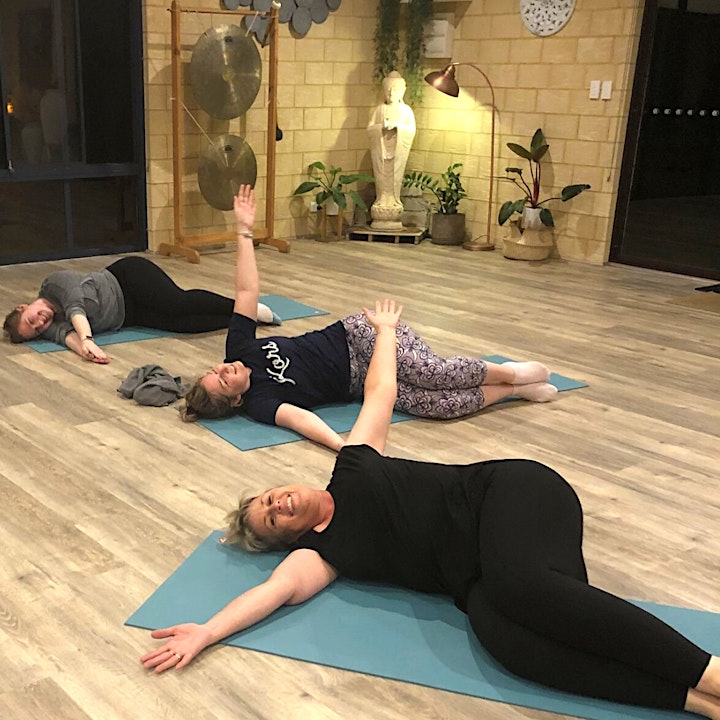 Date and time
Location
Restful Waters: Meditation, Yoga, Counselling
64 Canns Road
Bedfordale, WA 6112
Australia
Refund policy
Refunds up to 7 days before event
Organiser of Pilates 4 Week Term: Monday, Wednesday or Thursday
At Restful Waters you are invited to unwind and let go of life's stresses and tensions! So you can breathe with ease, feel balanced, connected and rejuvenated from the inside out. 

We provide a variety of events each month, all year round. Our events are designed to fit in perfectly with managing a busy lifestyle, giving you the opportunity to slow down, go within, rest and reset your mind and body. 

Our events program specialises in providing yoga, movement, tai chi, meditation and counselling services which creates a deeper awareness and connection to yourself, others and your environment. Enjoy this space to experience calmness, clarity and openness as you explore within and create the life that is aligned with what you value most in life.

Restful Waters events vary from 2 to 4 hour mini-retreats, to a series of sessions, weekend programs and 4 to 6-week courses. We are a not-for-profit organisation dedicated to assisting people to live happier and healthier lives. 

Our event producers are trained professionals whose skills and expertise demonstrate a deep care and respect for your wellbeing. We have developed a beautiful space where people meet, share and create community!

Our centre is nestled amongst an avocado orchard, with lakes to gaze upon and sits on 10 acres of tranquil surrounds. 

Treat yourself to some nourishing time out at Restful Waters (only 45 minutes from Perth City) and enjoy the beautiful Perth Hills with its scenic spots, cafes and attractions along the way. 

We look forward to meeting you soon!