Description




PHILLIP ISLAND RUNNING FESTIVAL - SUNDAY 15th SEPTEMBER
A PARTNERSHIP BETWEEN TRAILSPLUS and PHILLIP ISLAND NATURE PARKS

---
Who hasn't heard of Phillip Island. To Victorians and many internationals it is the home of the Little Penguin. We are also very pleased to call it home of the Phillip Island Running Festival. Established in 2019 the Phillip Island Running Festival is focusing on supporting research, conservation, and education as well as supporting 5 charities. Along with lifestyle, health and fitness and sustainability. We know you will love the courses we have created in conjunction with Phillip Island Nature Parks that cover some amazing trails and beaches with views to take your breath away. We look forward to you joining us on Phillip Island and helping us support the little penguins and make a positive impact on the evironment.
What distance will you choose. 2km-5km-10km-21.1km-42.2km-50km.
ALL RUNNNG EVENTS ARE ON SUNDAY - SATURDAY IS FOR BIB COLLECTION AND OTHER ACTIVITIES
Under our GREEN TICKET BUTTON to the right you have the opportunity to choose one or more of our five charities to donate too, then scroll down and choose your event distance, for groups and family bookings you can choose multiple tickets, then fill out each persons details all in one transaction.
For full event details, please visit the official Phillip Island Running Festival Website HERE or click the image below.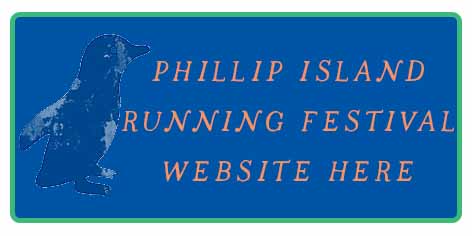 info@phillipislandrunningfestival.com.au
0418 557 052