Event Details
PFAS contamination from AFFFs: toxicity, sampling, remediation and management 
This course can be used towards continuing professional development points (please check with your certification scheme).
Description
This workshop provides an overview of issues relating to sites contaminated with aqueous film-forming foams (AFFFs) used for firefighting. CRC CARE experts will present the latest information on per- and poly-fluorinated alkyl substances (PFAS) found in some AFFFs, with a focus on PFAS fate, toxicity, sampling procedures, available remediation technologies, and risk-based management. Participants will gain practical knowledge on the risk assessment, site investigation and remediation of PFAS-contaminated sites. 
Consideration is given to: 

The chemical properties of PFAS and contamination of sites from firefighting foams

Understanding the toxicity of PFAS contamination, including case studies of PFAS toxicity

The use of sampling procedures for obtaining PFAS-contaminated soil and water samples 

Current approaches to site-specific remediation of PFAS-contaminated sites

The necessity of, and the science that underpins, risk-based management of PFAS-contaminated sites.
The workshop is aimed at contaminated land professionals in consultancy companies, regulatory agencies and related industries. Assumed knowledge includes a general understanding of: risk assessment and remediation practices; sample analysis; and data interpretation as applied to site characterisation and remediation. The workshop will help participants understand the problems and challenges presented by PFAS-contaminated sites and apply knowledge to risk assessment and remediation practices based on up-to-date science.
Schedule
| | |
| --- | --- |
| Time | Topic |
| 9:00 AM | Registration |
| 9:30 AM | Introduction to AFFFs and PFAS contamination in the environment |
| 10:00 AM | Fate of PFAS in the environment |
| 10:30 AM | Morning tea |
| 11:00 AM | PFAS toxicity – state of the current science |
| 11:30 AM | PFAS toxicity – case studies |
| 12:00 PM | Lunch |
| 1:00 PM | Sampling PFAS-contaminated soil and water |
| 1:30 PM | Technologies available for PFAS remediation |
| 2:00 PM | Risk-based management of PFAS-contaminated soils |
| 2:30 PM | Afternoon tea |
| 3:00 PM | Panel discussion with industry leaders (e.g. from business or regulatory agencies) |
| 4:00 PM | Close |
Presenters
Prof Ravi Naidu

Prof Ravi Naidu is the Chief Executive Officer, Managing Director and Chief Scientist of the Cooperative Research Centre for Contamination Assessment and Remediation of the Environment (CRC CARE). He is also the Global Innovation Chair and Founding Director of Global Centre for Environmental Remediation (GCER) at the University of Newcastle. His research expertise focuses on contaminated soil, water and potential impacts of contaminants on human health. He also spcialises in advanced remediation technologies, risk-based management of contamination, and contaminant fate, analysis and bioavailability.
Ravi has extensive experienced in investigating AFFF-contaminated sites, having led several research projects on their remediation. Under his leadership, CRC CARE has developed matCARE™, a proprietary technology for clean-up of AFFF-contaminated soils, which has been used successfully at several sites nationally.
Ravi has more than 30 years' research experience in environmental contamination, bioavailability, risk assessment and remediation. He has authored or co-authored over 500 journal articles and seven patents, and has co-edited 11 books and 66 book chapters in the field of soil and environmental sciences. He has also supervised over 35 PhD completions.

In recognition of his contribution to environmental research, Ravi's recent honours include the 2013 Banksia-Richard Pratt CEO Award, Fellowship of the American Association for the Advancement of Science (2013) and of the Soil Science Society of America's International Soil Science Award (2012).
Prof Megh Mallavarapu

Prof Megh Mallavarapu has more than 30 years' research experience in environmental biotechnology, toxicity and micrology. As an innovative researcher, Megh has a remarkably wide and in-depth knowledge of pollutant-microbe interactions in soil and bioremediation. He is author or co-author of almost 300 refereed journal papers, 18 book chapters and 4 patents, and co-editor of four books.

Megh is also an expert in investigating AFFFs, conducting research into their chemical characterisation and developing new analytical methods. He has also demonstrated the fate and behaviour of AFFFs in terms of their persistence and toxicity in soil and freshwater and marine environments.

Megh's current woirk includes: development of bioremediation technologies for such contaminants as TCE, PCBs, pesticides, petroleum hydrocarbons; ecological risk assessment of both organic and inorganic contaminants with special reference to mixed contamination; and determination of fate and behaviour of organic and inorganic pollutants including their bioavailability and toxicity in the environment.
Dr Yanju Liu


Dr Yanju Liu completed her PhD in environmental remediation at the University of South Australia in 2013. Her research focusses on bioavailability of heavy metals (Pb, Cd) and polycyclic aromatic hydrocarbons in contaminated soils. Yanju is also researching the mechanism for contaminant fate and behaviour in terrestrial environments, including PFAS, pesticides, artificial sweeteners and nanomaterials. She has co-authored more than 20 journal articles and is currently working on the interaction of PFAS with natural soil nanoparticles and major soil components, as well as the interaction of several emerging contaminants with water colloids.
Location
Pan Pacific Perth, 207 Adelaide Terrace, Perth, WA 6000

Cost
$695.00 (ex. GST)
Discount
$100 off for employees of CRC CARE Participant organisations and subscribers to Site Contamination Practitioners Australia.
CRC CARE Participant organisations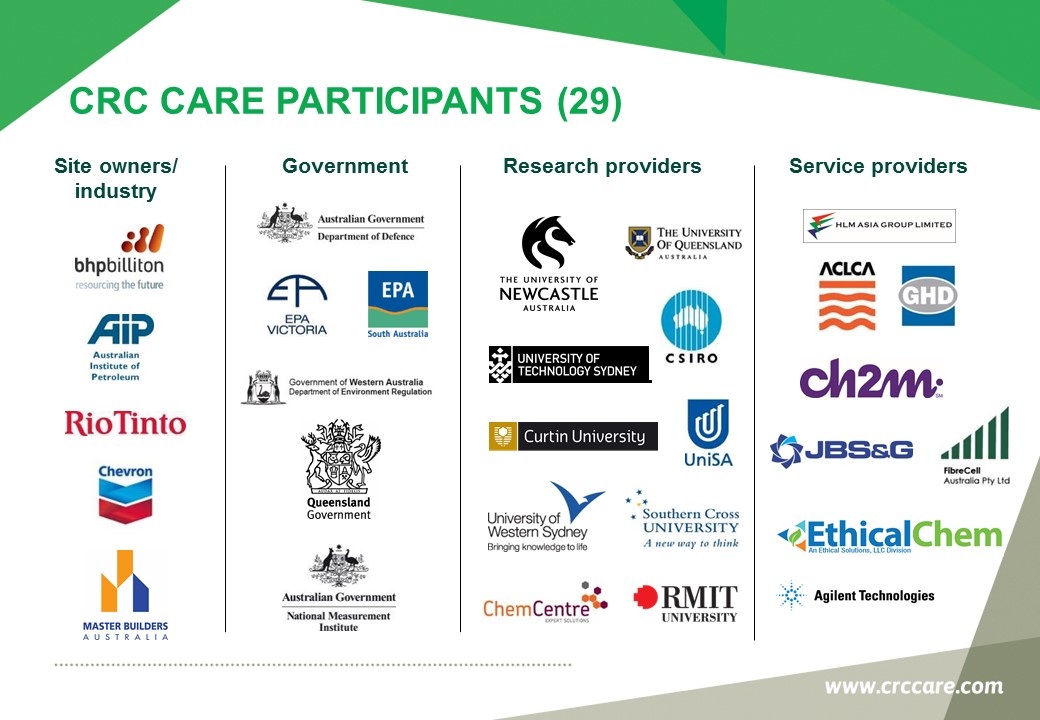 Have questions about PFAS contamination from AFFFs: toxicity, sampling, remediation and management – PERTH?
Contact CRC CARE
When & Where

Pan Pacific Perth
207 Adelaide Terrace
Perth, WA 6000
Australia

Friday, 16 September 2016 from 9:00 am to 4:00 pm (AWST)
Add to my calendar