Join the PFA with a night of laughs, 80s and 90s fashion statements and winners.
About this event
The Redeemer PFA are excited to be putting on a Quiz Night in a year where we haven't had a lot of opportunities to get together as a community.
The Quiz Night will be a chance to get a table together of old friends as well as make some ones while answering some questions about those decades we had our early days in. Leave the kids at home or with their Grandparents and join un.
You can purchase tickets for a table of 10 people if you want to get the gang together or you can purchase individual tickets to come along and meet some new people. You can select the Village/Year Level your kids are in when you select your tickets. This will allow you to meet some of the other parents who are also on their Redeemer school journey.
There will be raffles and door prizes to be contribute to so bring your gold coins on the night to get involved!
Email Kirsten@paisleywines.com.au if you need help booking your table/seats :)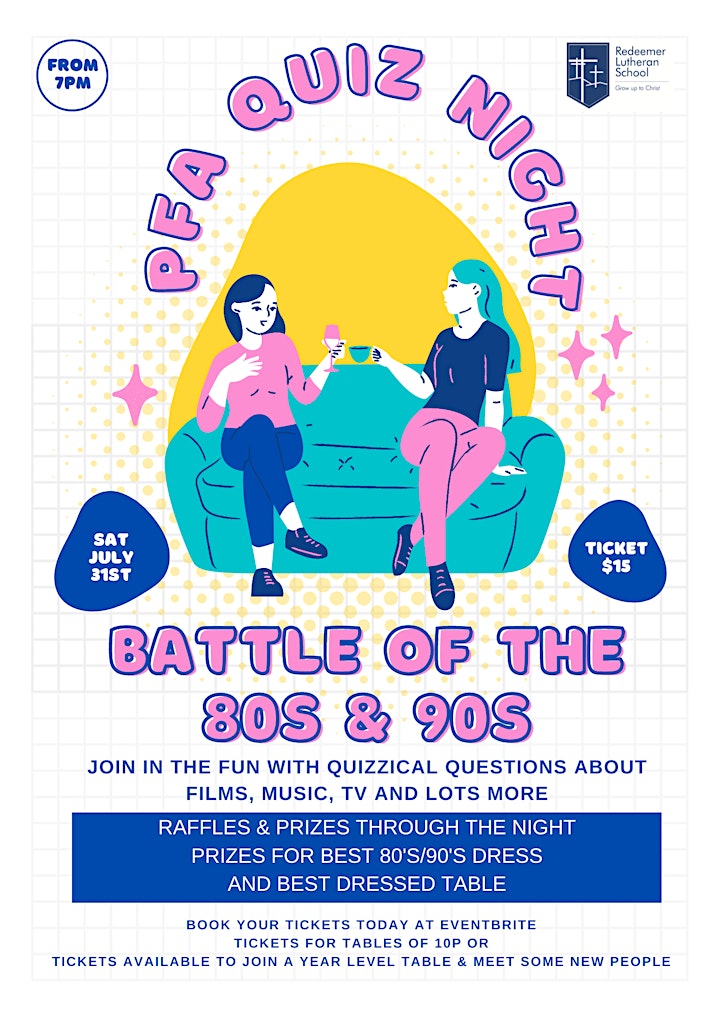 Organiser of PFA Quiz Night - Battle of the 80s & 90s
At Redeemer, we inspire every child to discover, believe and flourish in their world, today and tomorrow.
As an internationally accredited IB World School, Redeemer Lutheran School offers exceptional opportunities for Early Learning and Primary School students in the Barossa Valley and surrounding districts.
Our Parents and Friends Association strongly supports opportunities to provide education for parents, as well as encouraging wellbeing and fellowship in our school community.