PERTH - Sensemaking with Lynne Cazaly

Friday, 22 May 2020 from 9:30 am to 4:30 pm (AWST)
Event Details
The Institute for the Future explained how Sensemaking would be the #1 capability we'd need by 2020. It's how we connect the dots, make sense, understand and gather information in this VUCA world.
If we don't make sense of information, we end up feeling time poor, overloaded with things to do, and unable to clearly express our ideas, thinking and key points.
Bring the power, productivity and performance of sensemaking to your daily work.
Your thinking will improve; your meetings will be more effective; your presentations will be clear and impactful.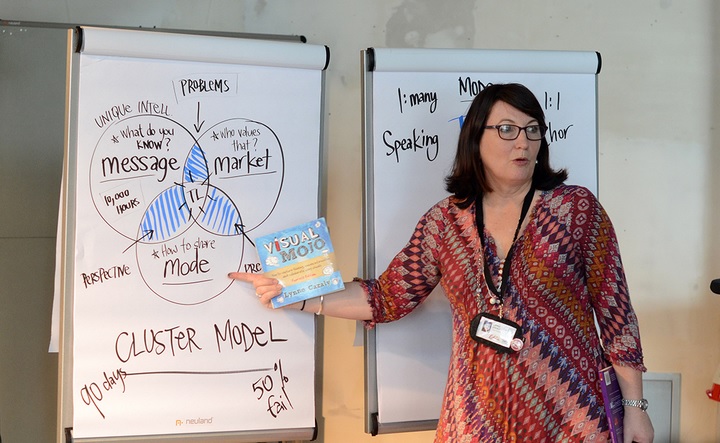 Learn the techniques, maps, templates, models and tools for sensemaking at work with Lynne Cazaly.
WHAT PEOPLE SAY about this workshop...'
Awesome workshop. Nicely developed. All excellent! - Jan Williams - Nomad 8
Lynne, simply superb. You are a great facilitator and model your message so well. Great structure, rich content, learning - Yamini Naidu
Absolutely brilliant! Very useful tools and opportunity to practice. Got more than I expected! - Michelle Feenan, Engagement Plus
Reinforced my ability to communicate by giving me instruction and pointers for language components, opportunity to practice, opportunity to share stories with others – Tim Mansour, AAP
Fantastic course, can't wait to put it into practice. Thanks for a wonderful, well paced, informative workshop. – Paul Hellpell, Woolworths
Working towards building my confidence in helping me facilitate workshops. Inspires me to want to learn, practice further  – Martyn Frank
Totally awesome! Engaged the entire time and learned lots and met some clever people to boot! – Michael Rembach
INCLUDES....
All materials you'll need for the day
Morning tea, lunch and afternoon tea
You'll also receive:
a copy of Lynne Cazaly's 268 page book 'Making Sense
over 100 icons
8 maps and templates to use for sensemaking in meetings, workshops and projects
a copy of Lynne Cazaly's 160 page book 'Visual Mojo'
access to Lynne Cazaly's 9-module online visual thinking program 'Visual Mojo' to give you the confidence to put these powerful skills to work
…. that's an additional $650 in value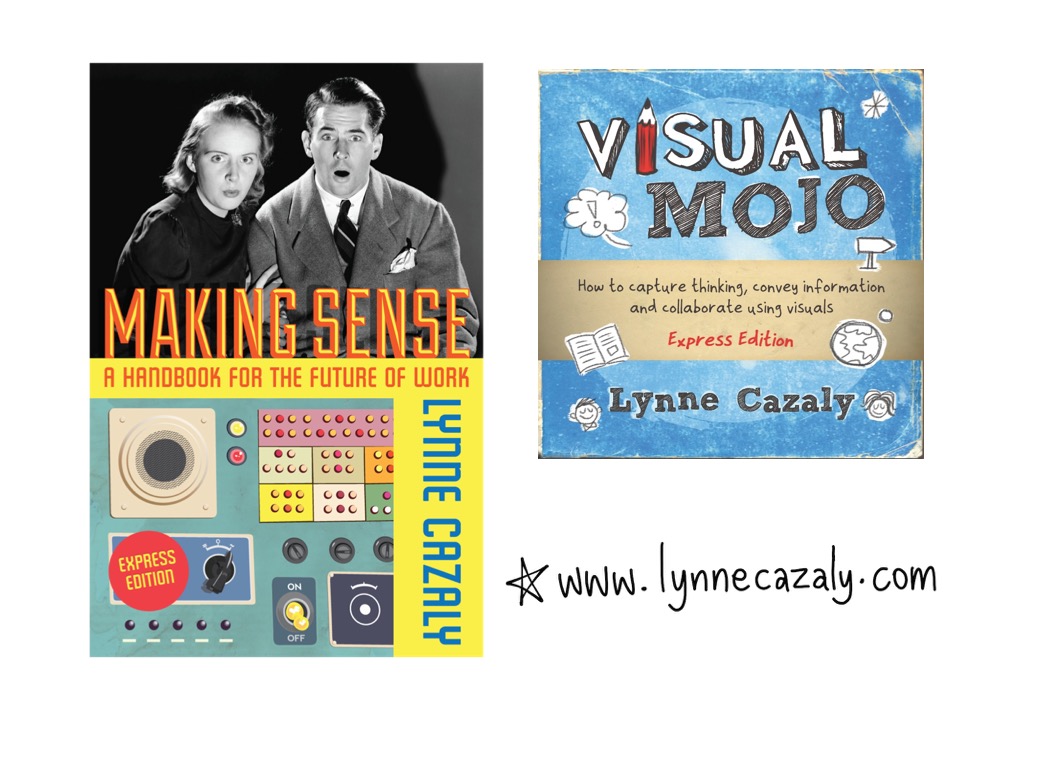 NOTE that Lynne Cazaly is not affiliated with any specific supplier or product range. You'll get independent and experienced thinking, advice, support and training in the program and create and develop your own style, skill and expertise in Sensemaking. You won't be copying a set of standard maps or icons that other people use. This program is about helping you think, sketch, share and sense make. 
Contact Lynne for more details or questions or if you'd like your employer invoiced for the workshop.
This program is also available internally, in-house at your place of work, or as a conference keynote or workshop. Contact Lynne Cazaly for an estimate and proposal and she can run the program at your workplace, for your team. 
e: info@lynnecazaly.com    w: www.lynnecazaly.com
Save This Event
When & Where

Level 24, Allandale Square
77 St Georges Terrace
Perth, Western Australia 6000
Australia

Friday, 22 May 2020 from 9:30 am to 4:30 pm (AWST)
Add to my calendar
Organiser
Lynne Cazaly helps individuals, teams and organisations transition to new ways of thinking and working. 
Lynne is an international keynote speaker, author and a master facilitator. She is the author of 6 books: 
ish: The Problem with our Pursuit for Perfection and the Life-Changing Practice of Good Enough
Agile-ish: How to Create a Culture of Agility
Leader as Facilitator: How to Engage, Inspire and Get Work Done
Making Sense: A Handbook for the Future of Work 
Create Change: How to Apply Innovation in an Era of Uncertainty
Visual Mojo: How to Capture Thinking, Convey Information and Collaborate Using Visuals.       
She works with executives, senior leaders and project teams on their change and transformation projects. This includes working with agile practices, business agility improvements and digital transformations. 
Her background is that of a communication specialist, having lectured in under-graduate and post-graduate programs in several of Australia's Universities and consulting to different industries, sectors and fields on engagement, communication and change. 
She was a keynote speaker at Agile 2019 in Washington, USA and regularly keynotes on topics of agile, change, transformation and culture.
Lynne can also help you think better, make sense of information and handle the realities of information overload with a range of ingenious processes, tools and methods. She is a 'cognitive load coping expert'.
Lynne is an experienced board director and chair and an #avgeek, loving everything aviation, airports and air traffic control. 
See more at www.lynnecazaly.com