Perth Seminar: Free Media Publicity

Tuesday, 22 November 2016 from 8:15 am to 12:15 pm (AEST)
Event Details
 "We will show you how to make your message go viral using journalists, bloggers and influencers. Get FREE media coverage this month and every month, fast track your business growth, reach more people, score instant credibility and increase sales."


 Attend The Live Half Day "Publicity Seminar" in

 
PERTH - 22 NOVEMBER 2016

 And You Will Learn :


WHY THERE ARE JOURNALISTS AND BLOGGERS WAITING TO HEAR FROM YOU TODAY
You don't need to invest countless hours and dollars in the social media 'slow burn' (you know – posting, liking and commenting for hours on end but never converting this to a sale) to get your message out there. Nor must you spend thousands of dollars on advertising or hiring a PR firm to create your media campaign! It's easy to create big media results yourself in just a few hours per month – as long as you know what to do and how to do it. Journalists and bloggers are often desperate for stories – and they love to hear from small business owners and entrepreneurs like you who are passionate about what you do. You can easily learn the right approach to get featured on TV, radio, newspapers, magazines and online for FREE.

INSIDER SECRETS TO GETTING NEWS STORIES ABOUT YOUR BUSINESS ON NATIONAL TV AND IN SOME OF AUSTRALIA'S BIGGEST BLOGS, NEWS SITES, MAGAZINES AND NEWSPAPERS
As journalists and bloggers ourselves we will show you what a journalist really wants and how the media really works. Getting media coverage is not complicated, difficult or expensive. We will show you the proven steps to take to get thousands of dollars in free publicity and how to do it on an ongoing basis.
HOW TO COME UP WITH STORY IDEAS THE MEDIA WILL LOVE SO YOU EASILY GET FEATURED ON TV, BLOGS, DIGITAL NEWS SITES, RADIO, NEWSPAPERS AND MAGAZINES FOR FREE
Do you watch Sunrise, A Current Affair or Sky Business and think 'if only I could get that kind of promotion'? The good news is there is an incredibly easy and proven system of coming up with stories the media will love – and you'll learn the exact process at this event. In fact, as our personal guarantee if you don't walk away with at least 3 news story ideas for your business, we'll refund you the cost of attending the seminar.  

WHAT IS THE RIGHT APPROACH IN THE DIGITAL ERA?
 Do you send a press release, pitch an idea, or write an 'opinion piece'? With the media moving online, now more than ever before you need to know which approach to take and what will give you the biggest and fastest results. You'll learn exactly which approach is best and why.
WHAT YOU NEED IN A PRESS RELEASE THAT HAS A JOURNALIST CALLING YOU BACK WITHIN MINUTES
The headline and the opening line of a press release are critical to the outcome. In this event, we will show you the exact methodology we use to get the attention of a journalist or blogger, and more importantly keep them interested in your story. This approach works with every type of media organisation – in fact we have journalists now thanking US for sharing this information because it's making their lives so much easier!
HOW TO USE THE MEDIA TO INCREASE YOUR GOOGLE RANKING
One of the best things about getting media coverage is that you can use it to improve the search engine rankings of your web site. You'd be surprised how many small business owners and entrepreneurs we've helped get to the home page of Google using this secret technique that virtually no one else is using – this information alone, makes the event worth attending!




Who are Sue Papadoulis, Oryana Angel and Chantelle Toohey – And Why Should You Listen To Them?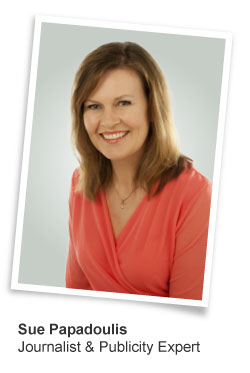 Oryana Angel and Chantelle Toohey are journalists with Publicity for Profit – the disrupter media company founded by me, Sue Papadoulis (you can see my video at the top of this page).


I worked as a journalist and news editor but the negativity of news got to me, and I decided to move into PR (or as I call it, the dark side!). I worked in government, private enterprise and started my own PR agency generating on average $6million a year in free publicity for my clients. But it just wasn't enough… I wanted to do something more.


I launched into the online world with a website for women working from home, Home Biz Chicks and scored national media coverage on A Current Affair. I realised that I could easily and effectively teach entrepreneurs how to do their own PR work and get great results. And so, my seminars and trainings began. I now employ journalists around Australia to spread our teachings that help small businesses get free media exposure. In fact, Publicity for Profit students have appeared on just about every major media organisation you can think of in Australia.


Importantly, we walk our talk - I've used public relations to generate millions of dollars of free publicity for myself. I've been featured on TV, radio, digital news services, and in newspapers and magazines around the country and the world.

And now our journalists are available to teach you how to do the same


As journalists by trade we know :
What a journalist wants and needs from you

How to get their attention. And especially

How to give them exactly what they need so you get a great story.
SCROLL TO THE TOP AND REGISTER NOW - space is limited and seminars do often sell out.
Email info@publicityforprofit.com.au for further information.
Please note: Enrolment is subject to no refunds or cancellations although, if you wish to reschedule seminar attendance to another date within a 12 month period (subject to availability), notice must be received within 7 working days prior to the event. By attending this event you will also receive occasional emails from Sue with tips and ideas on how to grow your business. Opt out at any time if you do not wish to receive this on an ongoing basis.
When & Where

Bentley Technology Park & Function Centre
2 Brodie Hall Drive, Bentley
Perth, 6102
Australia

Tuesday, 22 November 2016 from 8:15 am to 12:15 pm (AEST)
Add to my calendar
Organiser
Sue Papadoulis 

Journalist and Publicity Expert Sue Papadoulis founded Publicity for Profit 6 years ago and believes all businesses have a story that's interesting to the media - and her proven formula teaches any business anywhere, how to generate thousands of dollars worth of free publicity.
"You just won't learn our secret information anywhere else," says Sue.
Sue and the team of journalists at Publicity for Profit show you step by step how to increase sales by scoring free media coverage on TV, radio, newspapers, magazines and online.
Sue's no nonsense approach gives you all the information you need to create a winning publicity campaign without having to hire an expensive PR firm.
They show small businesses how to connect with the media generate free publicity - beating expensive PR firms at their own game!