Perth Public Speaking Training One Day Workshop
About this Event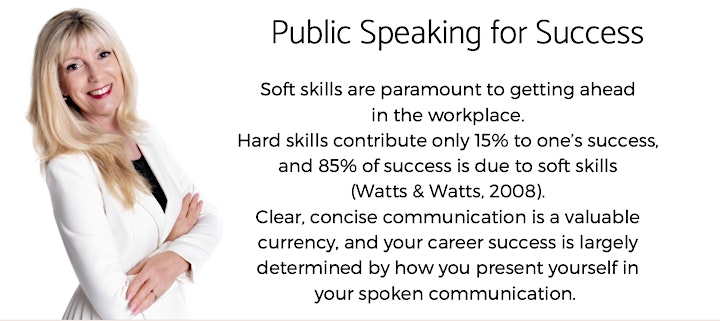 Perth Public Speaking Training.
Learn powerful Public Speaking Skills so that you will stand out from the crowd.
Public Speaking Training |  Presentation Skills | Business Storytelling Training.
Price $599  + GST
With high-level presentation skills and business storytelling ability, you will have the tools you need to persuade with power so that you can create the change you want to see.
Public Speaking Perth workshop
Wednesday 19 Aug 2020
Stirling Business Centre
Just off the freeway at Erindale Road, Balcatta
9:00 am to 4:30 pm
▻ Healthy Lunch and Refreshments Provided
▻ Free Parking
Interactive small group workshop
Here are some of the takeaways:
Learn to create a compelling speech using a takeaway template.

Enhance your message with nonverbal communication and executive presence.

Discover the secret to business storytelling to leave a lasting impression.

Develop delivery techniques that allow you to connect and influence and use your body to communicate authentically.

Get instant feedback from a Certified World Class Speaking and Storytelling Coach so that you know where to improve.
Find out about upcoming workshops here
Contact me to find out about in-house Public Speaking Training
Lisa Evans, MBA is the CEO of Speaking Savvy. She is one of less than 150 Certified Speaking Professionals in Australia. She is a Certified Public Speaking and Storytelling Coach, Accredited Business Coach (ICF), Author, TEDx Speaker Coach, NLP Coach, Graphic Recorder, Host and Curator of Stories From The Heart, and Improvisation Actor and Marketing Director at Perth Playback Theatre, Radio Show Host 897 fm.