Perth Philosophy Circle presents: FROM LIBERALISM TO NEOLIBERLAISM A 3 part, monthly, public lecture series.
About this event
LECTURE THREE: Neoliberalism as an Intellectual Project
Presented by Associate Professor Lubica Ucnik
Drawing on themes outlined in two previous lectures: the idea of reason, liberty and property, state vs society, liberalism vs democracy, I will discuss Neoliberalism as an intellectual project.
SERIES DESCRIPTION:
The COVID-19 coronavirus has forced many Western Governments to rethink their ideological commitment to private markets using the economic calculus as the only solution to human problems. The pandemic year of 2020 exposed the problematic nature of private corporations driven by profit as primary suppliers of public health provisions. Fiscal policies were introduced to support private industries as well as help the States' citizens to withstand the worst consequences of closed economies, thereby, supposedly, increasing the role of the state in market economies. This shift in pecuniary 'solutions' has thus led some commentators to proclaim the end of 'the small state', which is the mantra of neoliberalism. As a result, various announcements regarding the death of neoliberalism now abound.
In these three lectures, I will suggest that the obituary for neoliberalism's death is not only highly exaggerated but dangerously premature. To explain my reasoning, I will trace the various historical trajectories of neoliberalism.
In this series of lectures, we hope to open up a space of dialogue in order to engage with ways of thinking about belonging, identity and difference, and throughout we will discuss the possibility of seeing our shared future differently.
Each lecture will last roughly 45 minutes to 1 hour and will be followed by questions and conversation.
We invite you to join us for a night of ideas, discussion and drinks as we ask what it means to be human in our contemporary world.
No knowledge of philosophy is required; everyone is welcome to attend.
All refreshments and food are available for purchase from Clancy's Fish Pub, Fremantle.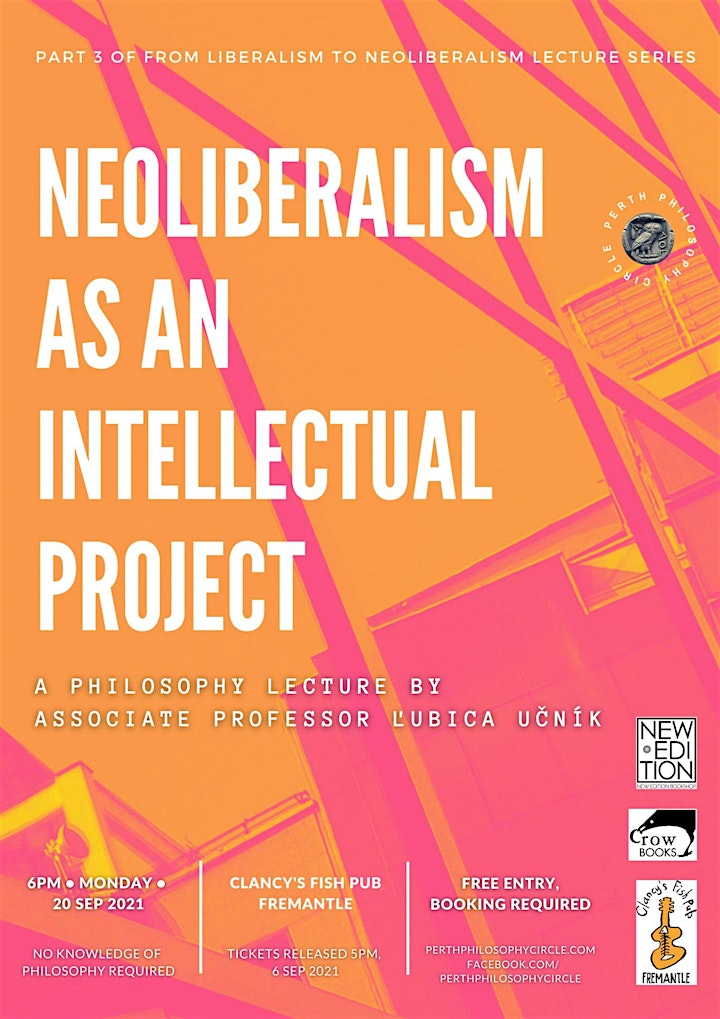 Organiser of Perth Philosophy: From Liberalism to Neoliberalism - Part 3