Sales Have Ended
Registrations are closed
Online ticket sales for this event has ended. Door sales are available the night of the event for the cost of $25, until sold out.
Sales Have Ended
Registrations are closed
Online ticket sales for this event has ended. Door sales are available the night of the event for the cost of $25, until sold out.
Description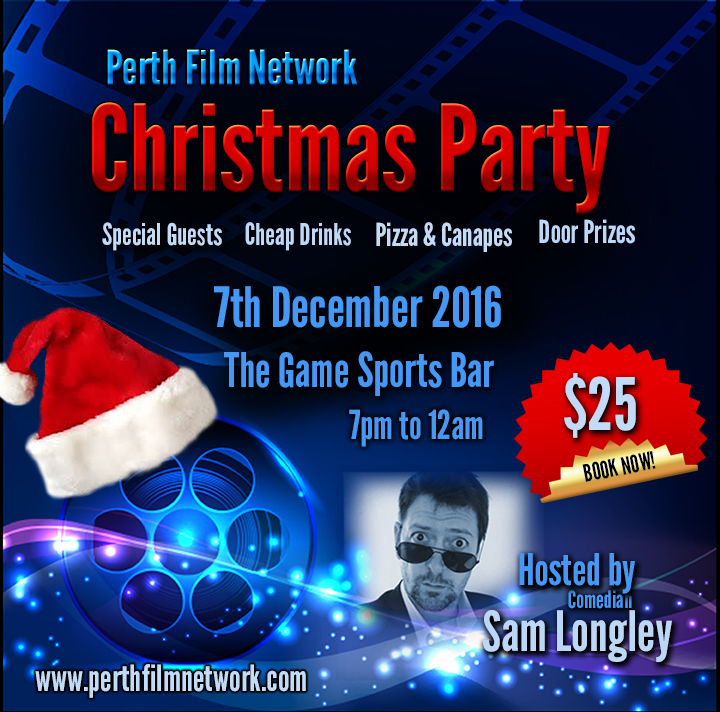 REGISTER AND PAY ONLINE FOR EXPRESS ENTRY AND BONUS DOOR PRIZE ENTRY, AS WELL AS GO INTO THE DRAW FOR AN OZ EATING VIP CARD WITH A VALUE OVER $300.00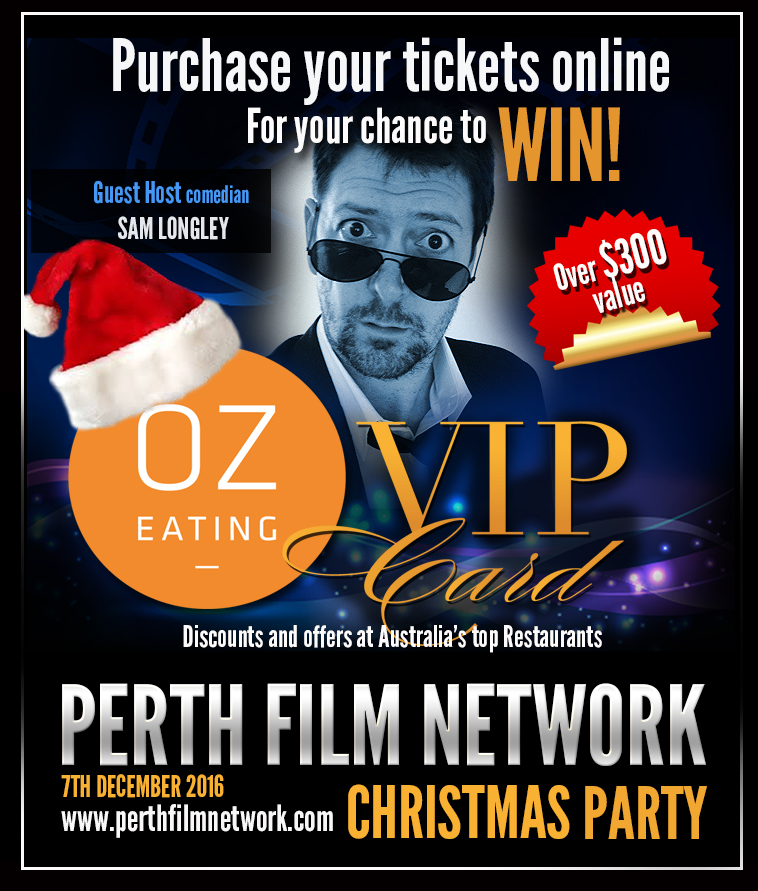 LET'S CELEBRATE THE FILM ACHIEVEMENTS OF 2016... OR JUST HAVE SOME FUN!

It's the end of the 2016, it's Christmas, it's been a huge year in film and for our local talent, so I guess it's that time to catch up with friends and collegues you haven't seen all year. It's time for A PARTY! Don't worry it's still a networking function, so you will be able to hear yourself think and talk... But we will be having a little entertainment to keep the night moving along and chatting to a few guests during the draw of our AWESOME door prizes. So come on down for a fun night and enjoy some pizza and discounted drinks.!

Open to everyone who is in, services, or is interested in, the Film Industry, from film enthusiasts and students to seasoned professionals from Perth and also guests from the Eastern states and overseas. So come along and meet other film people and actors, make connections, socialise and form collaborations, it's the best time of the year to get people togetehr. A laid back, safe and relaxed social environment to meet for you to network... Although we may sneak some dancing in!

GUEST HOST - COMEDIAN, SAM LONGLEY

Our Christmas Networking Functions are always fun and this year will be no exception with actor/comedian, Sam Longley hosting the evening and an exciting line up of guests. It will be our party intermission of laughs with our multi talented host as he will host our "Name that Movie Theme' with our special guest.. Yeah, nah, certainly anything but serious.

Sam is an Actor, Comedian, Writer and Director. His speciality is improv comedy and it's what he is best known for,especially his show The Big Hoo-Haa, as well as being one hell of a nice guy.

Sam's film credits include Where the Wild Things are, Jasper Jones and Three Summers. Jasper Jones and Three Summers can be seen at cinemas in 2017.

When Sam is not out doing a show, promotion, or teaching, he is entertaining listeners, along with Janelle Koenig, on the MIX 94.5 radio show 'The Jam with Janelle & Sam', which airs Saturday mornings between 7am and 10am.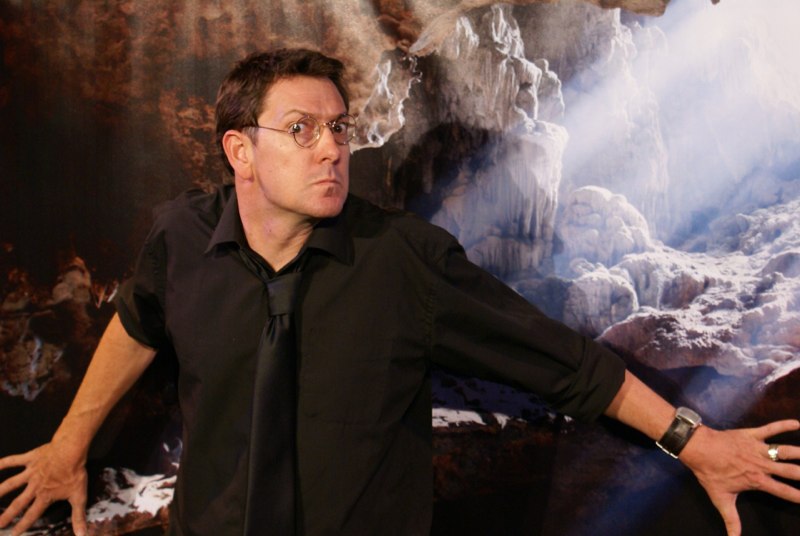 Comedian/Actor, Sam Longley.

MEET OUR SPECIAL GUESTS

We have a number of special guest at this function, depending on shooting/appearance schedules, and maybe even a skype crossover to someone in the US.... Our past specials guests have included Shannon Berry from the US TV series "Hunters" and also Offspring and also Dacre Montgomery from the new Power Rangers Movie, who will also appear in the second season of Stranger Things.

We will be celebrating film themes this function and a fun "Guess the Movie Theme" panel with Perth's film professionals and celebrities battling it out on behalf of the audience for our awesome selection of door prizes and with Sam Longley hosting... it will be anything but serious! So come along and meet other film people and actors, make connections, socialise and form collaborations. A laid back, safe and relaxed social environment to meet for you to network and with big screens showcasing the magic of film and Perth achievements.

Guest will be on stage and door prizes drawn from 8pm.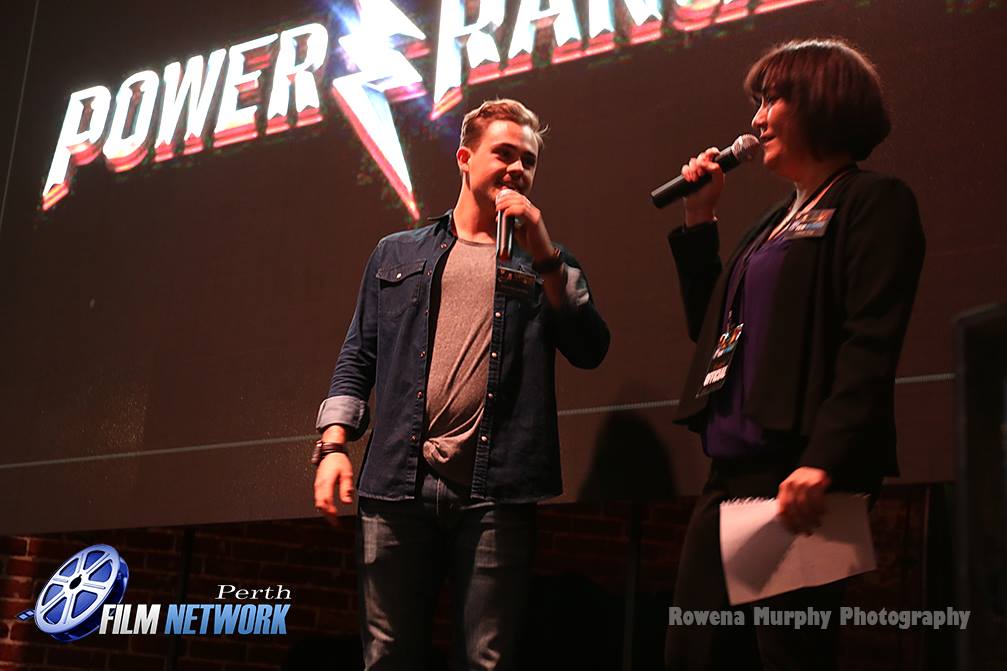 Perth Actor, Dacre Montgomery (Power Rangers/Stranger Things) and Debbie Thoy at the August Function.

CELEBRATING THE MUSIC OF THE MIGHTY SOUNDTRACK!
There is nothing that inspires more than a brilliant film soundtrack and we will be celebrating some of the best of Movie Themes and songs at this function from the 70's to today on the big screen.

GET YOUR TICKETS EARLY!
You can buy your tickets online through this site where you pay $25 and you get express entry to the event, printed name tag and two entries into the door prize.
Tickets will also be available at the door. We are no longer reserving door sales online.

Don't be afraid to come alone. Everyone is there to network and open to meeting new people and the Christmas Party is always a fun night. If you are not sure, you can let us know at the door that you are alone and we will help you get started.

The venue is a licenced alcohol venue and you must be over 18 to gain entry. Children/teenagers over the age of 13 may attend the function as long as they are accompanied by a responsible adult. Children may attend younger as long as they are confident around adults, we don't want children overwhelmed or have it be a negative experience. We leave it to the parents discretion.

All children must be accompanied by a parent or mature family member (Over 21 please).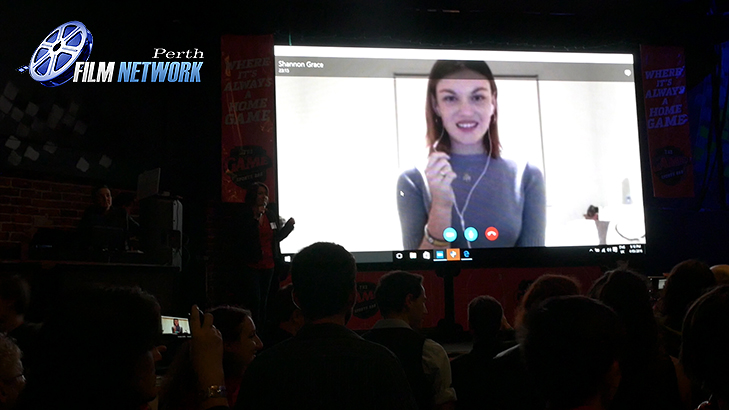 WA Actor, Shannon Berry, chats about her role on Hunters, live from Melbourne, at the May function. Shannon is currently a main cast member on Offspring.

WHAT TO BRING?
There is a networking table at the event where business cards, flyers etc are placed. This is open to all individuals, agents and film production companies to put their information. So bring along your business cards, headshots, promotional material you want to use to promote yourself and are happy for people to take.
Businesses selling a product or service... Such as acting classes, equipment rental, website design, etc, can contact The Perth Film Network to purchase a business table or screentime for advertising.

We recommend that everyone have business cards.
BUSINESS ADVERTISING ON THE BIG SCREEN.
There is a big screen and many other screens throughout the event venue. You can hire a screen for yourself or put it in our compilation on the night for our advertising on the major screen.

Contact Debbie at debbiethoy@outlook.com to discuss.

DRESS CODE?
The Perth Film Networking events are smart casual. But it is a party!

CAN CHILDREN ATTEND?
The networking venue is licenced for alcohol. Child actors and filmmakers are welcome to come along to network also, as long as they are accompanied by a responsible guardian over the age of 21. We allow ONE parent to accompany the child at a discount price (who is not also there to network and there purely as a guardian).

CAN I JUST TURN UP AND PAY AT THE DOOR?
You can do that, it's a fee of $25 if you pay cash at the door. We cannot guarantee entry, so be sure to be early and have the correct money to ensure speedy entry. Pay online to avoid the lines and get express entry.

COST?
Register online $25.00 (If you pay online there is express and guaranteed entry to the event, printed name tag and 2 entries into the door prizes) Registration & Online ticket sales end on 6th of December at 7pm.
Parent/Guardian (only one ticket per child) - $15.00
Door Sales - $25.00
All door sales are cash only, please endeavour to have the correct change.

NO REFUNDS.
All ticket sales are final and there will be no refunds. Tickets, however, are transferable to another person.

FOOD?
There will be light finger food and Pizza served. If you are after something more substantial, you can order Varsity Burgers from within the function.

PARKING AND TRANSPORT
Free Street Parking available after 6pm.
Wilson Car Park on Zemplias Road
City of Perth Car Park on Aberdeen Street
Walking distance to Perth Train and Bus Stations.

Please don't drink and drive....

SAFE ZONE
The Perth Film Networking Function is a safe zone. No bullying behaviour will be tolerated. Please report any problems you see to the front desk.

PLEASE NOTE:
Photographs will be taken on the night of the Function. All photos will be placed on our website, facebook page and may be used in promotion. On purchase of the ticket, you give us permission to photograph you. If you do not wish to have your photo taken, please advise the photographer that you do not want your photo taken and to delete any photos of you. No professional photography is to be taken on the night. Private photos are permitted. If you would like to take photos for media or otherwise, please contact Debbie on 0417 508 114 for a media pass.

Perth Film Network staff and The Game Sport Bar have the right to refuse entry or remove patrons from the premises. Please be respectful to others.

PLEASE BRING YOUR TICKET
You can show your ticket via your smart device or print it out. You need a ticket to enter for express entry.