Perth Chinese New Year Fair Photo Meetup
About this Event
Event Description
The Perth Chinese New Year Fair will fill the streets of Northbridge on Sunday February 2nd to celebrate the Year of the Rat.
Get immersed in the Chinese culture by coming along to a friendly photowalk with Carlos, featuring a dragon dance performance, traditional Chinese songs, fantastic food and drinks, martial arts, cultural activities and much more.
Date & Time
Sunday 2nd February
Check-in 11:30 am
Start time 12:00 pm
Finish time 3:30 pm
Please make sure you arrive with plenty of time to find parking, check-in, get your camera gear ready and meet and greet the other attendees.
Due to the nature of the event, there will be a lot of foot traffic and some roads might be blocked off so please plan your journey accordingly.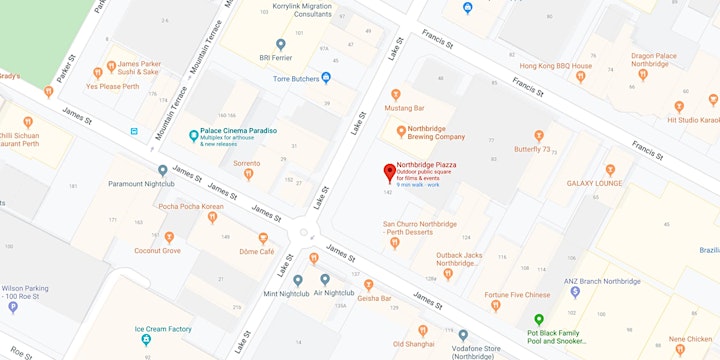 Ticket Info & Pricing
$16.91 General Admission
Min ticket order 1
Max ticket order 10
Ticket pricing includes admin and Eventbrite service and tax fee
Food & Drinks
For this photo meetup we will be meeting at Old Shanghai for lunch at 1:30pm sharp.
The address is 123 James St, Northbridge WA 6003
Please feel free to buy lunch at Old Shanghai but if you are tempted by the many food vendors that would be around on the day.
Just make sure to allow enough time to line up and get your food and it would be advisable to bring cash just incase some food vendors don't have EFTPOS facilities or have a minimum spend.
If you have any dietary requirements such as vegetarian, vegan, dairy free, gluten free, nut allergies or shellfish allergies you must let the kitchen/food stall staff know when placing your order so they can cater to your specific needs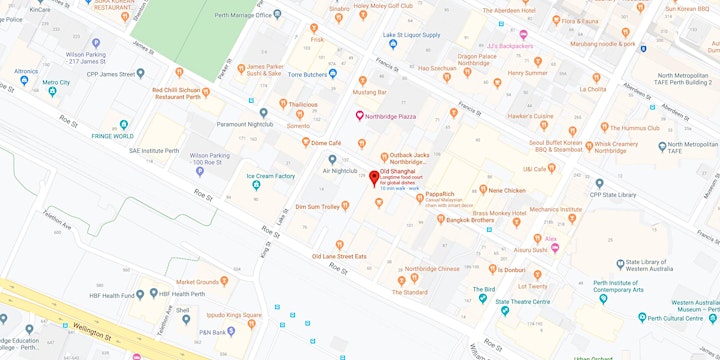 Camera Gear to Bring
• DSLR/Film camera
• Memory cards/Film
• Spare batteries
• UV filter
• CPL filter (Circular Polarizing)
• ND filter (Neutral Density)
• Tripod
• Remote shutter release/Wireless Remote App
• Camera bag (Backpack/Shoulder Bag/Sling Bag)
Personal Gear to Bring
• Sunglasses
• Hat
• Sunscreen
• Wind/Rain jacket
• Water bottle
• Light snacks
• Comfortable walking/Hiking shoes
• Photo ID
• Cash/Credit card
Please note both camera and personal gear are only a suggestion, please feel free to bring whatever you think will be suitable for you on the day.
FAQ
What are my public transport options for getting there?
If you are using public transport please head over to the Transperth Plan Your Journey website www.transperth.wa.gov.au to check out the best way to get there from your area.
Please note that for some photo meetup locations public transport is not available, so you will need to arrange an alternative transport method.
Where is the best place to park?
There is plenty of paid parking at The State Library carpark as well as the surrounding areas.
For future photo meetups, you should download the following three car parking Apps Easy Park, Cellopark, Epark and PayStay as most carparks across Perth are supporting these apps and they make it extremely convenient to pay for parking on the day.
For more info on the Apps see below:
Easy Park head over to the www.easypark.com.au
Cellopark head over to www.cellopark.com.au
Epark head over to www.epark.com.au
PayStay head over to www.paystay.com.au
What type of fees do you charge?
Admin Fee - A $15 admin fee applies to all the events this fee helps cover the time spent in planning and organising the photo meetups
Venue or Service Fee - For some photo meetups there might be a venue/service fee required in order to attend a venue or book a service that is required for the photo meetup to go ahead
Booking & Tax Fee - This is a fee that Eventbrite charges for using their services based on the final ticket pricing which takes into account both the admin and venue fee
What's the refund policy?
Last minute cancellations or no shows have a negative impact on the photo meetups and affect the organiser, attendees, partners and venues that are involved.
So we have a strict NO REFUND policy. If you can't make it for whatever reason, it will be your responsibility to pass on your ticket to a friend or family member that can take your place.
Is there any ID or minimum age requirements?
It is necessary that you have at least one photo ID and one secondary form of ID with you at all times such as:
• Student ID Card
• Concession Card
• Drivers Licence
• Passport
• Medicare Card
If you are under 18 it is compulsory that you are accompanied by either a parent or legal guardian with you at all times so please make sure they also book a ticket for the day.
How can I contact the organiser with any questions?
If you would like further information please contact us on events@carlosarevalo.com
Do you offer one to one training/workshops?
The photo meetups are social events, so if you are interested in booking a one to one training session or a workshop please contact us on events@carlosarevalo.com
Would love to keep in touch where can we find you?
Website
Facebook
Instagram