About this Event
Have you attended a all/a few/some of Sophie Mahir's Perth Arts Meetup events over the last 3 years?
Are there connections, friends and fellow artists you'd love to catch up with still?
Do you really love the atmosphere of being part of a group of amazing artists and creative people who support and encourage each other?
Would you love to meet new people who are creative and willing to share their knowledge and experiences in a supportive community?
Starting in 2020, Sophie Mahir will no longer be running these Meetups, but to keep the Perth Arts Network going we'll still be meeting on the 2nd weekend of the month at our new venue, the Armadale Society of Arts - Art House on Hobbs. Each month we'll have a different presentation or demonstration from a member of the group talking about their passion, and the opportunity to keep the connections and networking going within this amazing group.
We'd love to have some new members, so bring a friend, and lets continue to be inspired and supported by each other in 2020.
February 2020
10 Tips to Enjoyable and Effective Networking
Presented by Kathryn Fritz
This is a fun, factual and effective session on networking.
You'll get to take part in an interactive mini workshop where you'll learn 10 new tips on networking effectively.
Participate in a networking activity and a discussion around what you need to know to take networking from scary or painful to fun and effective.
Kathryn Fritz, the "Funky fun Mama of Events" from Mama Fritz Events is a well-known entrepreneur and business networker who will share how we can learn to ease any pain associated with networking, what networking is - and how to receive it's benefits.
Ticket and Event Info
Armadale Society of Artists has kindly agreed for Perth Arts Network to use their venue, the Art House on Hobbs.
Find the venue on Google Maps here: https://goo.gl/maps/BLh9UcAT3GKdt81L8
Please arrive by 1:30pm for a 1:45pm start.
Enjoy a Tea or Coffee
Light snacks provided
Bring a notepad and pen
Business cards and flyers to promote your art event welcome
Book online or pay cash on the day
Contact the event organiser, Toni Fanali at emeraldbluearts@gmail.com if you want to know more!
If you'd like to receive updates on future events or learn more about our presenters, please stay in touch here: https://mailchi.mp/c736ad0211ab/perthartsnetworkupdates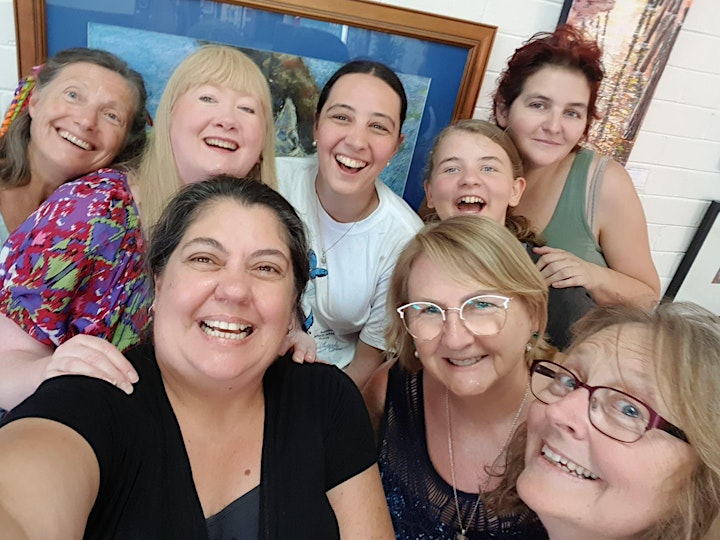 Perth Arts Network attendees in February 2020. Join us and put a happy smile on your face.