Event Information
Location
Emily McPherson College (Graduate School of Business & Law)
RMIT University Building 13, Level 3, Room 7 (referred to as the multipurpose room)
Corner Russell and Victoria streets
Melbourne, VIC 3000
Australia
Description
With the NDIS rollout across Australia, this is an important and timely conversation for workers, service users and social sector representatives to engage in.

Most developed countries are adopting consumer-directed 'personalised' or 'cash-for-care' schemes as an integral part of social service provision.

Personalisation aims to allow service users, as consumers, to exercise choice and control over the support and services they purchase to meet their needs. However, concerns have also been expressed about its effectiveness in meeting users' outcomes and associated potential risks.

This seminar will discuss the importance of personalisation in enhancing users' choice and control. It will also highlight a slight increase in risks concerning financial abuse; demands on the workforce to develop new skills; and how services have adapted in different ways.

This seminar is presented by Dr Shereen Hussein, Kings College London, international visiting fellow with Future Social Service Institute.

The venue:
Emily McPherson College (Graduate School of Business & Law)
RMIT University Building 13, Level 3, Room 7 (referred to as the multipurpose room)
Note: this venue has two entrances. Please enter via the main doorway on the corner Russell and Victoria streets - look for this facade: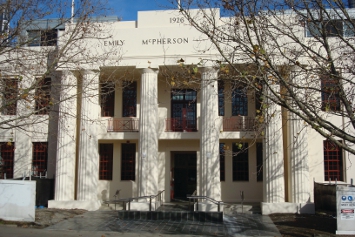 The Future Social Service Institute acknowledges the RMIT Philanthropic Fund and the International Visiting Fellowship in making Dr Shereen Hussein's visit possible.
Date and Time
Location
Emily McPherson College (Graduate School of Business & Law)
RMIT University Building 13, Level 3, Room 7 (referred to as the multipurpose room)
Corner Russell and Victoria streets
Melbourne, VIC 3000
Australia