Join Cecilia Macaulay online, and experience her inspiring take on how we can re-set our homes and our world, starting at our humble kitchen
About this event
It's an interactive, hands-on session where you'll see images and hear stories that get you energized. You'll know exactly what to do to transform chronic kitchen confusion into a clear and orderly home that stays that way, without force or unwilling effort. New kitchen culture, new you.
Your guides are Permaculture desinger Cecilia, and her yoga guru Katie de Araujo. Katie sets us up to feel the transformation in our bodies first. Mind and home then follow. The other way around is just too hard.
In this event you will:
Do kitchen sink declutter and re-set, in real-time, with opportunities to ask Cecilia questions as we go
Learn design principles that are fascinating, fun and stay with you for life:  Zones for inside your house, reduce useless diversity, make families of objects, right mess in the right place, and more.

Fall in love with your kitchen sink, which from now on you will address as your Shrine of Beauty and Love. Wait for the suprises to emerge, as your home culture changes. 

What do people say about Cecilia's workshops?
"My friend Jane attended Cecilia's declutter day, and a month later I visited. Her overcrowded, unused study had been transformed into an oasis of joy and peace amongst her overburdened work and family life; it had become her new music room.
She is now able to teach music from home, and to quit an underpaid job which she hated!  Such a big transformation to her life! She said "Cecilia is a genius, I love her work. I'm so happy with how my room is now. I can't wait to get on and do the rest of the house.
- Delldint Flemming, Blackburn
"I'm so excited. After years of not knowing how to organize my things and my home, I suddenly have a set of principles, concepts, and ideas about how to do it.  
As I start implementing  I'm experiencing a sense of lightness and ease that I've tried unsuccessfully to attain using "spiritual" methods. Cecilia's Japanese fusion systems bring clarity, vitality, awareness, and enlightenment!
I look forward to more consultations. This mere 1/2 hour has been so valuable."
- Monica Wilson, Transition Geelong
Katie de Araujo, founder of Body Centred Living, will get you feeling in your body, what a beautiful space feels like. A room can feel as good as a smile, a clear breath and open posture. She says "Kitchens are places we transform food into bodies, where the ingrediants of restoration come together, and these are sacred acts. This can be a sacred space that holds both our base chakra's need for safety and belonging as well as our highest chakra's need for a spiritual opening."
What people say about Katie's Yoga teaching:
"Katie's yoga is creative. She takes me traveling though whole new universes in my body that I never knew existed. Every pose comes with an insight on how to live life without struggle. I love the sound of her voice, and most of all, love being in her aura"
- April, Camberwell
Press the 'register' button, wait for email instructions, and we'll see your lovely face this Sunday afternoon via zoom, and equip ourselves to fully blossom with the spring.
Photo: Cynthia Sciberras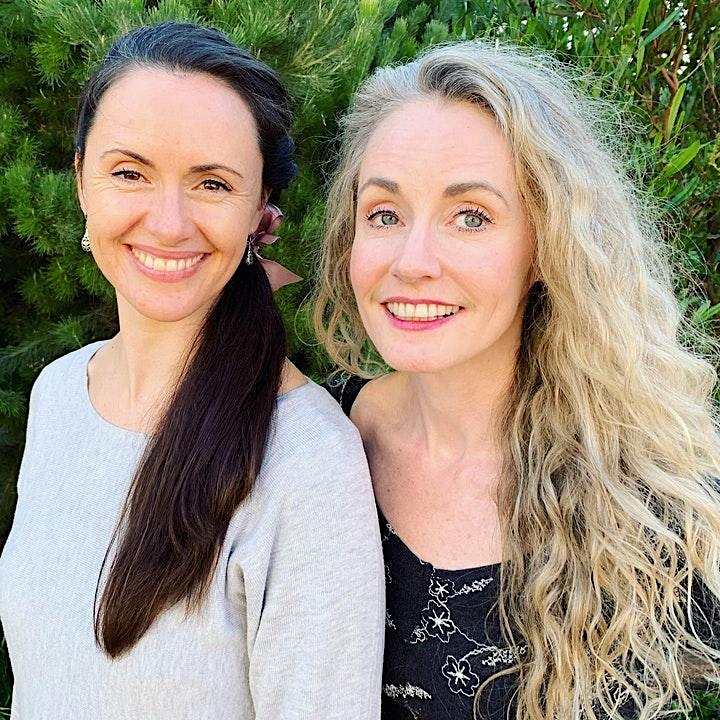 Katie de Araujo and Cecilia Macaulay have been creating cubbyhouses and fun times together for almost half a century...because they are sisters! Their life-missions increasingly overlap, as they find the deep solutions to one problem happen to be the deep solutions to all the problems. Together they bring ease and a touch of wonder to daily life.

'Before' and 'After' This kitchen naturally evolved after six weeks of Cecilia's workshops. The client is a generous, resourceful Permaculture desinger in Kamakura Japan. Cecila finds its the people most passionate about cherishing relationships that let themselves become the unpaid storeroom of discared things.