Description
Overview
Have you ever contemplated growing your own food? Dreamt of walking about your little patch, basket in hand, harvesting your own organic fruit, but thought it's too hard, too technical, or too much work? If your answer is a resounding YES, then this is the workshop for you.
Many of us have this dream, but the reality seems too complicated, so we remain idle and the only thing we harvest is our lawn clippings. Wouldn't it be great to have the confidence to turn unproductive lawn into your own flourishing permaculture inspired orchard, providing the basis of a sustainable and ethical "Food Forest"?
Drawing on the permaculture philosophy, you will learn how to create a "Food Forest" which is a system of gardening using a diversity of mostly perennial (long-lived species), chosen and arranged so they complement and support each other, minimising weeds, pests, and maintenance, while providing a rich variety of harvests. Fruit trees are the centrepieces of the framework for the food forest.
With a permaculture approach, all our roadblocks are resolved, and, as is usually the case, nature with its simplicity, provides the answer. We get to enjoy organic fruit that is beautiful, productive, and comes without much of the tedious and time consuming garden work.
Is this Workshop for you?
This workshop is suited to the beginner or the more advanced grower who is interested in learning about or advancing their knowledge of Permaculture techniques as they relate to fruit orchards.
What you will learn
This workshop will provide you with a brief introduction into the development and management of a natural regenerative landscape for human consumption.
- Explaining the idea of a "Food Forest" and how can we use them.
- Elements in a "Food Forest" (water, sun, soil, companion planting and guilds)
- Site layout, soil creation and plant establishment.
- Site tour, including:
Demonstration of training and pruning
Identification of pest and disease pressures
Identification of appropriate permaculture design principles and techniques
The knowledge you will take away . . .
Following this workshop, you will understand the basic knowledge required to develop and manage your own Permaculture inspired "Food Forest" with particular emphasis on Fruit Trees.
You will have an understanding of the various elements of a "Food Forest" using appropriate Permaculture Design Principles and Techniques.
You will also be introduced to the techniques of training and pruning your fruit trees, as well as identification of potential pests and diseases.
In addition, you will meet other people interested in growing fruit for varied reasons. You may choose to stay in touch with some of the other participants as part of your fruit production journey.
Presenter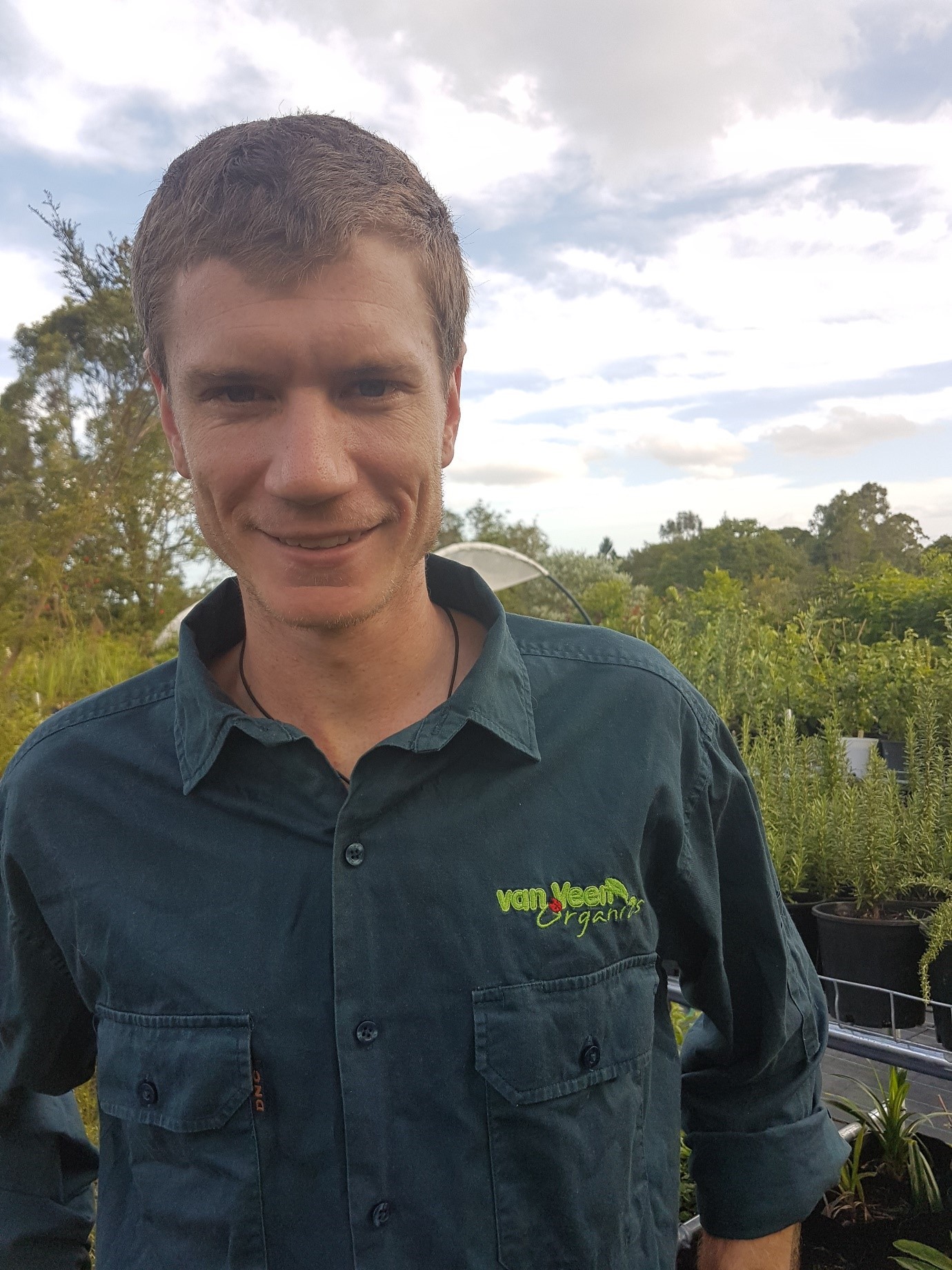 Joshua is a self-employed permaculturalist running the edible and medicinal plant nursery van Veen Organics from Elimbah, Queensland. Joshua began his journey in permaculture after reading Bill Mollison's "Permaculture – Designers Manual" in 2008 while completing his final year of a Business Bachelor's Degree at the University of the Sunshine Coast (USC).
A Trade Certification in Horticulture was obtained in 2012 from Brisbane North Institute of Tafe (BNIT). The following year Van Veen Organics was established. The business now grows, supplies and educates on over 200 varieties of edible and medicinal plants suitable for the South-East Queensland's environment, as well as employing two local team members.
In 2014 Joshua completed a Permaculture Design Certificate (PDC) and started design and consultation work while still continuing study with a few short courses in Food and Nutrition, Education, and Modern Agriculture.
In 2016 Joshua became a founding member in the world wide Ecolonomic Action Team (EAT) movement and started studying soil micro biology (Life in the Soil Classes with Dr. Elaine Ingham) as well as a Sustainable Living Course Certificate with Sustainable Education.
Joshua has a passion for nature and living a connected life. In the future, he plans to continue his work as a contributor of regenerative communities, natural environments and responsible enterprises.
Venue
Private residence in Samford Valley. Address will be provided following registration.
Inclusions
Morning Tea
Workshop Notes
What you need to bring
Hat
Sunscreen
Paper/pen if you are an avid note taker!
Note: This workshop is aimed at an adult audience and requires a minimum of 6 participants to run.
FAQ
Do I have to bring my printed ticket to the event?
Yes, please bring along your printed ticket.
What does the waitlist do?
If the workshop sells out you can add your details to the event waitlist. In the event of a cancellation, we will look at our waitlist for the next in line. We will also use this to notify you of when/if this workshop will be held again, so please register your interest in advance.
How can I contact the organiser with further questions?
Need more information or have addition questions about the workshop? Please contact our Workshop Facilitator, Libby, at workshops@millenfarm.org.