Description
Overview
Come and Meet Joshua van Veen, owner and operator of van Veen Organics- an Edible and Medicinal Plant Nursery and Education Centre, located in Elimbah, Queensland. Learn about the operations of the business and how it is working to improve the local environment for the benefit of society. The business is a local start up in its fourth year of operation so this will be a great opportunity for everyone to understand the processes and procedures involved in creating a sustainable enterprise working with nature from very humble beginnings.
Is this Workshop for you?
If you've heard about permaculture but would like to hear from someone who has put permaculture principles into practice in a business setting, then this workshop is for you. Josh van Veen from van Veen organics has drawn on permaculture principles to develop the ethics, mission and vision for a sustainable nursery, education, consultation and design business at Elimbah on the Sunshine Coast.
What will you learn?
Josh will explain how permaculture principles have guided his business development, from the very start. He will provide details of his strategic planning and, drawing on examples from his own business, will explore how permaculture teaches you to think outside the box and connect the dots together to create systems that are sustainable. There will be ample opportunities for questions and discussion around this broad topic.
The knowledge you will take away…
During the workshop, you will be engaged in using permaculture principles to create your own sustainable, strategic plans and developing ways of implementing them.
You will be challenged to think about how you can also use permaculture ethics and principles in your own situation, no matter how big or small to find sustainable solutions. For example, organising the home, landscaping (food, medicines, wildlife), connecting your community, looking at the problems and finding ecology-based solutions that last.
Presenter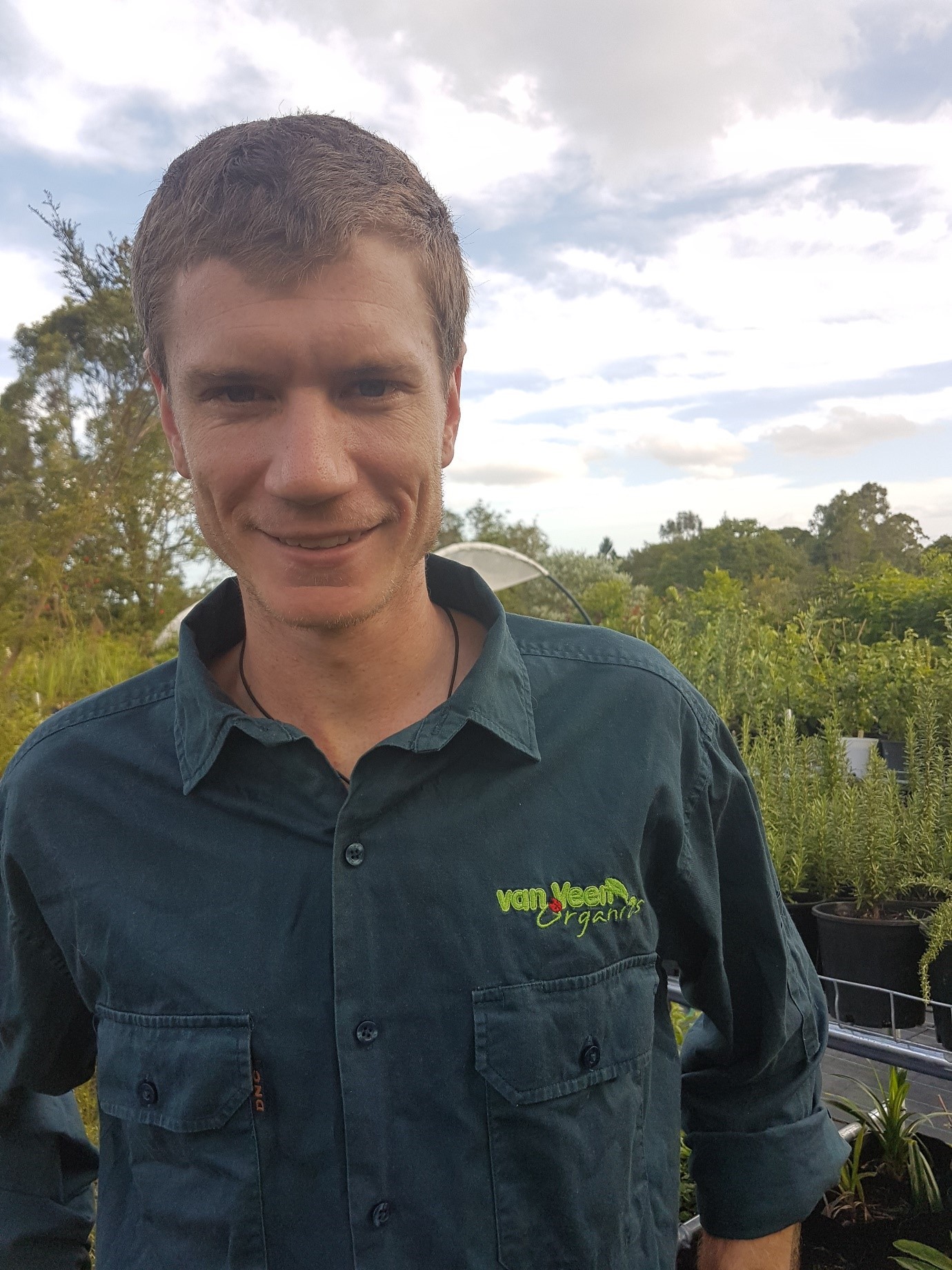 Joshua is a self-employed Permaculturalist running the edible and medicinal plant nursery: van Veen Organics from Elimbah, Queensland.
Over time, the need to be connected and a part of the natural world became a guiding feature in his life, and was exemplified when he started his journey in permaculture after reading Bill Mollison's "Permaculture – Designers Manual" in 2008 while completing his final year of a Business Bachelor's Degree at the University of the Sunshine Coast (USC). In 2014 he completed a Permaculture Design Certificate (PDC) and started design and consultation work while still continuing study with a few short courses in Food and Nutrition, Education and Modern Agriculture. During this time, he also founded the Caboolture and Surroundings Permaculture Group. In 2016 Joshua became a founding member in the world-wide Ecolonomics Action Team (EAT) movement and also started studying soil micro biology with Dr. Elaine Ingham. Joshua has a passion for nature and living a connected life. In the future, he plans to continue his work as a contributor to regenerative communities, natural environments and responsible enterprises.
What you need to bring
Hat

Sunscreen

Morning tea

Pen/paper if you're a note taker
** Check Josh's website if you'd like to order rare fruit trees or plants from him. www.vanveenorganics.com
Email Josh directly, but give him at least 2 weeks to fill your order josh@vanveenorganics.com or call him on 0422 107 914. Deliveries and payment on the day of the workshop.
FAQ
Do I have to bring my printed ticket to the event?
Yes, please bring along your printed ticket.
What is the refund policy?
Sometimes circumstances change and we understand that occasionally you may not be able to attend a workshop you have paid for, so unless other information has been specified on the individual workshop page and as long as we're notified 7 days before the workshop starts, your options are:
to receive a full refund of your course fee if we can find someone to take your place from our waitlist

to transfer your amount paid toward any future course

to transfer your ticket to a friend or relative
What does the waitlist do?
If the workshop sells out you can add your details to the event waitlist. In the event of a cancellation, we will look at our waitlist for the next in line. We will also use this to notify you of when/if this workshop will be held again, so please register your interest in advance.
How can I contact the organiser with further questions?
Need more information or have addition questions about the workshop? Please contact our Workshop Facilitator, Libby, at workshops@millenfarm.org.