Description
Positive Journaling… What is that?
Positive Journaling, done the right way, can assist you in transcending from any personal crisis and inspire you to discover your own unique greatness, reconnect with yourself, find meaning in each and every day, increase self-awareness and love and appreciate yourself for who you already are and who you strive to become. And ALL of this is from within yourself - totally independent from your environment, your circumstances, your past.
Barbara Märkl will be taking us all on a journey through the 6 main pillars of "Positive Journaling"
1. Gratitude
2. Inspiration
3. Contribution/Impact/Making a Difference
4. Values & Principles
5. Passion & Purpose
6. Challenges & Lessons Learnt
The Journaling concept which Barbara has created will help you:
- Track the goodness in your life by practicing GRATITUDE
- Get you closer to finding your true passion or meaning or direction in life
- Celebrate yourself for even the littlest difference you make, 'good deeds' you do or contribute to your own and/or other people's happiness
- Remind yourself of how wonderful and worthy you are – because you totally are!
- Become clear of your core values and understand what is super IMPORTANT to you and your 'Golden Rules'
- Acknowledge challenges as learning experiences and look closer at
recurring challenges to see if and how things can change
Want to know more about Barbara? ♥
"Journaling saved my life" – Barbara is dedicated to creating a better, happier, healthier world by inspiring individuals to be the change they wish to see in the world with the Power of Positive Journaling, as she too was faced with a personal crisis and found the only way to pull through the darkness was by her uniquely crafted journaling toolkit.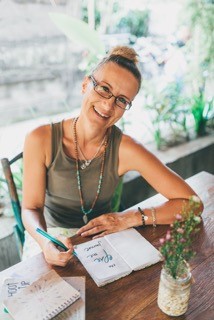 Details:
When: Saturday March 18th arrival at 7am for a 7:30am start
Where: My Little Kitchen Café & Bar, 2 Queensland Avenue Broadbeach 4217 (Plenty of free street car parking)
Cost: $20 Please register and pay via the Eventbrite link
Bonus: Oooodles of LOVE, SUPPORT, CONNECTION, PLAYFULNESS and LUCKY DOOR PRIZES!
And…. It is our FIRST BIRTHDAY!!! We will be celebrating one year of the movement ♥ Special gifts included.
This is one morning not to be missed Self-Lovers, full of blissful femininity & radiant love.

Please only hit attend if you are 100% there with us all.

And remember.... Together we are stronger so please spread the love and share this wonderful invite to all your beauties xo

Alana Arvanitis ♥
The Self-Love Movement
www.theself-lovemovement.com