Description
Attention Registered and Enrolled Nurses in Aged Care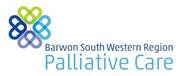 A FREE interactive workshop providing ample time for discussion through case presentations and examples. Morning Tea and Lunch Provided.
Aim of the Workshop:
To develop an understanding of a palliative approach for people with a life-limiting illness & their families.
Topics include:
The Palliative Approach
Communication
Advance Care Planning
Symptom Management
End of Life Considerations
Target Audience:
Registered and Enrolled Nurses working in Aged Care with little, or limited palliative care experience.
Time: Registration 8.45am. Workshop 9.00am to 3.30pm
Further information:
Contact: Myra McRae. Email: myra.mcrae@barwonhealth.org.au. PH: 03 4215 5662
An email confirming registration to attend will be sent from PEPA to participants.