Location
The Institute of Postcolonial Studies
78-80 Curzon Street
North Melbourne, VIC 3051
Australia
Homeless in Hotels, a radio series documenting life during Covid-19 and Bendigo Street, a film about housing and political resistance
About this event
PEER STORIES OF HOMELESSNESS IN NAARM
Meet the makers and hear the stories of people whose lives on the street became illegal during COVID-19, and folx who participated in the 2016 Bendigo Street campaign. Featuring a screening of the Bendigo Street documentary short film, an immersive audio gallery, project curios, and a panel discussion.
Taking place on Wurundjeri Country. We pay respect to ancestors, spirits and elders past, present and emerging.
The panel discussion will also be live streamed via Zoom.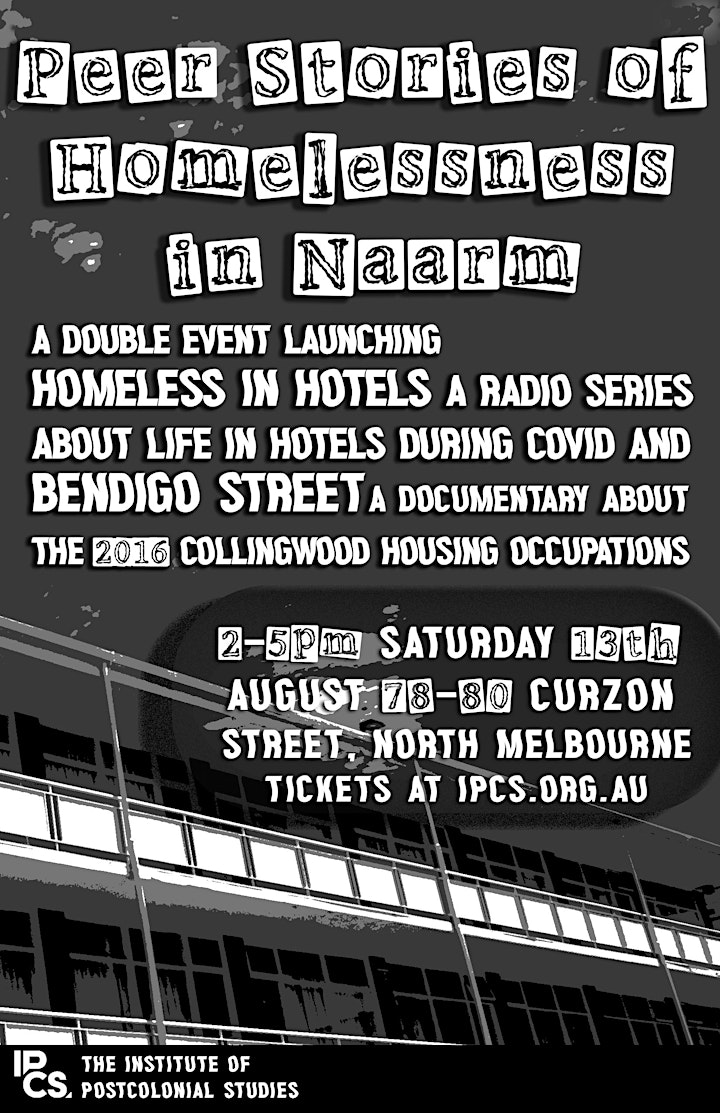 PROGRAM, SATURDAY 13 AUGUST
2:00-3:00 pm – Audio Gallery of Homeless in Hotels: Health, Services and Peer Voices in the COVID-19 pandemic
3:00-3:15 pm – Welcome and Introduction by Carlos Morreo and Jasmine Barzani
3:15-3:40 pm – Bendigo Street, film screening
4:00-5:00 pm – Panel Discussion and Q+A with Spike Chiappalone, Kelly Whitworth, Angela Edwards, David Boarder Giles and Jasmine Barzani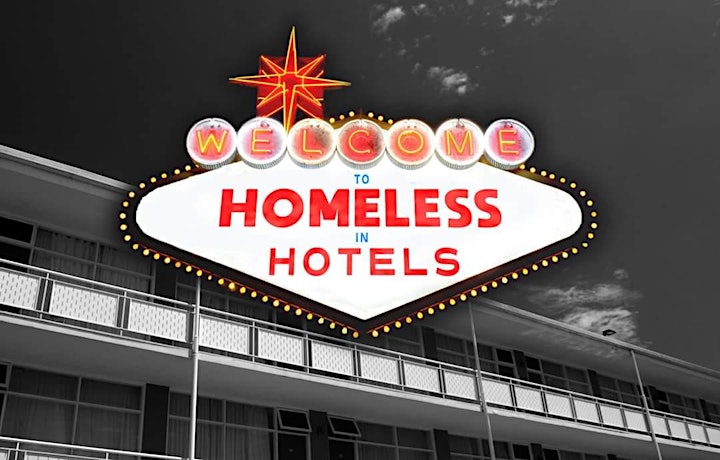 HOMELESS IN HOTELS
Can you imagine what was it like to be homeless in a city under curfew and in lockdown?
Homeless in Hotels: health, services and peer voices in the COVID-19 pandemic is a three-part radio series giving voice to the people who went from a life on the street to life in hotels and the support workers experiencing the shifting ground on the front line of COVID-19.
Hear how people managed their mental health, drug use and access to health services. Listen to the stories of how support workers experienced the shifting ground on the front line of the pandemic and learn how the law affected the homeless community when it was illegal to be on the street. Homeless in Hotels is a peer-produced radio series created in the studios of 3CR Community Radio.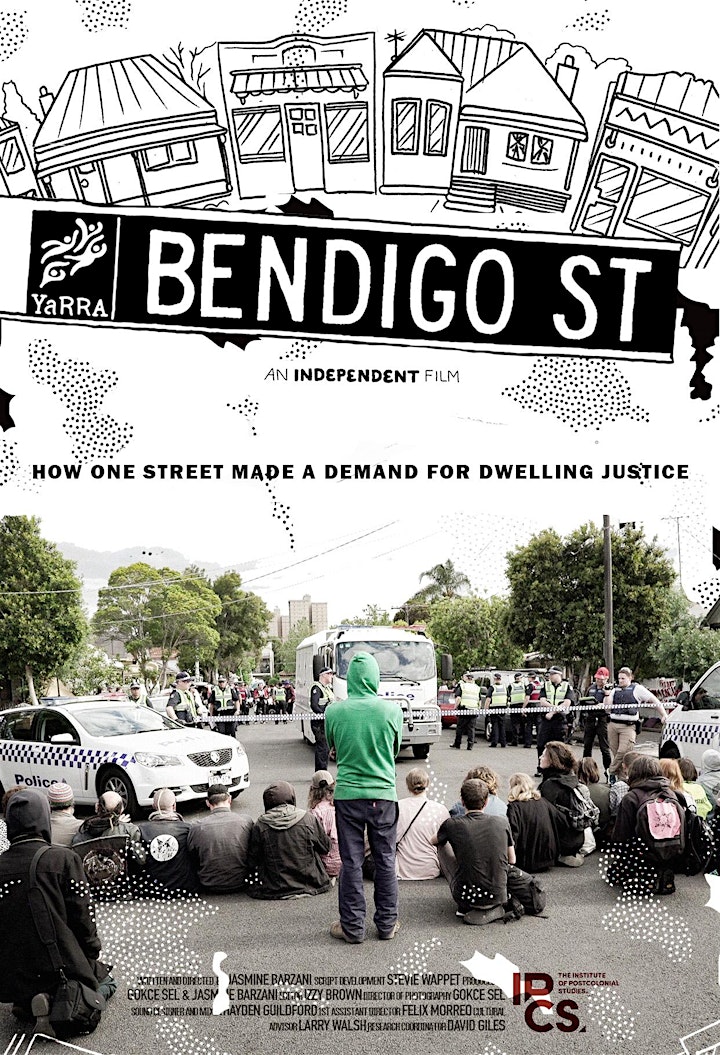 BENDIGO STREET
Bendigo Street is a documentary about political resistance through a housing occupation in Collingwood that took place in 2016, directed by Jasmine Barzani.
On 31 March 2016, we occupied 16 Bendigo St and made national headlines, forcing the state government into an embarrassing confrontation. The protest drew the support of Wurundjeri and Kulin Nation community who helped us expose the myth of the contemporary housing crisis — housing deprivation and homelessness began with European invasion in 1788.
The documentary draws on conversations and interviews with activists involved in the 2016 Bendigo St squatting occupations.