Description
---
Join us for an inspirational evening of wine, cheese, conversation and creativity.
An impressive fusion of cycling, fashion and the arts collide the world of cycling with the new and the legendary, featuring the finest local cycling brands joined by the makers themselves. It will showcase all that is cycling with apparel, accessories and art. Pair this with great food, drinks and entertainment – West End will be moving and shaking like never before.
Enjoy a cool refreshment. Socialise, connect and be inspired whilst you gather around a spectacular, mouth-watering Grazing Table loaded with gourmet local and European cheeses, charcuterie, antipasto, seasonal fruits and nuts.

Hear tales from a panel of local cycling legends about how they chase their dreams. We'll be getting up close and personal and having a candid chat about their cycling journeys across a broad range of experiences.

Bare, witness to both wearable and trend driven cycling gear in our Fashion runway.

Meet Brisbane artist, Tina Dinte, known for her unique style in capturing the essence of Australia. Tina's art is featured on the latest Birds on Bikes Wild Weekends collection.
Gather with friends, meet some new ones, expand your cycling community.
It's going to be stylish, it's going to be fun and it's going to put a new perspective on the world of cycling. The mountain biker, the roadie, the weekend warrior, we've got something for everyone, even the non-riders.


We've got a fine line up of local Australian brands.

Easy-fit, relaxed lifestyle cycling clothing for real women. Designed and made in Brisbane, from premium materials sourced globally our cycling apparel range makes the daunting and intimidating process less frustrating. The mountain biker, the roadie, the weekend warrior, we've got something for everyone, even the non-riders. www.birdsonbikes.com.au


Craftworx wheels are the ultimate performance upgrade for your bike. World class wheels from a home grown Australian company, manufacturing right here in Brisbane. Drop into their workshop, located at 282 Wickham Street, Fortitude Valley. Into Beer, Coffee or both? Fridays are free beer and coffee day (all day) so drop in, say hi and enjoy a free beer or coffee while you chat to Nathan and Mark. www.craftworxcycling.com
---

An up and coming brand based in Brisbane, Sapient Cyclewear has a style all of it's own. Combining high tech construction with wild nature-inspired designs, they balance form and function tooffer a unique experience for the adventurous cyclist. www.sapientcyclewear.com.au
---

Perfuro' designs take inspiration from mother nature --the greatest force we know, so you can absorb and feel it inspire and give you the strength to achieve anything. Like lightning, it galvanises your willpower to succeed and propels you forward to achieve your personal best. With Perfuro gear you are the primo cyclist in the peloton. www.perfurogear.com
---

Fondo is known for developing high quality and stylish cycling gear specifically for women. We aim to deliver superior quality, technical apparel with bold patterns and colours designed to be seen on the road!
Our passion is to get more women riding their bikes, exploring the outdoors and pursuing an active and healthy lifestyle. www.fondo.com.au
---
RVI Active is an online marketplace for all things innovative and sustainable that is fitness and adventure related. Previously known as RearViz, we found our niche through launching the world's first fully adjustable bicycle mirror and now are quickly expanding to a collaborative space that caters for all your innovative sporting activities and needs. www.rviactive.com
---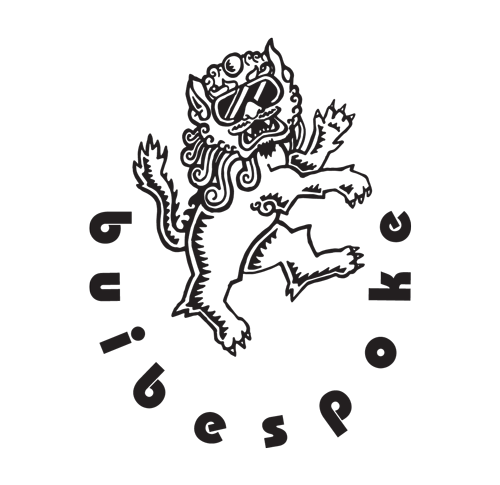 Spawning fresh ideas for cycling and streetwear apparel utilising an oversupply of used tyres and tubes sourced from local bike stores and friendly donations. All of our custom creations are both designed and made locally in Queensland, Australia.
Buibespoke products present a fun and viable solution to restyle and transform the commonly used or discarded tube. Often hand picked little gems found in the mix, like a well used tubular tyre can finish off the styling and also adds a highly personalised touch to these cycling inspired satchels. www.buibespoke.com
---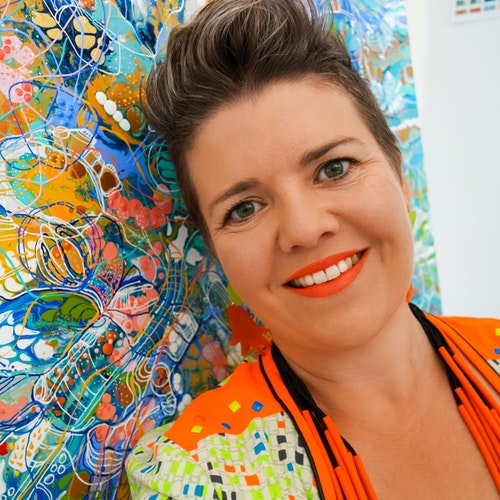 With a passion firmly cemented in colour, texture, drawing and all things retro matched with a vivid imagination and a love for the great outdoors, I would describe my technique as uniquely me! Putting a pen in my hand has always given me a feeling of calmness and a direction. Although, the end result sometimes even surprises me. Over the years I have had many 'careers', all with a focus on creativity, however all roads have led me back to art. www.tinadinte.com.au
---
Indie Tansey
Founder and main character of: www.indianajune.com
On a quest to learn, connect and share I invented a new style of travel blog. Essentially I crowd-sourced my itinerary and the public voted where I went and what I did next via social media. Indiana June became the main character in a real-life 'choose your own adventure' story with more than 20,000 people joining my tribe and participating in the journey. I travelled mostly by bicycle, through 3 continents and 11 countries: Ireland, Scotland, England, France, Spain, Italy, Australia, New Zealand, Argentina, Colombia and Ecuador.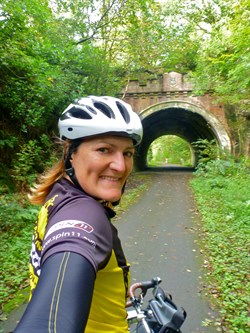 ---
Bronwyn Victor
Planet Cycles Owner
Bronwyn started riding almost 20 years ago, racing mostly on the road, at a State and National level for about 7 years. She has kept riding for fitness and enjoyment since stopping racing and adding three more children to hers and her husband Mark's brood. She enjoys supporting and encouraging people new to cycling, something which goes hand in hand with her business Planet Cycles. Bronwyn is also a qualified Radiographer and with this knowledge is one of the very best bicycle fit technicians Brisbane has to offer. www.planetcycles.com.au
---
Cathy Peel
If you had of said to Cathy Peel in 2012 she would be a familiar face around Brisbane's cycling community; own five bikes (but want more); be a cycling ambassador; be invited to provide commentary for cycling media coverage; be presented with her first (and only!) trophy from cycling legend Phil Liggett because he thinks she's 'terrifically inspirational'; have an unhealthy obsession with making Anna Meares her new best friend; and have ridden throughout five foreign countries she would have roared laughing and spluttered 'but I can't even really ride a bike …'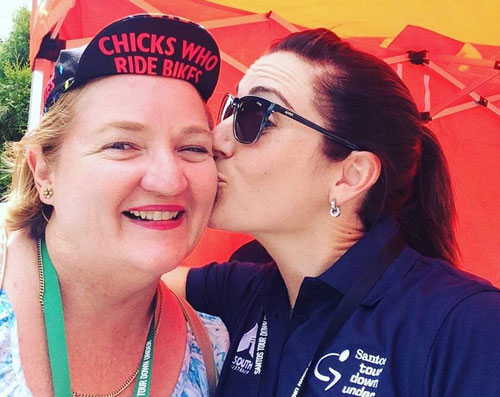 ---
Proudly Supported By: