'Peace in Practice' - remaining effective in turbulent situations
Description
Pricing for this two-day workshop is very HEAVILY SUBSIDISED (average is greater than 75%) by MHCC ACT.
'Peace in Practice' has been designed by the Quest for Life Foundation to increase the compassion, skill, capacities and knowledge of health and wellbeing professionals. Focusing on resilience and self-care, participants on this workshop will leave equipped with a tool kit of strategies to support their work, which are based on the latest scientific research on health, healing, neuroscience and epigenetics.
A great way to start afresh for the New Year!
Topics Discussed
4 keys of resilience and peace as a basis for your life and career

Who you are is as important as what you know and do

How to care for yourself physically, mentally and emotionally

What to offer when you can't fix it, change it or make it better

Positive impact of neuroplasticity and epigenetics in our daily lives
Expected Outcomes
Equipped with effective communication tools for difficult circumstances

Understanding the need and value of self-care

Increased ability to remain effective in turbulent situations

Better able to access the most valuable characteristics of an entrained brain – insight, intuition, wisdom, humour, spontaneity, creativity and compassion

More understanding of yourself and with an increased respect for your own story
About the Facilitator
The workshop will be led by Petrea King (pictured below), Founder and CEO of the Quest for Life Foundation. She is a best-selling author of 9 books and a dozen meditation practices, a frequent keynote speaker at medical and other conferences, a facilitator, teacher and trainer. For the past 15 years, Petrea has been a monthly guest on the ABC Radio's 'Midweek Conference' and 'Nightlife' where she discusses the challenges of living a meaningful life in the midst of illness, trauma, difficult circumstances and tragedy.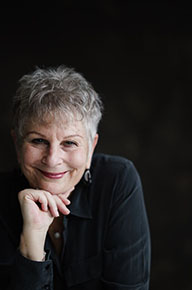 Petrea King, our Facilitator for this workshop
Book soon - 'Early Bird' pricing ends 3.00pm on 24 January. This is a two-day workshop running on Wednesday 27 and Thursday 28 February, starting at 9.00am on both days and running until 5.00pm (unless you're really good and get an early mark!). Please make the effort to be on time. The venue is Room 6, First Floor, the Griffin Centre, 20 Genge Street Canberra City.