Description
To truly find freedom, peace and fulfillment requires a choice from within you. The world we live in is heavily externally focused yet this is a trap like a hamster running on a wheel that never stops. Join a beautiful meditation group that will re-energise, bring peace and stability into your life. When you learn how to re-orientate yourself correctly, life will start to flow again. Things like anxiety, worry, fear, self doubt, reactive anger or frustration will dissipate and become a thing of the past. The space that is created will rebalance your mental, energetic, emotional and physical aspects in a gentle & profound way. This community group has been established to support people like you to find your own unique path to fulfillment, freedom and joy.
Whether your intention is to have more balance in your life, a calmer mind, freedom from negative thoughts, less stress, healing, personal growth, better focus, better decision making, tapping into a deeper sense of inner power or spiritual awakening – meditation is a powerful tool for all of these intentions and more.
The evening will consist of:
(1) Breath work & dropping into the body
(2) Releasing & Healing Experience
(3) Sound Healing & recalibrating the body to peace
(4) 1st Meditation Practice, with Sam: (20min)
(5) 2nd Meditation Practice, with Nicolas: (20min)
(7) Group Sharing
(8) Gratitude & Appreciation
One of the ladies who came to a previous event stated, "just by taking one step at a time I have healed my body and my life is completely changed - meditation was a major part of my healing journey." If you re-focus yourself, your life can evolve into what it is you'd absolutely love.
Whether you are a beginner or an advanced meditator, this group will cater for your needs and support you to go deeper within your practice, understanding and cultivate personal wisdom through your direct experience.
Samuel and Nicolas will provide many different hands on experiences so you can decide what works best for you.
This group is different because it offers a strong energetic transmission which will reset you quickly and easily. Many people have come in with headaches, anxiety, feelings of stress and overwhelm and very quickly feel immediate and powerful effects. This group will re-calibrate your energy bodies and systems.
Each event we offer you unique meditational experiences so you can continue to develop and evolve your practice. By joining this group you will also get to drop into a deeper space and have a personal experience of what is possible for you in your own daily practice.
After the event we will be going to a cafe for some human-to-human connection to enjoy a warm drink and some food while basking in the high frequency vibrations together.
Here is a picture of a part of the group deeply in the zone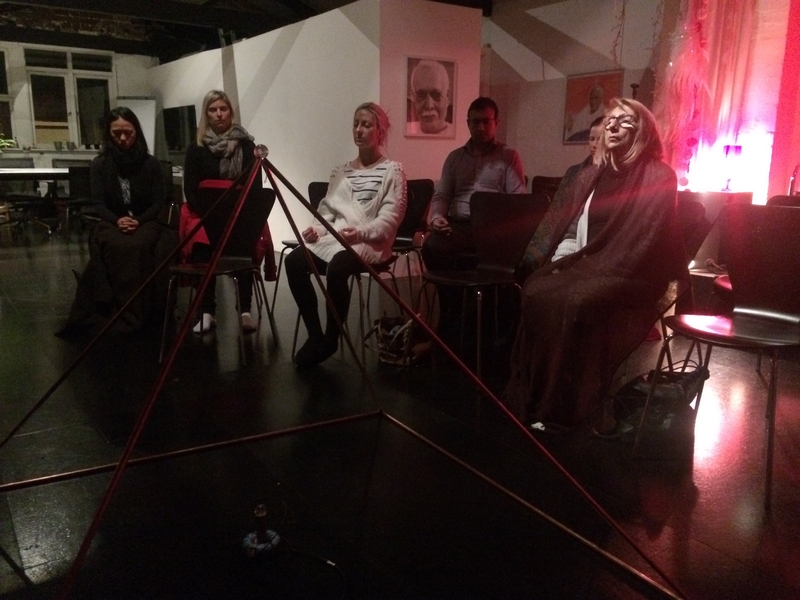 For those that are new to this Meet-up, here are our bios:
Nicolas Perrin has been focused and committed to the awakening of human consciousness for 11 years and practices meditation daily. Nicolas runs a heart centred inspirational speaking group called Authenticity Speaks.
He hosts & share meditations with CEO groups being the 20/20 network, entrepreneurial events such as Shine Sydney, Sydney Gay Meditation Group, World Peace Day, Global Healing exchange and many other groups.
Nicolas brings a wealth of experience and knowledge to this group in support of each individual's meditation practice. For further info go to
Samuel levy, a co-facilitator, is dedicated mediator how seek for the ultimate freedom and access to the subconscious mind that hold all there is.
Samuel was first introduced to the spiritual pass in 1997 as Vipassana practitioner . From that time it was as the way was found, but the objective of time was needed to reach spiritual maturity in order to overcome the illusion and the strong hindrances of craving and aversion and the emplacement of walking in the noble pass.
By this time Samuel have accumulated thousands of meditation hours and he feels the need to share all that he have found with all those whom seek for the spiritual growth.
With the venue we will be in the large hall at the back.
When you walk up the steep stairs enter the room right in front of you and the door to the large hall is far right hand side. Please arrive between 6:50 and 6:55 so we can start on time.
Please don't arrive any earlier than 6:30 as another meditation class is in progress and would appreciate the quiet space.
If you are committed in attending, please RSVP now by securing your spot by purchasing your ticket.
To prevent no-shows and the hassle of dealing with registration so we can start on time, we will be collecting the contribution (10 AUD + booking fee) before the event, via Eventbrite. We appreciate you supporting the flow of this event.
Any on the door sales is $20 cash.
Here is a testimonial from a participant who has been coming for the last 6 months:
I think this is the 6th or 7th group meditation I've attended. As the group has got bigger and bigger, more energy has been available for everyone. I can't begin to explain how much this has already changed my life and I'm enjoying the journey.
Originally I had an end goal in mind but now I'm just enjoying "being. I've learn't that there is no good or bad, black or white which was the hardest challenge for me. I'm learning to let go, the freedom which comes from not needing to be in control all the time is such a relief.
If you have any questions please contact Nicolas (Nicolas@lionheartcoaching.com.au)
Nicolas & Samuel