Description
About this event
P&Cs QLD is hosting this three-hour interactive networking and knowledge sharing workshop about Containers for Change in Queensland state schools. We will showcase practical solutions to maximise the fundraising and environmental education benefits of the scheme, as well as discuss challenges faced. These discussions will aim to help state schools improve their fundraising and student engagement.
Agenda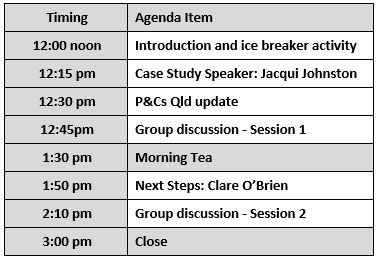 Participants will have the opportunity to draw on the experience of other schools and P&Cs, share their knowledge of issues and challenges in managing the scheme, to help shape a plan that will harness existing school curriculum and community resources and drive behavioural change in the school community.
Key Speakers
Rachael Williams, Project Officer - Environment from P&Cs Qld

Jacqui Johnston, Containers for Change Champion from Greenslopes State School

Clare O'Brien, Marketing Manager from Return.It.
FAQs
How can I contact the organiser with any questions?
Email RachaelWilliams@pandcsqld.com.au if you have any questions about the workshop.
Who should attend the event from my school?
The ideal attendance from each state school should be 1-2 members of the P&C and 1 staff member. This combination of Containers for Change champions leads to the greatest success in implementing as both a fundraising and environmental education activity.
How should I prepare for the workshop?
There will be Focus Questions and Common Containers for Change Terminology provided prior to the workshop. Please read these questions and information to prepare for the Group Discussion Sessions.
What do I need to bring to the event?
Please bring your enthusiasm and desire to share and collaborate with your local Containers for Change Champions! If you have any resources or promotional material that you would like to share, please bring along with you on the day!
Which state schools should attend the workshop?
The workshop is being provided to state schools who have partnered with P&Cs Qld in the Containers for Change scheme. These schools are the priority. However, state schools interested in partnering with P&Cs Qld should express their interest as tickets will be made available if numbers allow.
What if I can't attend my local workshop?
There are several Containers for Change Workshops being held across South-east Queensland. If you are unable to attend this event please email RachaelWilliams@pandcsqld.com.au to find out other local event times. Alternatively, one of the workshops will be filmed and be made available to schools partnering with P&Cs Qld in the Containers for Change scheme.
What if I can't attend the workshop but still want to be involved?
The outcomes of the workshop will be distributed to all workshop attendees and relevant stakeholders. This will also provide an opportunity for feedback to be gathered from those unable to attend. To ensure you receive updates about the P&Cs Qld Containers for Change program, please email RachaelWilliams@pandcsqld.com.au with your contact details.