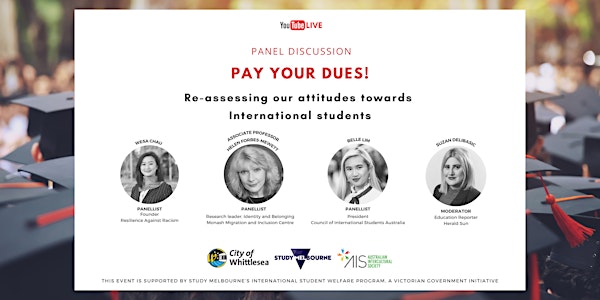 Pay your Dues! Re-assessing our attitudes towards International students
Re-assessing our attitudes towards International students
About this event
This webinar will be live streamed - via this link
International students have often been perceived as an 'economic benefit'. However, the COVID-19 pandemic has compelled us to rethink our duty of care as it revealed another side. It revealed that international students too are human beings susceptible to a range of vulnerabilities. We watched on as reduced student numbers affected the vibrancy and social fabric of our central business districts, universities and community. So have we had the right approach? What are our responsibilities towards our temporary guests? And how do we continue to build a sense of place and belonging for our international student communities?
Join us as we discuss how we can continue to support international students as valuable members of our community and unpack the true value of their contributions to local culture, skills and development.
Assoc. Prof. Helen Forbes-Mewett Research Leader of Identity and Belonging at the Monash University Migration and Inclusion Centre.
Wesa Chau CEO of Cultural Intelligence and founder of Resilience Against Racism
Belle Lim National President at the Council of International Students Australia Inc. (CISA)
Suzan Delibasic - Moderator: Journalist and Education Reporter, Herald Sun.
If you have any questions, please don't hesitate to contact us at info@intercultural.org.au.
Organiser of Pay your Dues! Re-assessing our attitudes towards International students
Australian Intercultural Society (AIS) is a not for profit organisation that has been operating in Melbourne since 2000 with the aims of promoting multiculturalism and fostering intercultural and interfaith dialogue. We believe in reaching out to all members of society by providing a platform for cultural and information exchange.
Since its establishment, AIS has organised international study tours, academic conferences, cultural exhibitions, Ramadan multi-faith iftar dinners and government sponsored projects, among other activities. Each event provides ample networking opportunities, so the circle of people wanting to build bridges with other communities and collaborate on projects with AIS grows with each program (www.intercultural.org.au).