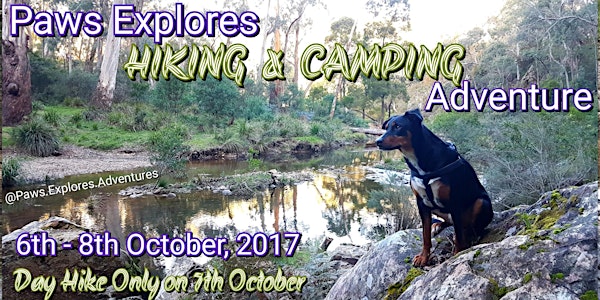 Paws Explores HIKING & CAMPING Adventure(SAVE-A-DOG & TheSALVOS Fundraiser)
Location
West Victoria (Just over 1 hour from Melbourne's CBD)
(Specific Location given to ticket holders only)
Moorabool, VIC 3340
Sales Have Ended
Ticket sales have ended
Booking have now closed for the PAWS EXPLORES Hiking & Camping Adventure. If you have any questions, please contact Paws Explores Adventures via email (Paws.Explores.Adventures@gmail.com) Thank you!
Description
Join us for a fantastic WEEKEND ADVENTURE with your dog, friends and family - all to PROUDLY suppawt SAVE-A-DOG & The "SALVOS" (Salvation Army)!
For those who only wish to do a DAY HIKE on Saturday instead of camping you also have that option (10am-5pm) which includes a lunchbreak to rest and refuel!
Explore the great outdoors with our adventure hikes and trail walks while discoving nature in one of Victoria's beautiful and relaxing areas. Then return to camp each night to sit and relax around the campfire with fellow pet lovers and their furbabies.
If you've never camped before or pitched a tent, not to worry as we're there to help you so you gain new skills for your future trips!
For those who haven't joined us on one of our adventures before, we like to spoil you and your dog so;
Each pup will receive their very own doggie bag full of goodies. For those camping, you'll get a light up/flashing lead, LED collar light and special hiking treats thanks to Miss Drews Bakery Dog Treats. Not to forget all the other surprises in the bag we give you as a thank you for helping us help others. Pet parents, you don't miss out - every morning x-Stacey VITALITY will provide you with a BBQ breakfast and fruit - a great, healthy way to start your day and give you lots of energy for the adventure ahead plus we also cater for vegetarians!

The PAWS EXPLORES Hiking & Camping Adventure Weekend includes:
* 1 Hour Twilight Treat Adventure - (Friday)
* Doggie Trick & Treat Games (a fun-filled way to test your dogs skills and win tasty treats!) - (Saturday)
* 14km Adventure Hike (including 45min lunch break to rest and refuel - pack your lunch) - (Saturday)
* 1.5 Hour Bush/River Walk Adventure (with pet portraits) (Sunday)
* Nightly campfires to relax, socialise and toast marshmellows (Friday & Saturday)
* Daily BBQ breakfast for human participants thanks to x-Stacey VITALITY (Saturday & Sunday)
* Doggy Hiking Trail Mix and Cookies for the puppy participants thanks to Miss Drews Bakery Dog Treats!
* Experienced hiking and camping guides
* Fresh drinking water for the weekend
* Paws Explores Light Up Lead
* Paws Explores LED light up collar pendant & human glow wrist bands
* Re-usable Camping Cutlery Set
* Save-A-Dog & The Salvo's Merchandise to show their thanks for your support
* Photos of the event to remember your adventure!
* (Toilets for those who may we worried about 'taking care of business' - it's an ECOtoilet (Looks the same as the 'throne' at home, however it doesn't flush as it's an environmentally friendly decomposing waste system)
This is a family friendly event so ALL AGES, GENDERS, BODYTYPES and PET BREEDS are WELCOME as we will be walking. On the hike, if you need to slow down or stop for a rest, one of the Paws Explores Adventures team will help and stay with you along the way (*Please remember you accept responsibility for yourself and your pet who will need to be under your supervision, care and control at all times)

Don't PAWS, tickets are limited to ONLY 20 dogs and their families so get those tails WAGGING and JOIN THE PACK to suPAWt two brilliant causes!
* If you do not have a pet, or your pet is unavailable, you're welcome to come as a family or group of friends! Every little bit helps (as with all our events) - 100% of profits are divided between both charities!
Any questions? JUST ASK! Contact us via: Paws.Explores.Adventures@gmail.com
Be sure to follow our FACEBOOK, WEBSITE and INSTAGRAM for more updates! @Paws.Explores.Adventures
Bring: Your own tent, sleeping bag/doona and pillows, snacks, lunches and dinners, backpack, water bottle or camelpak, comfortable footware and clothing for all types of weather (including a waterproof jacket)
We look forward to seeing you on FRIDAY 6th to SUNDAY 8th OCTOBER!
Or for the Day Hikers; SATURDAY 7th OCTOBER.
(Pre-sale tickets only - no registrations available on the day of the event)
BOOKINGS CLOSE: MONDAY 2nd OCTOBER, 2017 @ 9pm.