About this Event
Confirmed guest panel participants include:
Phil Green, Queensland Privacy Commissioner
David Bunker, Executive Director (CEO) – Queensland Genomics Health Alliance
Russell Hart, A/Chief Information Officer, Metro North Hospital and Health Service
Our panel members will discuss emerging technologies and impacts on our privacy in everyday situations, the rapidly evolving world of genomics in healthcare, and share their views on the future of privacy in Australia.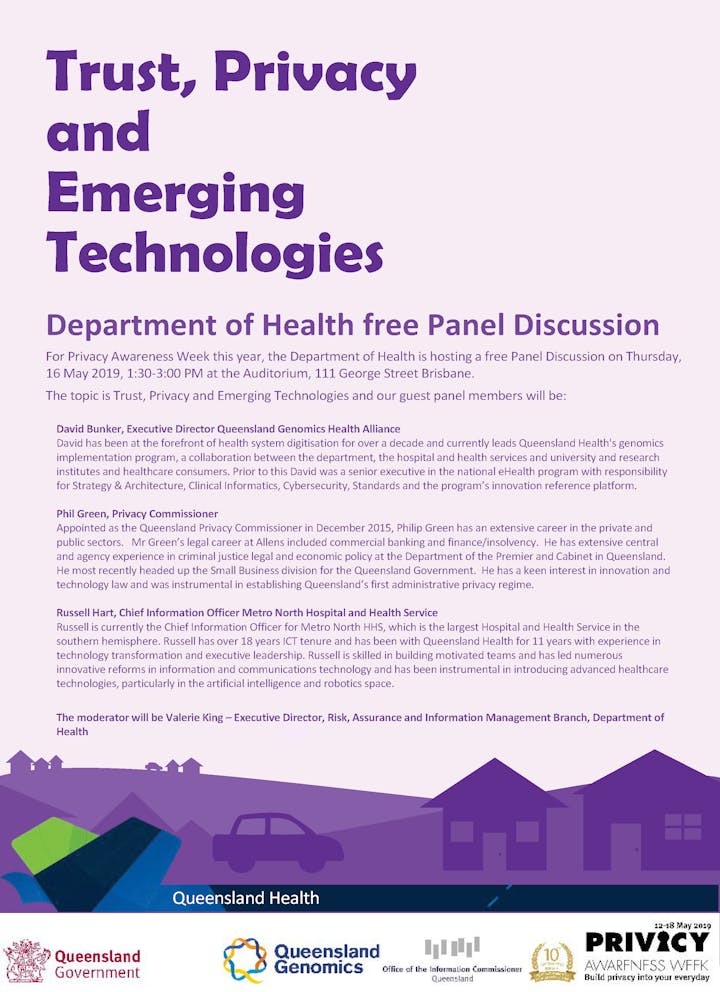 The registration process for the this event is being conducted via Eventbrite which means that information collected in this registration may be transferred outside of Australia. By completing this registration, you voluntarily agree to this transfer.
You should consult the Eventbrite privacy policy for further details about how they manage your personal information.
If you wish to register for this event; but do not agree to the transfer of your personal information outside of Australia, please contact the Department of Health's Privacy and Right to Information Unit to register via email to RTI-Privacy@health.qld.gov.au .
Privacy notice
Personal information collected by the Department of Health via Eventbrite for the purpose of registering and communicating with you in relation to this event will be handled in accordance with the Information Privacy Act 2009 .
All personal information will be securely stored and only accessible by appropriately authorised officers of the department. Your personal information will not be disclosed to third parties without consent, unless the disclosure is authorised or required by or under law.
If you have any queries regarding this event, please do not hesitate to contact the Department of Health's Privacy and Right to Information Unit on 07 3082 0546 or email RTI-Privacy@health.qld.gov.au.
For information about how the Department of health protects your personal information, or to learn about your right to access your own personal information, please see our website at www.health.qld.gov.au.