Description
Make a deeper difference–CHANGE THE SYSTEM!
In our complex world tactical, often isolated, change initiatives have to be just the beginning. To get the kind of traction required today we must connect our actions strategically into creative networks that allow us to change the system itself. Change at the systems level starts with learning how to think collectively about the relationships that form our social and organisational environments and how to collaborate effectively to get the ones we actually want.
PatternDynamics™ is the first systems thinking tool designed for purpose-driven collaboration.
Learn the principles of systems change and facilitate the collective intelligence to do it.
Learn Systems Thinking:
PatternDynamics™ helps you see the simplicity on the other side of complexity. Learn to be a systems thinker quickly and easily. Bring complexity capability to your organisation, making it more sustainable, effective, and profitable so it may more effectively play its role in the transition to a thriving planetary civilisation.
At the workshop you will gain essential 21st Century skills:
Learn the Principles that sustain, change, and allow systems to thrive.

See wholistic solutions to personal, organisational, and social challenges.

Learn key skills for participating in the global transition to a more interconnected, dynamic, and compassionate world.

Become one of those people who can 'connect the dots' and come up with game changing strategic insights.

Build a new set of communication skills based on 'collaborative systems thinking'.

Learn an innovative method of facilitating collective intelligence.

Discover a whole new approach to creative design.

Learn an effective way of expressing the principles of sustainability.

Gain an introduction to a high level method of building organisational effectiveness.

Experience the 'Source' of deep meaning at the heart of all groups that possess high levels of self-organisation.
Thrive in Complexity:
We have created an increasingly large, rapidly changing and complex world, but our ability to coordinate ourselves effectively within this complexity, at all levels–from the local to the global–has not kept pace.
PatternDynamics™ is a simple tool that can be learned by anyone to overcome the challenges posed by complex systems–at any scale. Here's how it works:
The key to complexity is systems thinking;

The key to systems thinking is

Patterns; and,

The key to using Patterns effectively is to form them into a language.
What is PatternDynamics™
It's a Sustainability Pattern Language: our current spoken, written and mathematical languages are excellent for analyzing the nature of 'parts', but they are not optimized for helping us see how these parts are connected and organized as 'wholes'. By combining the patterns of nature with the power of language, PatternDynamics™ creates a Sustainability Pattern Language–a language of wholistic symbols designed to help us develop the systems thinking capacity needed to meet the challenges of creating a sustainable planetary civilisation.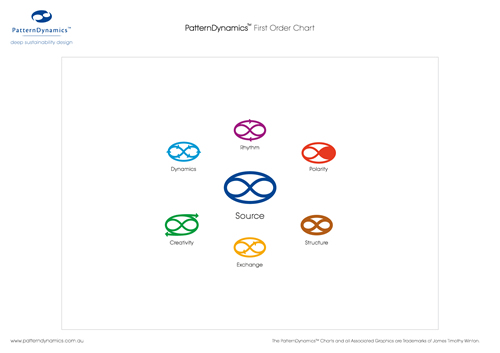 PatternDynamics™ is a language of visual Patterns based on the principles that have sustained natural systems and allowed them to thrive for hundreds of millions of years. It radically simplifies systems thinking, enabling effective mass collaboration. Learning to be a systems thinker is a key capability in today's world, but methods for learning this skill are often highly theoretical, complicated, and confusing. The PatternDynamics™ Workshop changes all that with a simple, intuitive, fun process that works for everyone who participates, every time.
With this skill you will have a method for resolving complex challenges at any level of organisation, from the community to the planetary, and in any domain, from business to governance to institutional.
What will I experience in the workshop?
The PatternDynamics™ (PD) One Day Workshop, led by founder Tim Winton, is a participatory group process that includes an introduction to the Patterns, group discussions, workshopping of participants' organisational challenges, and a simple set of movements. In learning to use the Patterns participants collectively embody, discuss, and experiment with the organising principles that sustain complex dynamic systems and experience the collective awareness and deep meaning generated through participating in a highly unified organisation.
What will I leave with?
The workshop gives participants introductory competencies in PatternDynamics™: systems thinking, collaborative problem solving, and the principles of sustainability. It also serves as the first step in learning PatternDynamics™ as a professional sustainability education and organisational development tool.
More on PatternDynamics™
PatternDynamics™ is a social enterprise. It is dedicated to providing real and practical tools for creating the consciousness required to form a planetary civilisation and a truly sustainable, thriving global society. See www.patterndynamics.com.au for more details.
We think of PatternDynamics™ as a language of human evolution.