Description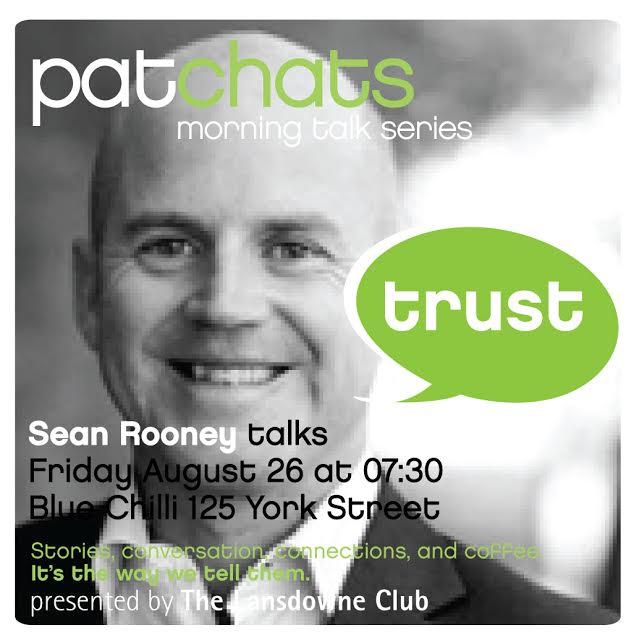 August's theme is
TRUST

Our speaker is
Sean Rooney

Sean is co-founder at AMIRE Strategic Digital Marketing. AMIRE was founded in 2013 specialising in Search Engine Marketing working across some of Australia's largest brands including Telstra, News Corp, etc.

Sean has worked in Digital Marketing since 2000 working in Ireland and the US before joining Australia's first specialist Search Engine Marketing agency in early 2002.

He has managed teams for the world's largest media company (WPP) working alongside multinational brands such as Microsoft, VW, LG, Ford and Unilever and more.

Sean believes building strong partnerships based on trust and integrity is key to success.
Sean's Talk
Sean's Talk will take the audience through a journey based on one client's experience's over the past 15 years, tracking the shared journey: the good and bad; but most importantly demonstrating the importance of trust/integrity in business and personally.
Quirky fact
Not everyone knows: Sean's real name isn't Sean, it's Dermod…It's an Irish thing

Everyone loves these breakfast stories. Help us continue them. Book now and bring a friend.


Event Details
Blue Chilli Technology, 125 York Street, Sydney 2000
Friday August 26th
7:00 for coffee & conversation.
7:15ish talk.
Q&A at 8:00-8:15.
Leave by 8:30.

This event has been made brought to you by the generous humans at BlueChilli Technology, Taste Ireland and eilishbouchier. Without their support PatChats would be silent and not possible!

There are limited place so book early or you'll sleep through it:-)