About this Event
Love Flowers? Enjoy painting? Combine the two passions and learn how to create pastels full of luminosity, dimensionality and light. Lyn will share her extensive knowledge of colour as well as provide you with the technical know-how to create the illusion of reality with pastel.
The building blocks of line, tone, colour and edge will be covered in depth to give you a rich understanding of these key areas. Lyn will provide information on pastels and pastel surfaces as well as application.
Enjoy clear, informative demonstrations and individual attention at your easel. You will use your own reference material so you can choose your own degree of difficulty or perhaps your favourite flower. Definitely creating the WOW FACTOR.
Materials are not included in this class, a material list will be available closer to the date.
Want more from Lyn?
28 & 29 May Oil Florals here
31 May Pastel Seascapes here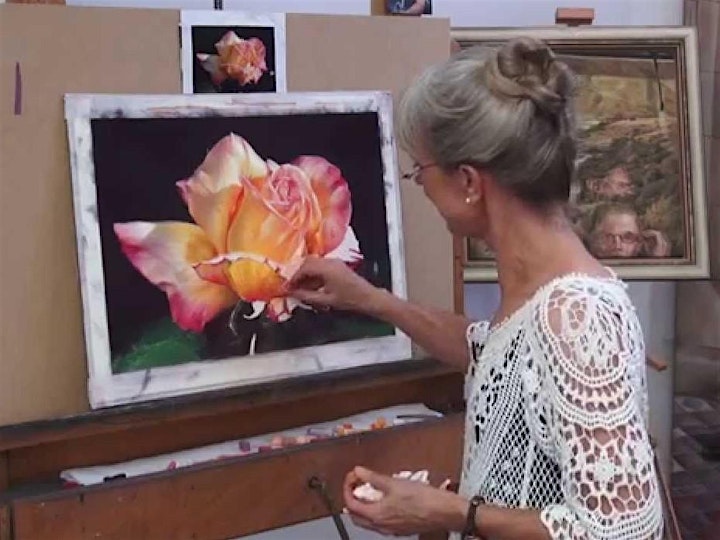 About the Tutor: Lyn Diefenbach
I have been a professional artist for 25 years and a teacher of the craft of painting across Australia and the world for some 20 years. For quite some time I wasted a lot of energy worrying about whether being an artist was something worthwhile. It seemed to be a fairly useless occupation- not noble like a doctor or a teacher. But then I read Pope John Paul 2's letter to all artists and this had a profound influence on me. In his letter John Paul exhorted : "Artists of the world, may our many different paths all lead to that infinite ocean of beauty where wonder becomes awe, exhilaration, unspeakable joy……… May your art help to affirm true beauty, which as a glimmer of the Spirit of God, will transfigured matter, opening the soul to the sense of the eternal."
With this new insight I set off on an incredible journey of discovery both of myself and the craft of painting. I discovered that my chosen field, as with life, was one of continual learning. It's like the "carrot and stick" routine – you never quite "arrive" but you have to keep on trying.
There is always more to learn both through experience and sheer determination. In amongst all of my travels I have met some of the worlds leading artists – ones whom I consider have "arrived" and guess what, they all say the same thing – "there's more to learn, the next painting is going to be the masterpiece."
Learning can happen by watching and listening to those who have trod the path and it can happen in solitude. Some of my greatest insights into understanding colour have come simply by experimentation and often by accident. From the very beginning of time we see this again and again – caveman, storm, lightning strike, fire.
I'm often asked for advice on how to progress with an art career and my answer would be to never stop learning. Even someone who is well and truly "up there" needs to move forward not stagnate in their processes. To leap into the unknown every so often is good for the soul, all be it sometimes terrifying and confronting.
A number of works in the Studio
Whenever you go into a new learning environment, go with your mind open and your receptors on high alert. Go with a sense of eager anticipation and expectation, not with fear and dread. Nervousness is okay, but harness it as a positive energy not a negative one. Rise to the challenge of stepping outside of your comfort zone and go on a voyage of discovery, even if the end result is the discovery that it is not the direction in which you want to go. You have allowed yourself to put in place one more stepping stone of your life's journey. Always remember that a perceived failure is simply paving the way to success and a deeper understanding of yourself.
Website: http://ldief.com/
Above Image: Transition
Below Image: Out of Darkness
MyArt Studio Workshop booking and cancellation policy
The 16 Duggan Street entrance to the classroom will be opened 15 minutes prior to commencement of the class. Students are responsible for their own artists materials unless otherwise stated. A materials list is available for each class and will be emailed to you once your booking is confirmed. Materials lists are also available on our website. Tea and coffee will be provided, and students have access to the kitchenette and toilet facilities. No parking facilities provided. Street parking is time limited and shopping centre parking is at your own expense. Classes with outdoor activities are attended at your own risk.
Fees
Please book into a workshop at least one month prior to its commencement if possible. This will secure your spot in the class and allow us to confirm tutor bookings. If there are insufficient number workshops may be cancelled.
Cancellation of enrollment by you
If you choose to withdraw from a course or workshop up to one month before its commencement, you will be charged a $25 administration fee. The remainder (minus Eventbrite fees) will be refunded. If you choose to withdraw from a course or workshop within 1 month of its commencement, you will be charged a $25 administration fee and the remainder (minus Eventbrite fees) will only be refunded if the position can be filled.
Missed Classes
Once a workshop has commenced there are no refunds. MyArt Studio cannot accept responsibility for changes to students' personal circumstances that prevent attendance. Classes missed are the student's responsibility and are non-refundable. Students are not entitled to a discount or 'make-up' class if they miss a class for any course they are enrolled in.
Cancellations of workshops by us
In the event of a class being cancelled due to insufficient enrollments, a full refund will be given.