Description
Join me for Pastel Art Classes for Beginners!
Weekly on Fridays and some Saturdays these 3 hour art classes will teach you how to use pastels to create beautiful art. We'll cover colour theory, blending techniques and loads of other tips and tricks as well as hands-on painting. Learn how to paint clouds, pears, grass and water and so much more!
It doesn't matter if you've never painted before, neither had I until my mid 40s - it's never too late to start, right?
If you've had a yearning to paint and you want to learn with other like-minded people then come and learn to paint with pastels in a relaxed and peaceful environment.
Numbers are limited and there are two options: Pay per class or book a block of 6 classes. See prices and courses below.
See you then! I can't wait to share with you what I know and love about pastels,
Jeanne
*Here is an example of what we create in our weekly classes. These ladies have been coming to class for only 6 weeks!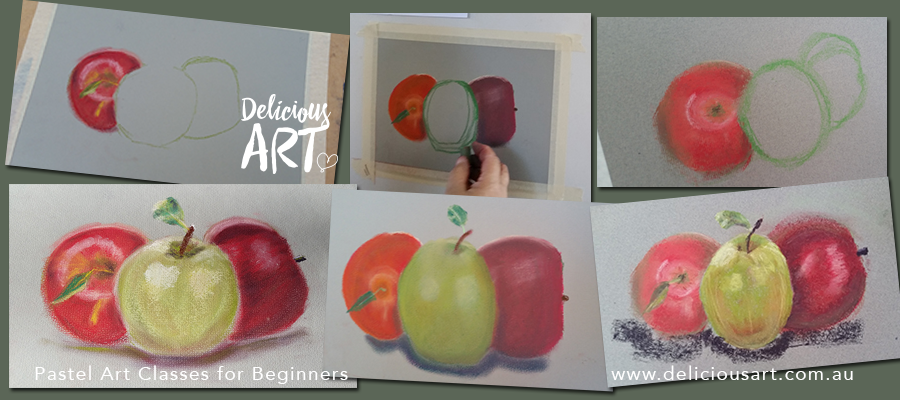 6 Week Beginners Course - FRIDAY MORNINGS
Dates: Commencing Friday 3rd Feb and ending Friday 10th March 2017
Times: 9am - 12pm
Location: Westlake - the address will be emailed to you on receipt of payment and booking
Cost: $195 for the 6 week block every Friday commencing on 3/2/2017. Please book here on my website
FRIDAY AFTERNOONS (for intermediates and regulars)
Dates: Every Friday afternoon
Times: 1pm til 4pm
Location: Westlake - the address will be emailed to you on receipt of payment and booking
Cost: $35 per class OR buy a $195 6 Class Pass here (valid for 3 months)
Bring: Your own art materials - a list will be supplied on booking.
4 x SATURDAY AFTERNOONS
Dates: Saturday February 4th, 11th, 25th and March 4th 2017
Times: 1.30pm til 4pm
Location: Victoria Point - the address will be emailed to you on receipt of payment and booking
Cost: $150 for the 4 week block every Saturday commencing on 4/2/2017. Please book on my website at http://deliciousart.com.au/
Gift Vouchers Available - What a wonderful gift for someone special! We have Vouchers for one class or a series of 6 classes. Click on the TICKETS button to buy.
STUDENT TESTIMONIAL: "I have LOVED my six weeks of classes so far and have just signed up for another six weeks, I was really apprehensive to begin with but as soon as I met jeanie I was put at ease, the classes are perfectly structured with a perfect blend of friendly chat and lesson, I have learnt so much since joining and look forward to each Friday to see what it holds... Thank you, Geri"
ALL BOOKINGS ARE AVAILABLE AT DELICIOUS ART

---
Refund Policy: I understand that sometimes things happen that we don't expect. Here is my refund policy...
Cancellations received 7 days or less before the event date will not be refunded unless another person takes your place.
Cancellations received 7 days or more before the booked event date: 75% of your ticket price will happily be refunded. *Please note 25% of your ticket price will be retained because there are processing fees attached to the booking system and PayPal for each booking.
6 Week and 4 Week Courses - if you've booked and paid for the 4 or 6 weeks and you miss a class due to unforeseen circumstances you are welcome to attend make up classes on another day and time to be arranged (depending on seats available).