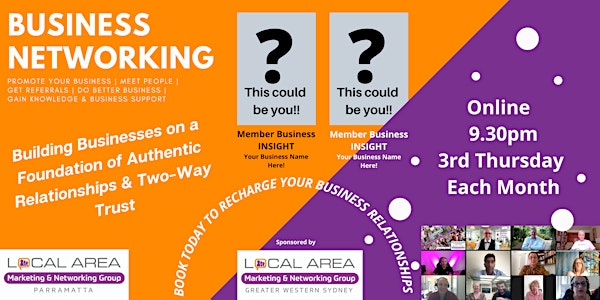 PARRAMATTA - ONLINE: Building Personal Relationships for Better Business
Refund policy
Refunds up to 1 day before event
Eventbrite's fee is nonrefundable.
Sales Have Ended
Registrations are closed
LEFT YOUR REGISTRATION TOO LATE? Our face-to-face events include catering with group numbers notified to the venue the evening before. However, we don't want you to miss out, so call or text your RSVP to 0404 767 482 and pay the organiser at the venue.
Join us on a journey to recharge your business with authentic relationships, trust and knowledge for sustainable success.
About this event
Have you changed the way you do business or your products? Maybe you have changed the business itself or launched a new business?
Its important that you re-establish personal contact with colleagues and potential clients to share your business journey. We can help you to achieve this by providing an informal, positive and engaging environment committed to nurturing the businesses of ALL participants.
You can start right now by registering to attend our next meeting. We also invite you to step up and present a 10-minute Member Business INSIGHT at our next (or a future) meeting sharing your business story and knowledge. This is an important part of relationship building!
(Don't worry about being nervous speaking in a group environment. We are committed to your success and will coach you through this at no cost).
To book an INSIGHT for our current meeting, email your business details to: networking@localareamktg.com.au
Please not: If you are a first time attendee, you can book a future presentation at your first meeting.
All attendees have the opportunity to introduce themselves and their business. Depending on numbers, introductions are between 30-60 seconds - so it would be a good idea to make a note of the key points you want to make!
Attendee contact details will also be included in our post meeting social media wrap-up.
Parramatta Network is a member of the Local Area Marketing & Networking Group which operates across Greater Western Sydney via business networking groups covering the Hills district through to Parramatta, Blacktown, Penrith and the Lower Mountains.
We have a mix of online and face-to-face meetings.
You get to meet like-minded people, exchange ideas, learn, socialise, collaborate, gain knowledge, form new relationships, get fresh business ideas and tips and, of course, expand your introduction-based business network.
Whether your business is shop, office, industry, home based or in a shared space, you will meet motivated owners and entrepreneurs to share your passion and grow your business with.
PROGRAM UPDATES
Check back here for individual program updates closer to the meeting date.
WHAT WE DO
Our online and face-to-face meetings are identical for all groups. They begin with:
1. Opening welcome.
2. 60-second Business Primers (all attendees).
3. Member Business INSIGHT* (up to 10 minutes when pre-booked).
4. Group photo.
5. Business Card Exchange (We do that online too!)
6. Five-minute break
7. Member Business INSIGHT* (up to 10 minutes when pre-booked).
8. Member Keynote* (up to 20 minutes when pre-booked).
9. Five-minute 1-1 Collaboration Discussion rotations. (Online – members auto rotate via private virtual meeting rooms.) Additional 1-1 meeting time is always available at the end of meetings.
10. Meeting ends.
Member INSIGHTS and keynotes are supported via a template format designed to help you tell your story, build personal relationships, promote your business and share your unique knowledge 'value-add'. They also help 'fine-tune' your presentation skills. (Nervous about presenting? Don't worry - we will coach you through it.)
THERE'S MORE!
One of the many ways we "Put People First" is with innovative business support programs.
1. Our Small Business Knowledge Program runs monthly in a host group. Program topics are based on three priority areas: 1. Business Sustainability and Profitability; 2. Legal Issues and 3. Sales & Marketing.
2. During the pandemic, the Local Area Marketing & Networking Group launched its unique Business Health Insulation Program for members to Successfully Transition Covid-19 Impacts into the Future.
The program provides resources targeted at keeping businesses sustainable, adaptable and ultimately prosperous. Topics to date include pandemic business management, mental health, motivational, cyber-security, ATO and Service NSW, pain management, business planning and business continuity support.
3. The Group has a new member Facebook page where you can promote your business, keep in touch with other members and keep up to date on Group activities.
4. Regular members receive a post meeting email with the attendee list and relevant information and handouts from their meeting. The attendee list includes business contact and service/product details.
5. In addition to widespread meeting promotion, post meeting wrap-ups, including photos, are publicised on Facebook and via LinkedIn. Attending members are encouraged to share and to use these in their own promotions.
6. Face-to-face meetings include a Promotions Table for your brochures, samples, give-aways etc. Members are encouraged to bring a business promotional banner to display as part of the meeting backdrop for photos & video.
7. All members are encouraged to nominate themselves to host a meeting - either online or face-to-face at one of our venues. You are fully supported to make it an enjoyable, rewarding and confidence building experience!
MEMBERSHIP FEES
Unlike many groups, we do not charge a membership or joining fee. Instead we charge attendance fees for all online and in-person meetings to cover costs and ensure small business owners are not dissuaded away from business networking by cost.
Every meeting has an attendance fee contribution to costs. Group sponsorship opportunities are also open.
Online meeting fees are set at $7.50 per attendee (Booking fee and GST inclusive). Face-to-face meeting fees (Inclusive of breakfast, morning tea or evening snacks - depending on the venue and time) $25 per attendee. Blacktown Group (BBN) $15 as this is generously sponsored by Workers Blacktown (Booking fee and GST inclusive).
Consider becoming a group sponsor, showcasing your business community support and benefit by having your business profile prominent in group and public marketing campaigns. Email networking@localareamktg.com.au for details or call 0408 860 916
Group inquiries to:
Joe Kowalewski
Chief Marketing Officer, Local Area Marketing & Networking Group E: networking@localareamktg.com.au Ph: 0408 860 916