Papal Gala Banquet

Sunday, 10 September 2017 from 5:00 pm to 11:00 pm (AEST)
Event Details
The Papal Gala Banquet is held in honour of the Pope of Alexandria and Patriarch of the See of St Mark, His Holiness Pope Tawadros II. It will be held at Peninsula, Docklands on the 10 September 2017.
We welcome you in a spirit of celebration and joy to purchase tickets to this iconic event as we honour our beloved Pope, while also paying homage to 50 years of Coptic Australian heritage built on the foundatioin of Our Lord Jesus Christ.
---


DETAILS
Sunday 10th September 2017  
Dress: Formal
Time: 5.00pm arrival at the venue for ticketing.
Ticket Price: $160 per person + $7.39 booking fee.
---
LOCATION
The Peninsula is a multi-award winning and unique venue, situated in the newly developed Central Pier at the Docklands. It boasts stunning views of Victoria Harbour and a spectacular decking area offering a beautiful black waterfront canvas on Central Pier, Docklands.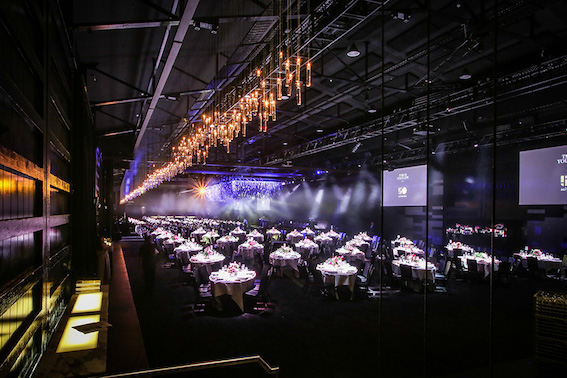 ---
FREQUENTLY ASKED QUESTIONS
TICKET AND SEATING INFORMATION
Are there security requirements to attend the Papal Gala Banquet?
Yes. You must have registered for a Diocesan ID card to enter all events during the papal visit, including the Papal Gala Banquet. If you have not registered for a Diocesan ID please visit www.popeofhope.com.au and follow the prompts to order your ID card. Full instructions are provided at this website- please read them carefully. 
To proceed with booking tickets for the Papal Gala Banquet, all members of your family are required to have registered for an ID card and to have received your unique ID card number. You must complete this step first.
Is Eventbrite the only way to book for the Papal Gala Banquet?
Yes. No tickets will be sold at any of the local parishes before the Papal Gala Banquet or on the night of the event. 
If you need any technological or language support to mobilise the online ticket booking process (which will be in English), please seek assistance from family members, fellow parishioners or your parish priest who will direct you to a nominated representative at your church to assist you with your booking.
Can I book my ticket using my mobile phone?
To select your preferred table and seat numbers please use your computer. Your mobile device or iPad will allow you to purchase "the best available" tickets, but not allow you to select your table or seats from a floor plan. Completing your purchase via your computer will allow you to see a full floor plan.
Why is there a payment processing fee?
The processing fee goes directly to Eventbrite to use the Eventbrite website. We decided to faciliate ticket sales via Eventrbrite to ensure we could provide a fair and equitable way to sell tickets. Eventbrite allows you to view the floorplan for the Gala Banquet and select the best available seat for your tickets.
Can I purchase an entire table at the Papal Gala Banquet?
Yes. Most tables available at the Papal Gala Banquet will be for 12 persons. If you would like to book an entire table you must ensure you have the full name, email and telephone number and Diocesan ID Card number of each guest at your table. 
Please note once a ticket is booked in a person's name, it will not be transferrable to any other guest. 
Can children come to the Gala Banquet?
Unfortunately, children under 16 years of age are not permitted at the event. Anyone over the age of 16 is considered an Adult for ticketing purposes.
How will seating be allocated?
The Gala Banquet is a seated event. During the time of booking you will be able to see the seating plan for the Papal Gala Banquet- like booking a seat on a flight.
You will be able to select your table and seat number while purchasing your tickets. You will see clearly which seats have already been purchased (grey colour) and which are available (orange). To book an entire table you must select all seats on that table individually.
Alternatively, if you would like to purchase individual seats you do this by selecting the seat of your choice on a table. Note, if you do this, you will be sitting with other guests who purchase the remainder of the tickets on your table. There will be no availability to request seating with friends, family or others from your parish.
Once you have purchased your seat, you will be allocated a table number and seat number. Under no circumstances can you change your table or seat number or transfer seat allocation with any other ticket holder.
On the evening, one of our volunteers will be on hand to assist you in finding your seat location.
Will there be tickets allocated to my local parish?
No. There are no seats allocated on the seating plan for parishes. 
Do I have to bring my printed ticket to the event?
Yes. No ticket, no entry to the event.
Your ticket will be sent to you in a confirmation email. Please print the ticket and bring it with you to the event. All tickets will be checked along with your ID Card to verify your identity and your exact table and seat number. 
Will tickets be available for purchase at the event?
No.  
Can I attend on my own?
Yes. You are more than welcome. Select your seat of choice when purchasing your ticket.
Can tickets be put aside for payment and pick up on the night? 
Regrettably, this is not possible.  You must book and pay online at the time of booking. If this is a problem for you, please ask for assistance from a friend or family member who can support you in booking your ticket.
---
PAYMENT
What payment methods do you accept?
All payments are made via Eventbriite and by Credit Card only. The site accepts, VISA, MasterCard, American Express.
EFT, Cash or Cheque payment of tickets is not permitted. Payment is required in full to secure your tickets.
Can I obtain an invoice for my purchase?
When you make, a payment using the Eventbrite system, you will receive a receipt of payment. This will form your receipt for the purchase of the tickets. You can keep this completed form on file for your records.
---
REFUND AND TRANSFER OF TICKETS POLICY
What is the refund policy?
All tickets are non-refundable unless the event is cancelled by us. There will be no refund on any tickets. Please note tickets are not transferrable to any other person under any circumstance. The Diocese of Melbourne reserves the right to cancel your ticket at any time.
Can I update my registration information once I have purchased a ticket?
No. Please ensure prior to booking that you have the following details for each ticket:
Full name;
Phone number;
Email;
Diocesan ID card number
Any dietary requirements
---
DIETARY INFORMATION
I have dietary requirements; can I request a change?
You certainly can! Please let us know when completing your details for your ticket purchase if you have any dietary requirements. Please ensure you do not forget these details. As you can understand with so many guests, no allowances for dietary requirements will be available on the night, if this was not pre-organised.
Can I bring my own food and drink?  
No. Under no circumstances will any food, drink or alcohol of any kind be permitted.
---
FURTHER INFORMATION 
How can I contact the organiser with any questions?
For all inquiries please contact Marianne Sourial by email only at banquet@melbcopts.org.au
You will recieve a response within 24 hours.
Can I donate to the Gala Banquet or the Papal Visit?
Absolutely and we thank you for your generous show of support. We run the Papal Visit on a donation basis. This is optional, however please do consider that we have very high running costs to meet, and be generous! To donate, you can select an option before confirming your order, otherwise you can donate to:
Account: COPTIC ORTHODOX CHURCH DIOCESE OF MELBOURNE- EVENTS
BSB:        063 159
Account:  10686132
Venue map / Peninsula
66637958
General Admission
1
#ffbc32
When & Where

Peninsula
Shed 14, Central Pier
161 Harbour Esplanade
Docklands, VIC 3008
Australia

Sunday, 10 September 2017 from 5:00 pm to 11:00 pm (AEST)
Add to my calendar
Organiser
St Athanasius College (SAC) specialises in Coptic Orthodox theological studies online and on campus.
We support local and international students as they journey towards a deeper understanding of Orthodox Christianity and spirituality, helping them grow in their faith as they prepare for diverse fields of ministry.
Christian fellowship, liturgical worship and learning are at the heart of our community. SAC provides a positive and supportive learning environment nurturing spiritual growth and cultivating the gifts of each individual. This is achieved through the pursuit of prayer, knowledge, communication, service and fellowship to each other, through the Grace of God.
The College equips students with the ministry skills and confidence to serve in the priesthood and religious life. It also prepares lay people to serve as theologians, religious educators, youth leaders and mission workers.
SAC embraces those who wish to learn about our shared Christian heritage and Orthodox teachings as full-time and part-time students.
For almost 20 years, SAC has offered courses in diverse fields of theology. We offer postgraduate and undergraduate study options on campus and online. New postgraduate offerings to be delivered in 2017 include a Graduate Diploma in Theology, a Graduate Certificate in Theology and a Graduate Certificate in Divinity. SAC continues to offer a diverse range of study units through our foundational Diploma and Advanced Diploma courses.
Residential facilities are onsite for full-time and part-time students, to help them more fully participate in liturgy, prayer and community life.
Classes are delivered at our Donvale Campus, based on 22 acres of tranquil bushland in the eastern suburbs of Melbourne. And from mid-2017 students can also study at our Eporo Tower Campus conveniently located in La Trobe Street in the Melbourne CBD.
Our college is named after St Athanasius, the great pillar and defender of the Scriptural doctrine of Christ. St Athanasius the Apostolic (20th Pope of Alexandria) stood boldly in defence of the biblical doctrine of Christ. We follow in the footsteps of St Athanasius by preserving the Gospel truth now and for future generations.