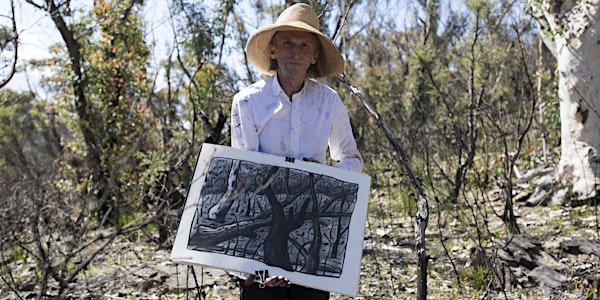 Painting Outside the Lines: Chris O'Doherty in conversation with Leo Robba
Painting Outside the Lines: ​​Chris O'Doherty in conversation with Leo Robba
About this event
The SHCA environmental humanities research support network and the Writing and Society Research Centre are delighted to present Chris O'Doherty (AKA Reg Mombassa) in conversation. O'Doherty's graphic design and musical work have iconic cultural status, and his paintings are widely celebrated. His multi-disciplinary work famously ironises the Australian quotidian, its laconic characters, myths and pop culture. As such, O'Doherty's work can be understood to function as a social commentary and performs a striking critique of the everyday. What is less recognised, is this project is further pursued in his textual work – from poetry, to the political and philosophical, in texts like Cranium Universe. In this conversation, O'Doherty shares insights about his wide-ranging creative process, reflecting on his historical and critical engagements with war, famine, death and his refraction of them through the absurdities and banality of human experience.
The SHCA environmental humanities research support network member Dr Leo Robba is a long-term collaborator with O'Doherty. They are part of a group of well-known practicing artists, who have participated in numerous exhibitions and publications, and share a collective fascination for place, from the West MacDonnell Ranges, NT, Cradle Mountain, Lake St Clair and Maria Island in Tasmania, as well as the Heysen and Gammon Ranges in SA. More recently, O'Doherty has been involved in Robba's Painted River Project at Rare Upland Swamps, Leura, Blue Mountains. The Painted River Project explores how participatory creative practice builds relationships between people and place, and highlights the importance of preserving and improving river and water catchments in the Sydney region through community engagement and education.
In a wide-ranging discussion, Dr Leo Robba will engage with O'Doherty about his creative process, and explore its relevance to the kind of practice-led, participatory, and multi-disciplinary approach that is the foundation of the SHCA environmental humanities research support network. The discussion will be lively, interrogative and informal and will be followed by a Q&A.
CHRIS O'DOHERTY (b. 1951), also known as Reg Mombassa, is an artist and musician. The O'Doherty family came from New Zealand to Sydney in 1969, when Chris commenced study at the National Art School. In 1976 he became a founding member of Mental as Anything, one of Australia's most successful bands. O'Doherty designed prints for the surfwear label Mambo, devising the flatulent dog, demons and incarnations of 'Australian Jesus' in distinctively Australian settings that also recurred for many years in his paintings. His work Bush Suburbs was printed on the lining of the Australian team blazer for the Sydney 2000 Olympics, and several of his creations featured in the closing ceremony of the games. Over the past two decades, he has participated in many group shows and held several solo exhibitions at Watters Gallery, Sydney, becoming well known for his evocative landscapes and views of workaday dwellings.
LEO ROBBA is an artist, designer and academic who lecturers in Social Design at Western Sydney University. Robba's research and Social Design practice (The Painted River Project) focuses on design thinking for planetary health, communication for sustainability and ways to engage and educate communities through participatory art, design and science.