'Painting Beauty with the Ashes' Book launch, Art Exhibit, Equine demo
About this Event
ONLY A FEW SPOTS LEFT! TICKETS WILL BE OPENED UNTIL WED 20th FEB. Reserve your FREE ticket now.
No RSVP - entry cost at door will be $40 to cover extra food costs.
***
Event starts from 5pm in The Garden Pavilion. The main activities will be featured from 1745-2100. Welcome to stay and enjoy the evening until 10pm.
This is an adult only event with a fun twist on dress code - wear something from your wardrobe that you like and you haven't had a chance to wear it for a long time!
The evening will include:
Book launch and personalised signings
Art exhibition of 34 pieces included in the book
All art pieces and other items auctioned - silent and live*
Inspirational speakers and reading of the book
Live horse and training demonstration by Scott Brodie
Teaser of the documentary 'The Healing'
Wellbeing play area*
Canapés & cash bar
New book by Dr Mel Baker 'Painting Beauty with the Ashes' - a journey in recovering from trauma after serving in the Royal Australian Navy, will be launched and for sale on the night, including personalised book signings.
Painting art and being with horses helped Mel battle in her recovery following trauma. The art will be auctioned to raise money for 'The Healing' - a documentary featuring Mel and other veterans finding their confidence again after trauma in the Armed Services. Healing Horses, Healing Veterans will be demonstated live on the night with horse trainer Scott Brodie (Racing NSW and Director of Thoroughbred & Veteran Welfare Alliance) and through the viewing of 3-min teaser of the upcoming documentary, directed by Nick Barkla.
* Money raised from the auctions and wellbeing area on the night will go directly towards 'The Healing' film project, helping veterans and horses following trauma. Any general donations given to this project is tax deductable through Documentary Australia Foundation.Proceeds from book sales both hardcover and eBook will also go to this project.
All sales transactions can be done via credit card, apple pay, Gpay, eftpos or cash. General donations to the film project via credit card (tax deductable) or cash.
CANNOT MAKE THE EVENT BUT WOULD LIKE TO MAKE A DONATION? Your tax-deductable donation can be made here - https://www.documentaryaustralia.com.au/films/4303/the-healing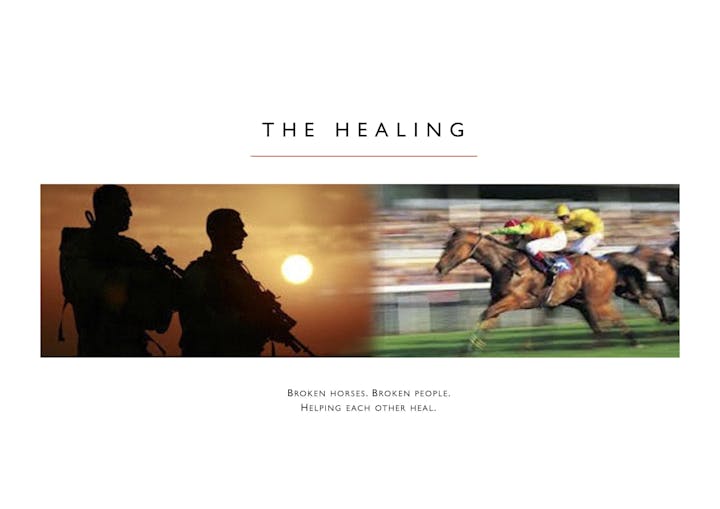 THE EVENT FUNDRAISER:
Increasing numbers of Australian military, as well as police, firemen and paramedics (first responders) are succumbing to depression, post-traumatic stress disorder and suicide.
Similarly, every year, thousands of racehorses are "retired" from the racing industry. Racing NSW helps save ex-racehorses through their Thoroughbred Rehabilitation Trust (TRT) by retraining and rehoming these horses. Scott Brodie, TRT Manager, gives his own time into helping veterans overcome their trauma by introducing them to this training with ex-racehorses.
"Horses exhibit and survive by instincts which for 50 million years have served them well. There is ample opportunity for humans, when placed in a position where they have to communicate with these majestic, and on the surface completely different beings to get in touch with their primitive, but incredibly similar and influential instinctive responses." - Scott Brodie, Director of TVWA
Many veterans, including Mel, who have been trained by Scott has also volunteered at TRT. This has been significant in their recovery. It was out of this TVWA was formed in 2016. The mission of TVWA is to transform the lives of these traumatised horses and people. The Healing documentary will bring our cutting-edge ideas and practices to a much wider audience, to help obtain the vital support, exposure and funding needed to carry on our life-saving programs. It is a documentary about transformation and getting a second chance in life. Set against the stunning backdrop of the southern highlands of NSW. It is an emotional journey of recovery that follows a group of traumatised war veterans whose lives are saved by learning to re-train ex-racehorses.
"When I heard about the TVWA program, I couldn't understand how traumatised horses and humans could heal each other. But having seen the interactions with my own eyes, I'm now a believer. I urge you to support this film and help transform the lives of damaged horses and people."
Nick Barkla – Director The Healing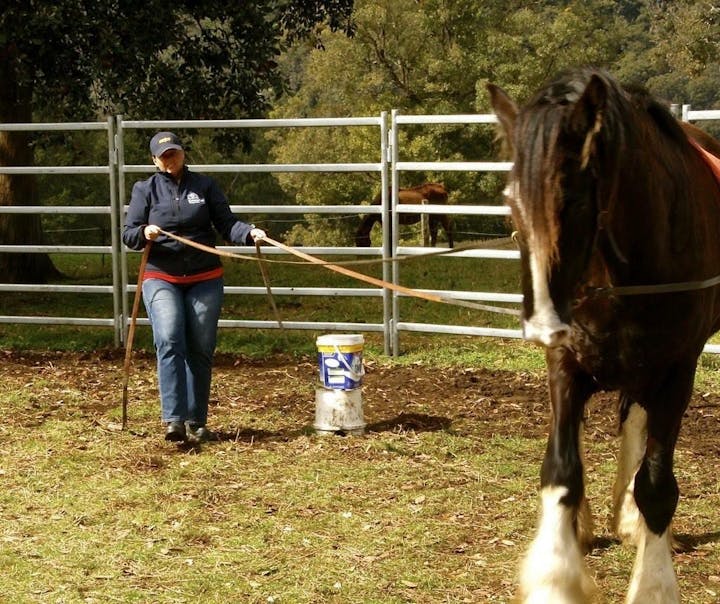 Above: Mel leading a horse around buckets in a round yard, as part of a Veterans training program at Cedars, Kangaroo Valley in 2015
Below: Horse trainer Scott Brodie with Mel and actors Bryan & Rachel and one of the thoroughbreds who is part of TRT retraining program at Canterbury Racecourse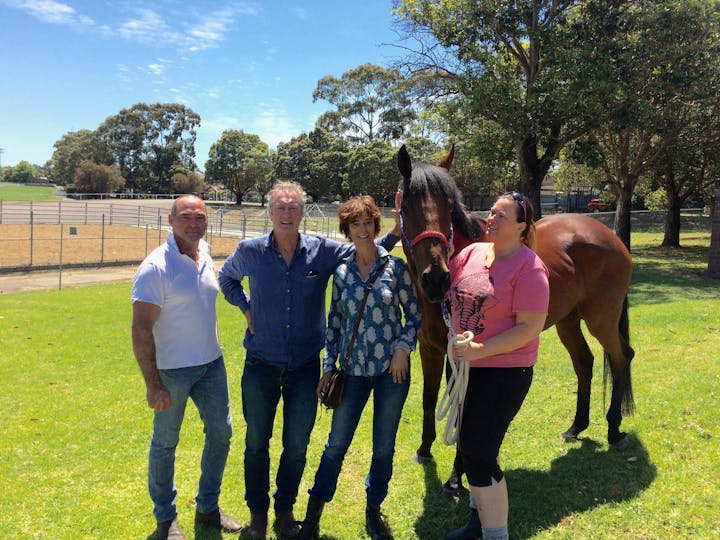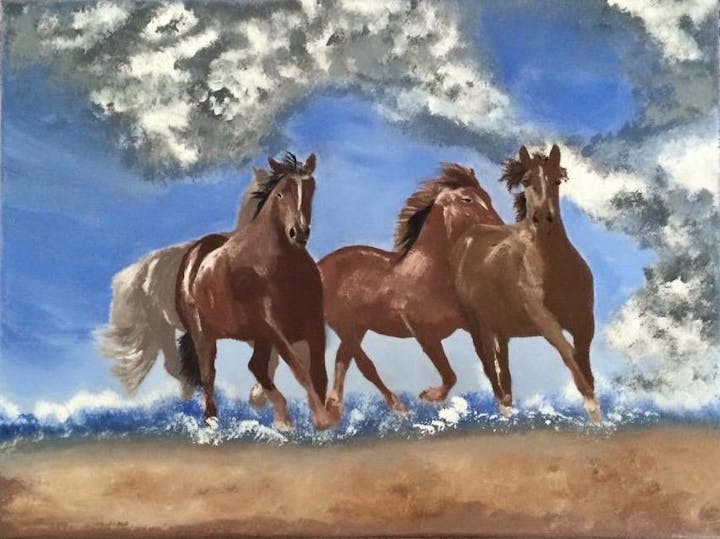 One of 48 different art pieces in 'Painting Beauty with the Ashes': Running Free, Acrylic on canvas © Mel Baker 2017