Looking for something fun to do with your family or friends? In this session you will be painting 'Frida' see image below.
About this event
Join us at Ryde Wharf Reserve and book into a Paint and Sip class brought to you Prince Gallery Gladesville. They will take you through a step by step paint workshop, working at individual easels to create your very own masterpiece to take home. Don't worry if you haven't picked up a paintbrush before our mentors are there to guide you along the way.
Adult Sessions (aged 18+)
Tickets: $30 per person
All materials supplied including aprons, paints and canvases and brushes.
Beverage options available to purchase from the licensed bar on the day.
Duration: 60 mins
Terms and conditions:
COVID 19
Paint and Sip Gladesville are taking all necessary precautions outlined by NSW Health. We ask all guests that assist in the workshop follow the below:
Practice social distancing of 1.5m between others
Washing and sanitising hands
Staying home if unwell or showing Flu like Symptoms
Personal belongings
Paint & Sip Gladesville does not accept any responsibility for any losses or damage incurred to personal belongings or clothing. Guest should dress appropriately for the activity.
Artwork must be taken away immediately after the conclusion of the workshop. Paint & Sip will not accept any responsibility for any damages to the artwork. If your artwork is not collected straight after their session it will be removed from site.
Alcohol
Alcohol cannot be brought into the event site; it must be purchased from the licensed bar on the day. No alcohol to be brought into any Alcohol-Free Session over the course of the event. It is illegal for a person to supply liquor and for a minor to drink liquor. Security and event staff will be monitoring this. Event staff and security have the rights to remove you from the event site if you show any signs of intoxication or harm to other patrons.
Photography
All public events are documented, and images maybe be used on social median platforms and marketing streams. If you do not want your photo taken please notify staff prior to the commencement of your workshop.
No refunds
No refunds will be given for guests that does not show up to their allocated timeslot on the day.
If you do not arrive within 10 minutes of your allocated time slot you will forfeit your ticket and no refunds will be given.
By booking and making payment this workshops you accept these terms and conditions.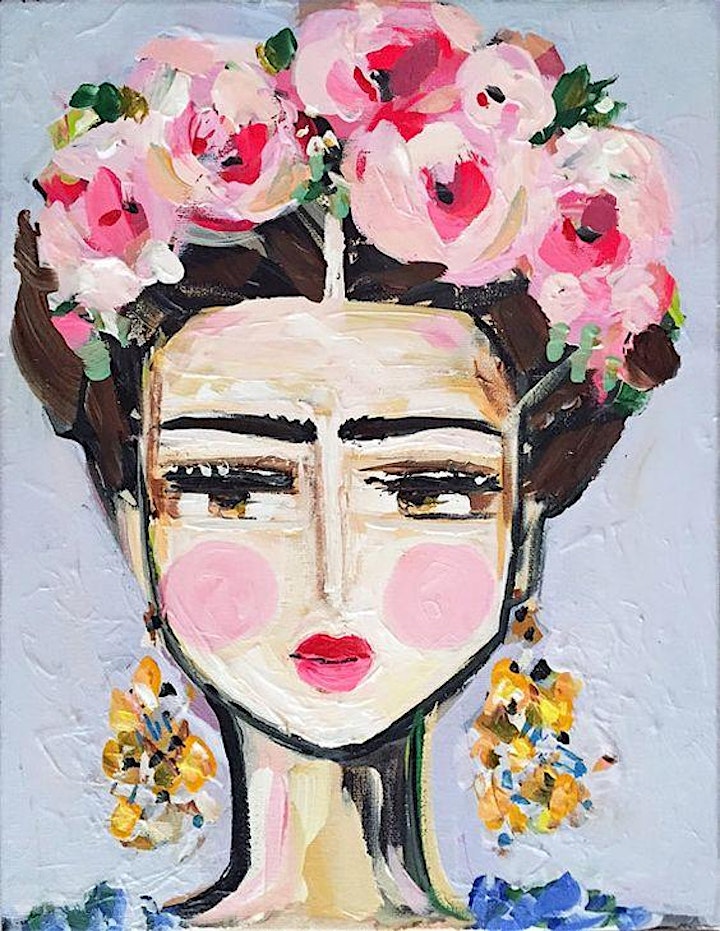 In this session you will be painting 'Frida' as shown above.
Organiser of Paint and Sip Workshop - Sunday ("Frida" Adult Session)
The City of Ryde occupies an area of  40.651 sq kms between the Parramatta and Lane Cove Rivers, and has 16 suburbs within its boundaries. It is approximately 12kms from the centre of Sydney.
The City of Ryde boasts some of the most beautiful, historic and culturaly rich town centres in Sydney. As well as vibrant town centres, each year thousands of people from all over Sydney come to enjoy our events and festivals, parks and playgrounds.
For more information go to www.ryde.nsw.gov.au or call our Customer Service Centre on 9952 8222.