Description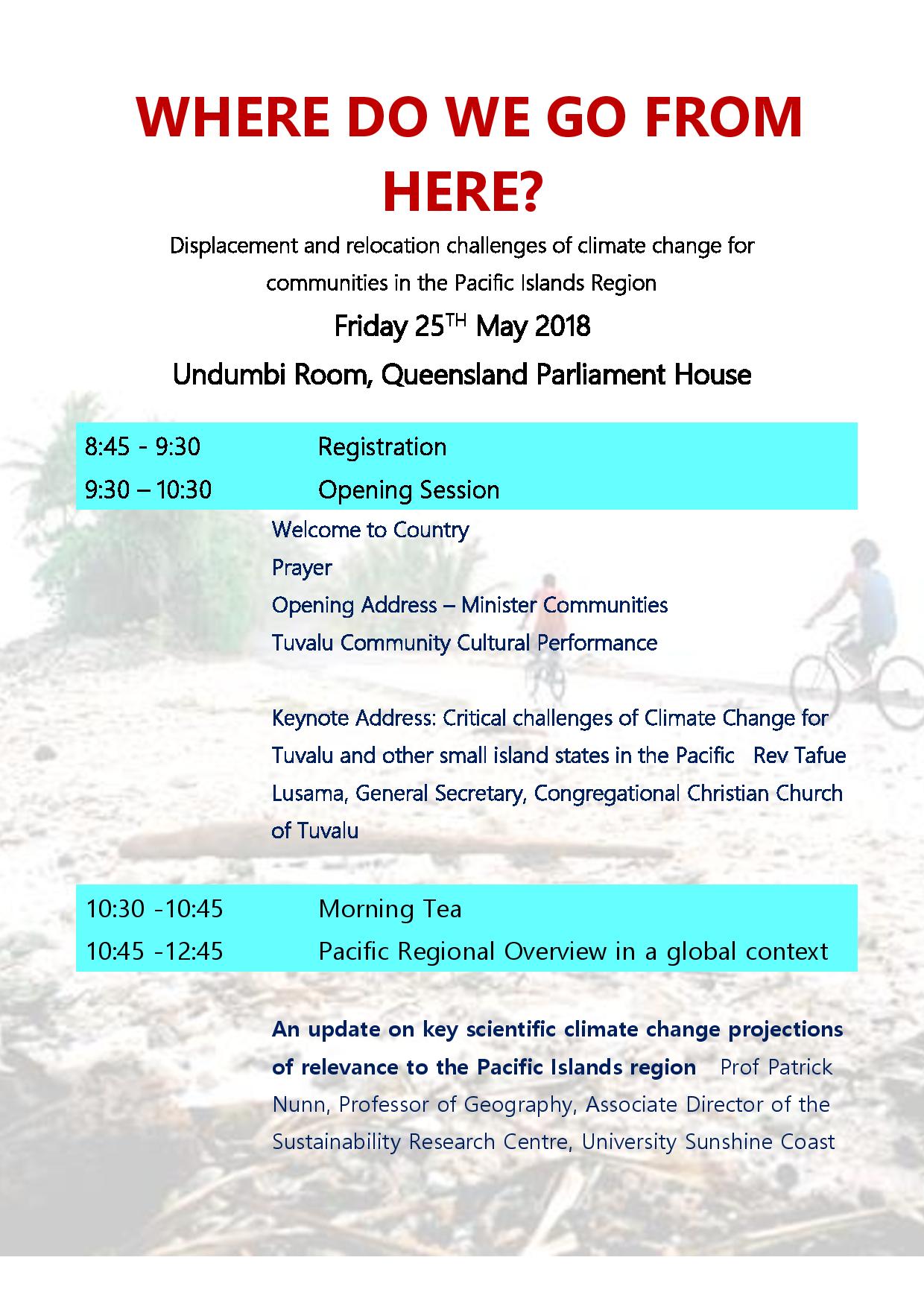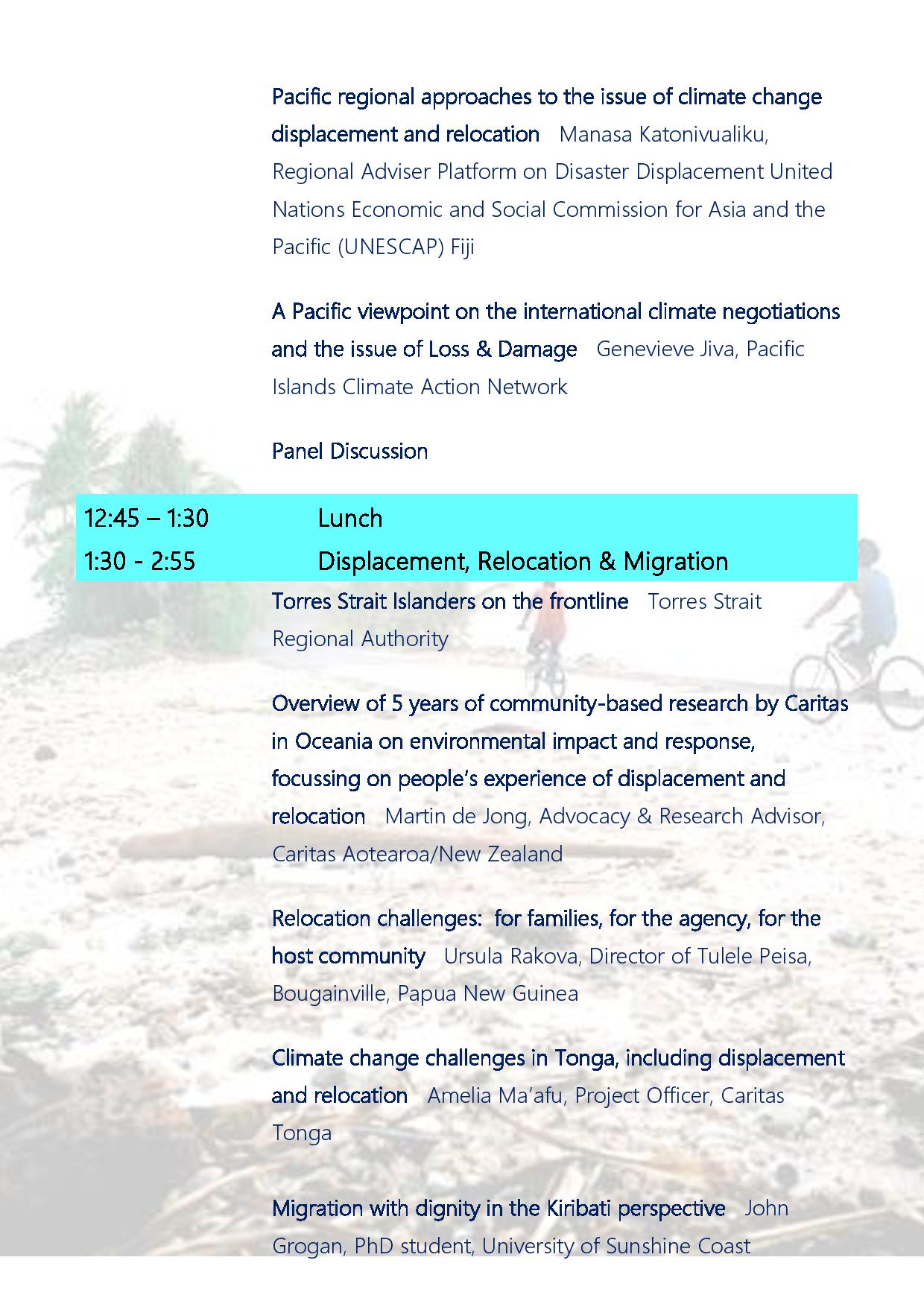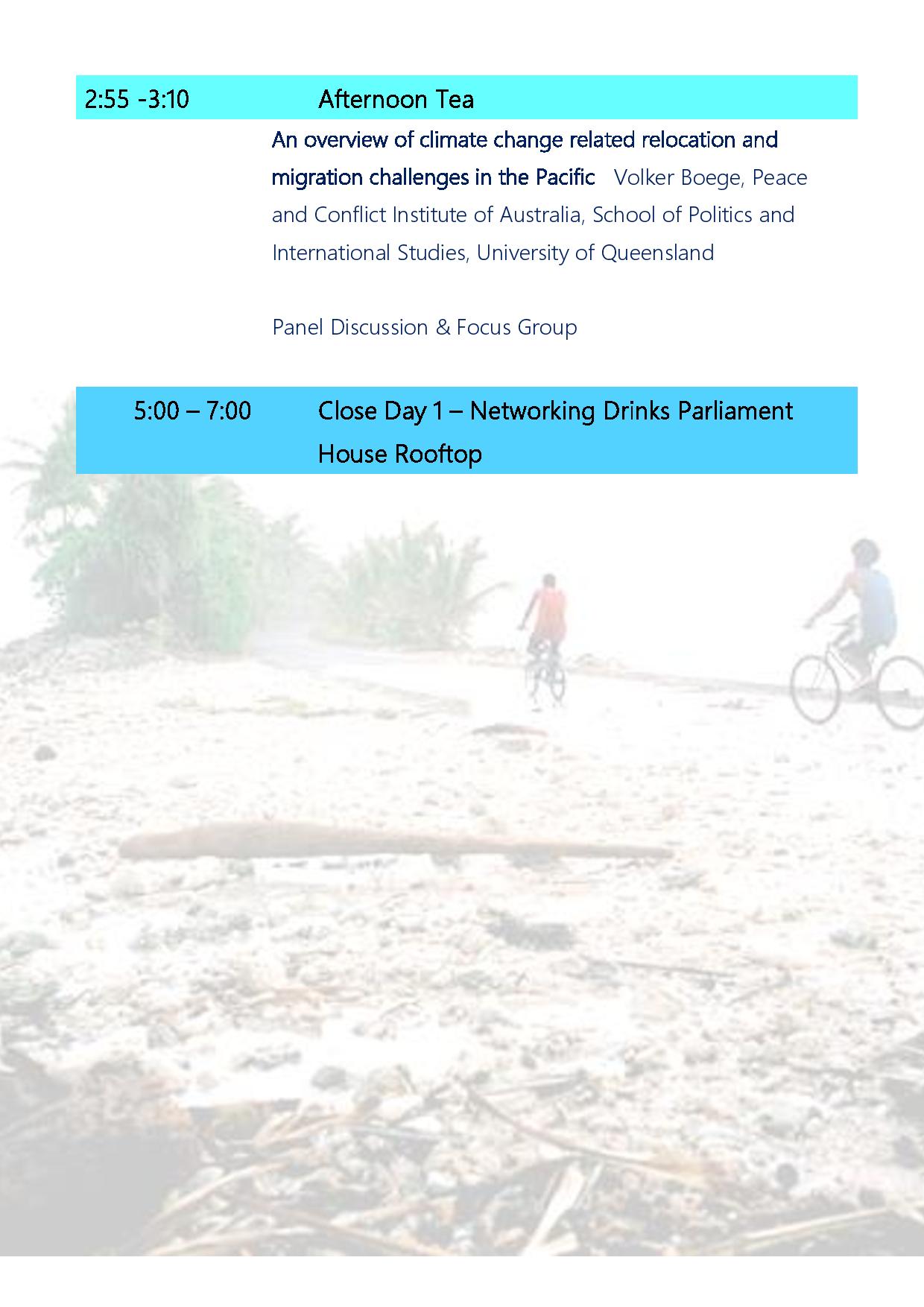 Where do we go: Displacement and relocation challenges of climate change for communities in the Pacific Islands Region.
This event is organized by community organizations keen to highlight and generate effective dialogue and responses to the issues highlighted in the event title.
Information about the impacts of human induced climate change and some of its irreversible dynamics reaches us on an almost daily basis. Some of it focuses on the most vulnerable regions of planet Earth and the human communities who live there. Among these are the Small Island Developing States (SIDS), including those in the Pacific Islands region. In such contexts, climate change weaves a sense of uncertainty and insecurity into many aspects of everyday life. Whole communities have already had to face the challenge of moving to a safer location and adapting to the lifestyle changes involved. Governments and civil society organisations in the region have constantly increased their efforts to bring Pacific voices into international forums and advocate for the action needed to avoid a catastrophic future for their peoples. As a Pacific neighbour and member of regional institutions, as well as home to significant Pacific diaspora communities, Australia needs to review its role and responsibility.
The forum focuses on:
· The Pacific Regional View in a Global Context; and
· Displacement, Relocation and Migration
What does this look like for the Peoples of the Pacific and the Torres Strait Islands when our homes can no longer be our homes because of the impact of climate change? WHERE DO WE GO?
There will be presentations and conversations around
· Scientific updates on climate change, particularly as relevant to the Pacific Islands
· Overview of major Pacific climate change issues by experience & knowledgeable regional advocates
· Case studies of displacement & relocation & the challenges involved
· Consideration of Australia's role and responsibilities as a Pacific neighbour.
SPEAKERS INCLUDE:
Keynote Address: Rev. Tafue Lusama, General Secretary, Congregational Christian Church of Tuvalu

Torres Strait Regional Authority - Displacement & Relocation challenges

Patrick Nunn, Professor of Geography, University of the Sunshine Coast

Manasa Katonivualiku, Regional Adviser UNESCAP

Genevieve Jiva, Pacific Islands Climate Action Network

Martin de Jong, Advocacy & Research Advisor, Caritas Aotearoa/New Zealand

Ursula Rakova, Director of Tulele Peisa, Bougainville, PNG

Amelia Ma'afu, Project officer, Caritas Tonga

John Grogan, PhD Candidate University of Sunshine Coast

Volker Boege, School of Politics and International Studies, UQ
Program on this day includes Pacific Islands Cultural Performance by communities affected by Climate Change, Morning Tea, Luch and Afternoon Tea and networking drinks after the conference ends.