Event Information
Location
Darwin Convention Centre
10 Stokes Hill Road
Darwin City, NT 0800
Australia
Description
Celebrate Your Way!
Australia Day is a day for all Australians. No matter where our personal stories began. It's a day to reflect on what it means to be Australian, to celebrate contemporary Australia and to acknowledge our history.
Held in the morning of Australia Day, 26 January at the Darwin Waterfront, OZ RUN is the Territory's largest running event attracting over 4,000 people who participate in a 3 or 5km walk/run. We encourage everyone to celebrate our national day by dressing up and embracing the spirit of Australia
This is a free event, we do ask that you make a gold coin donation on the day to support the small not for profit organisations that help make this event happen.
All online entries received by 4.00pm Friday 25 January 2019 go in the draw to win two Airnorth return airfares from Darwin to Townsville.
Darwin Convention Centre
6:15am - Zumba warm up
6:45am - Take your place
7:00am - Ready, set go!
Darwin Waterfront
7:40am - Fun Run presentation
Course Map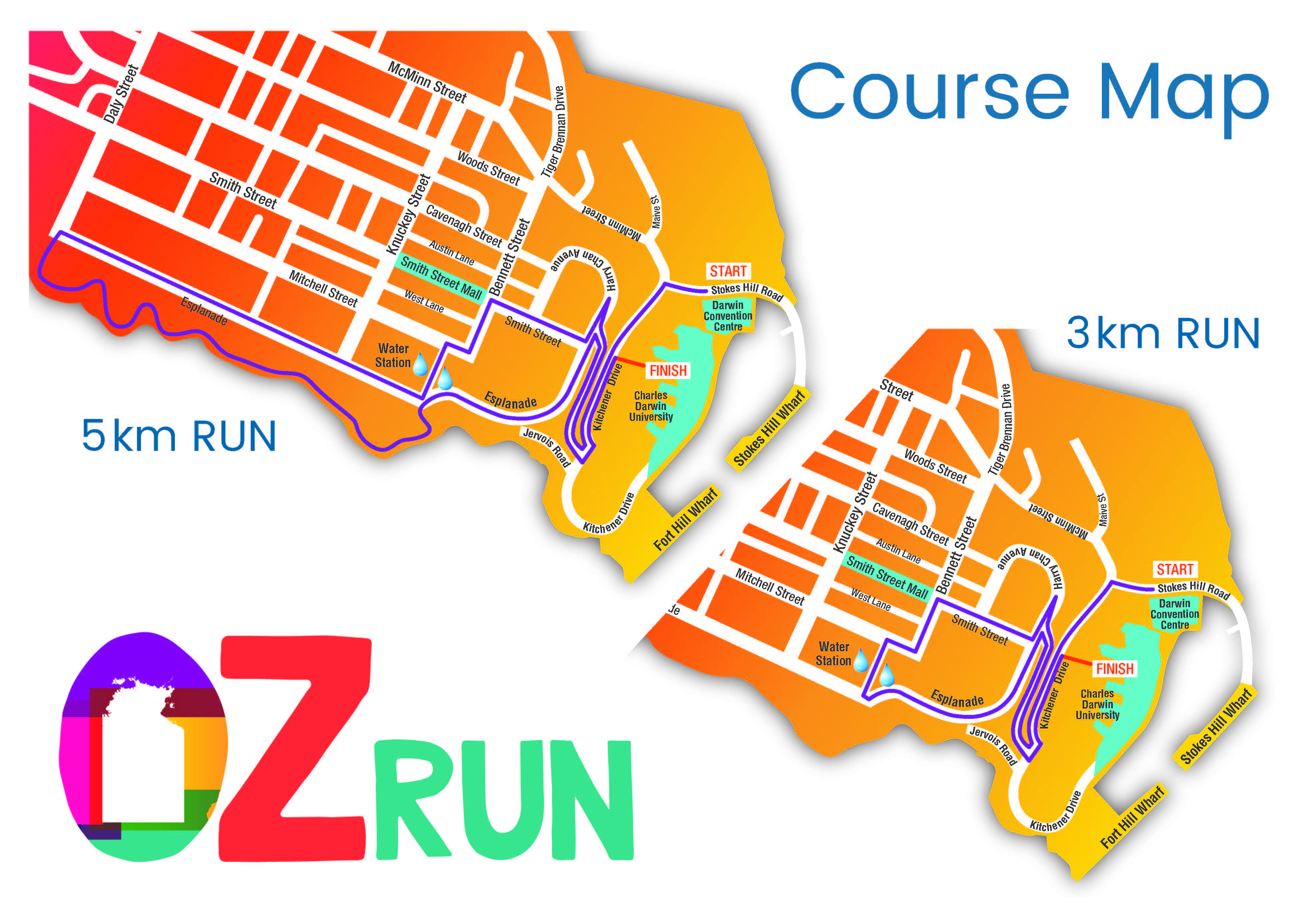 By registering you agree to the following as conditions of participating in the Oz Run
I acknowledge that: I participate in the Event at my own risk. I will take all reasonable measures to protect myself from the risks of participation. I accept all responsibility for travel and medical insurance and for payment and/or reimbursement of medical/surgical expenses incurred on my behalf.

I am responsible for all property I bring to the Event sites and that the Australia Day Council accepts no responsibility for any loss or damage to this property.

I consent to the conduct of identity verification checks, background security checks and any other security checks (which may include inspecting my personal property) prior to my entry to and departure from any Events sites.

I undertake to comply with all applicable regulations, by laws and rules of the Australian Sports Anti Doping Agency (ASADA) and Athletics Australia (AA) in relation to the Event and will comply with all reasonable directions and decisions of the officials, and other representatives of ASDA and AA and Athletics NT.

I release The Australia Day Council (and their directors, officers, employees, volunteers, contractors, sponsors and / or agents) from any claim and from any liability (to the extent permitted by law) for or as a result of any loss, injury or damage suffered by me in relation to my attendance and participation at the Event, how so ever caused, including any claim or liability which arises due to any negligence of The Australia Day Council (and / or their directors, officers, employees, volunteers, contractors, sponsors and / or agents).

I consent to the publication and/or use in any form of media whatsoever of my name, race result, image, voice, statement or otherwise, including the publication of my name and/or event result and applicable age bracket in /or marketing materials/website without payment or compensation.

To the best of my knowledge, I am not suffering from a condition which would prevent and/or render me unfit to participate in the Event.

For Aboriginal and Torres Strait Islander people I understand that images of Aboriginal and Torres Strait Islanders may appear in the above-mentioned forms of media including printed and electronic materials for several years. And, if I am an Aboriginal Torres Strait Islander, Northern Territory Athletics will take reasonable steps to prevent images from appearing on material published after my death. However, I understand and agree that, despite those efforts, the images may still be published
By entering this event, you consent to your personal information being provided to Athletics Australia Ltd and Athletics NT for the purpose of registering you as a recreational running member of Athletics NT and for administering the Running Australia program. You further consent to receiving information (including via email) about the Running Australia program including details of other events and special offers or promotions. Please email us: events@adcnt.org.au if you DO NOT consent to your personal information being disclosed.
Date and time
Location
Darwin Convention Centre
10 Stokes Hill Road
Darwin City, NT 0800
Australia