Description
Summary
One Day

Fully Catered (Including coffee and lunch!!)

Industry-leading Presenters

Practical workshops (Bring your laptop)

Only $39 (Get in quick! Limited tickets available)
Where
511 Church Street Richmond VIC 3121 (https://goo.gl/maps/qoNBrTq7HvE2)
When
9am - 6pm - Sat, 17 September, 2016
Description
OWASP Melbourne is a not-for-profit community event with a focus on application security. We cover a wide range of application security topics and cater to beginners and advanced members alike. Our topics are designed for people in the technology industry. Developers, devops engineers, testers, security advisors and penetration testers.
All events run by OWASP Melbourne are aimed at providing relevant, practical and applicable knowledge that will help your develop a more secure and robust software.
AppSec Day is our first mini conference held on the 17th of September, 2016. Run by security professionals, our goal is to spread application security knowledge through talks and workshops.
AppSec Day will be providing a welcoming environment for new members of the community to meet other, like minded people, passionate about application security. You don't have to be a leet hacker to come along!
Note: Unfortunately this is an 18+ event.
Agenda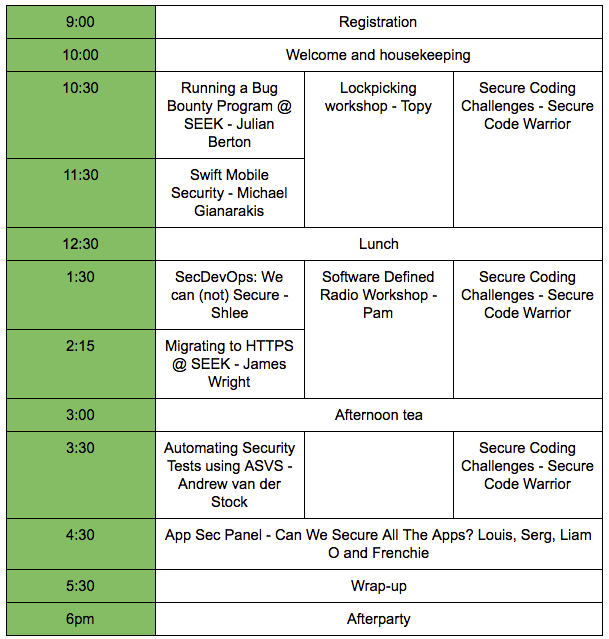 Talks
Reverse Engineering Swift Mobile Applications - Michael Gianarakis
Since it's introduction at WWDC in 2014 Swift has progressed significantly as a language and has seen increased adoption by iOS and OSX developers. Despite this, information pertaining to reverse engineering Swift applications is sparse and not openly discussed. This talk will dive into the Swift language and explore reverse engineering Swift apps from a security perspective. Topics that will be covered include quick intro to Swift from a pen testers perspective, various methods for obtaining class information from Swift binaries, Objective-C/Swift bridging, Swift runtime manipulation and function hooking.
Michael Gianarakis (@mgianarakis) is the Director of Trustwave SpiderLabs' Asia Pacific practice where he oversees the delivery of technical security services in the region. Michael has presented at various industry events and meetups in the region including, Black Hat Asia, Rootcon, CrikeyCon, YOW! and WAHCkon. Michael is also actively involved int the local security community in Australia where he is one of organisers of the monthly SecTalks meetup.
Bringing a large tech company into the 21st century (TLS all the things!) - James Wright
Moving a web app onto HTTPS seems like it would be a relatively easy task, just buy a cert and add it in! However for most large companies with legacy HTTP projects there are lots of moving parts making it a very involved process, assuming you don't want to bring the site down in the process!. This talk will go through techniques, lessons learnt and the benefits from both a tech and security POV of moving SEEK into a HTTPS only world.
James is currently a Delivery Manager at SEEK leading a great cross functional team delivering Company Review for Candidates. Previously he had a focus on leading and supporting teams that want to bring complex technical initiatives to fruition; especially if those projects involve large dependencies and impacts. He has also been a Solution Architect for many years where he brought large-scale change to the technical landscape, but using a more hands-on design-led approach. James has also completed his Masters in Computer Science and has published research in the 4G space.
Running a Bug Bounty Program @ SEEK - Julian Berton
What would happen if we allowed 50 hackers from around the world to hack into our web applications? Is this a crazy idea? We don't think so, as that's exactly what we did and it was a great success! Its called a bug bounty program, and is quite a new concept in the industry but gaining traction as it significantly reduces the cost of performing security testing on websites, increases the quality of bugs identified and provides a way to continuously test web apps! In this talk I will take you through an overview of how the program went, lessons learnt and how this program fits into SEEK's wider application security vision.
Julian (@JulianBerton) is an Application Security Engineer at SEEK and a chapter lead of the OWASP Melbourne chapter where he volunteers his time to organise meetups and run practical security workshops. He also regularly gives application security related presentations aimed to educate developers and the wider security community. A few recent presentations have been at LAST Conf, DDD Melbourne, Infracoders and WAHCKon.
DevSecOps: We can (not) secure - Shlee
Best practices for securing large scale Devops environments. Introducing security earlier in the CICD pipeline.
Shlee (@cybershambles) is an enthusiastic Devops/Security engineer. Takes your Security Seriously. Working for @Versent_AU. GenerOZity Charity Fixer. Duckops engineer at QuackingTeam. Office Dog Enthusiast.
Automating Security Tests using the OWASP Application Security Verification Standard - Andrew van der Stock
If your secure coding checklist only deals with the OWASP Top 10, you're doing it wrong. Let's build security testing into the application itself, to ensure your app is actually secure with every single build. This has a great side effect of basically empty pen test results if the pentesters are testing like it's 1998. In this talk, learn about the OWASP Application Security Verification Standard, and how you can use it to write automated unit and integration tests to verify the security of your application with each and every build.
This talk will interest developers, QA testers, and advanced pen testers who write security tests rather than run tools. Take your application security to the next level. Andrew will try to anger the demo gods in this talk, so come with popcorn.
Andrew (@vanderaj) is a long time OWASP member, project lead of the OWASP Developer Guide 2.0, OWASP Top 10 2007, and current project lead of the Application Security Verification Standard. He is on the Global Board of Directors, in the treasurer position.
Application Security Panel - Can We Secure All The Code?
Frenchie - MC
Louis Nyffenegger (@PentesterLab) is an experienced and sought-after security consultant where he specialises in web penetration testing. He is a regular guest speaker at local security conferences and has conducted web application security training at multiple conferences. In 2011, Louis started PentesterLab, a company specialising in security training. A free version of some of the PentesterLab exercises are available at https://pentesterlab.com/exercises/. Recently, Louis published Bootcamp, a learning path for getting into penetration testing.
Sergei (@sergicles) has over 10 years of experience in providing Application Security, Information Security and IT services to companies in Australia and internationally. He's recognised within the industry as someone with impeccable reputation, who has helped his clients establish leading strategies around Information Security.
Liam (@liamosaur) is a principal consultant at Assurance, where he has worked as a penetration tester for 4 years. Prior to that he worked in various security engineering and programming roles within government. Liam likes his ducks upright, his languages strongly-typed, his commas Oxford, and his protocols regular or context-free.
Practical Workshops
Secure Coding Tournament (Bring your laptop!)
Secure Code Warrior (@SecCodeWarrior) is a suite of hands-on, interactive learning scenarios that enable developers to master secure coding techniques in different development languages and frameworks. It goes beyond the classic multiple choice techniques and offers hands-on challenges where software design and code needs to be analysed for security weaknesses. Once identified, the developer needs to modify the code to remediate or mitigate the weaknesses.
The Art of Breaking (into stuff. buildings, lockers, whatever)
Ever wanted to experiment with picking locks? Or getting out of handcuffs? Well now is your chance! Hosted by Topy @ LoopTech.
An Introduction To Software Defined Radio (Bring your laptop!)
Software Defined Radio (SDR) is a field where previously expensive radio hardware components are now implemented in software. It has become very popular in the last couple of years, mainly due to the re-purposing of DVB USB dongles used for watching digital TV on computers. Now, for less than $15 anyone can listen to the airwaves! We will look around the airwaves and show you how to get to started and what you can see.
Pamela (@pamoshea) is a pentester in Melbourne and runs the Melbourne Software Defined Radio group (@sdr_melbourne).
Getting There
CAR
Although parking is available on the streets surrounding the REA office and at Aceparking (http://www.aceparking.com.au/find-parking/560-church-street-cremorne/). We recommend that delegates travel by train to East Richmond Railway Station and then walk to the REA office (about 5 minutes).
TRAIN
The nearest train station is East Richmond and REA is a 5 minute walk from there.
TRAM
Tram route 70 stops at the East Richmond station (stop 11) and is a 5 minute walk to REA. Also the tram route 78 stops right outside REA (stop 55).
FAQ
Will refreshments be provided?
Yes, delegates will receive lunch and snacks throughout the day.
Will wireless access be available?
Yes, so bring your laptops to compete in the CTF challenge!!
Is EventBrite the only way to pay for a ticket?
Yes - All payments will be via EventBrite. It's vastly easier for us as organisers to only accept payments using EventBrite.
Can I cancel/give my ticket to someone else?
Unfortunately you cannot get a refund on your ticket, however you are welcome to send someone else in your place. Please do this through the Eventbrite system. For help on how to do this refer to: http://help.eventbrite.com/customer/en_us/portal/articles/430100-change-the-info-on-your-order-or-ticket
Sponsors



Code of Conduct
OWASP AppSec Day Code of Conduct came be found here: http://bit.ly/OWASP_Melbourne_code_of_conduct