Join Wintana Kidane and guest speakers Baro Sura, Samira Farah, and Xander Malual in the third of four conversations in the gallery.
About this event
Outside the Box | Conversation 3: Creative Careers
In this conversation, program curator Wintana Kidane and her guests will explore the behind the scenes of creative careers. Featuring Black artists who create, produce, direct and present, the group will discuss how they make waves in their industry and carve out a path for the next generation.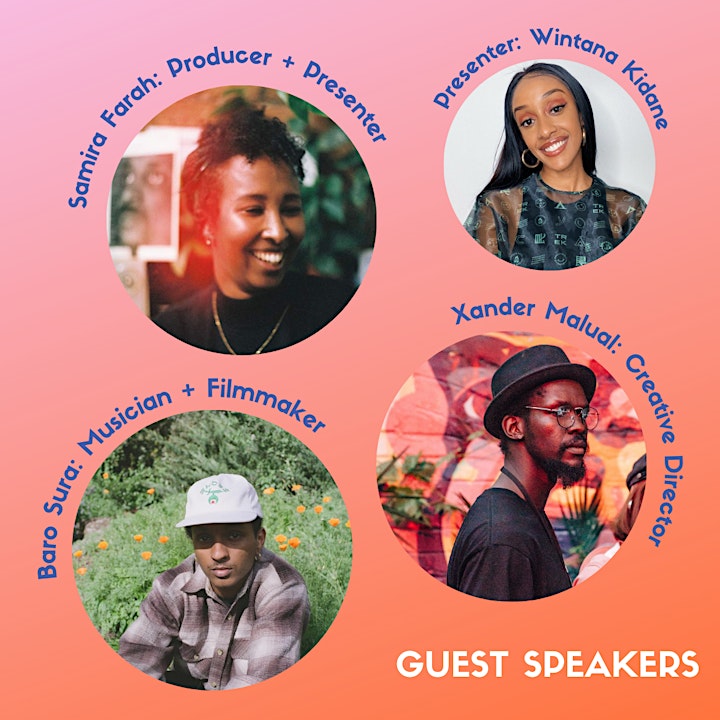 Baro Sura is a musician, director and filmmaker, who has been releasing music for nearly a decade. In 2017 the Melbourne-based creative found a spiritual bond with none other than Mac Miller. This culminated in Baro featuring on Mac's posthumous album of 2020, Circles, playing the drums and singing the hook on 'Hand Me Downs'. The future is bright. His recent collaborations with SILENTJAY are a hazy taste of what's to come, with multiple projects due out later this year.
Samira Farah is an art producer and radio presenter. She is a co-founder of Melbourne based black African arts collective Still Nomads. She currently hosts 'The Score', a radio segment on Triple R radio.
Xander Malual is a multidisciplinary designer, a music enthusiast & a seeker of knowledge. You can find him in the creative field in hopes of connecting people with new people. An equal playing field, righteousness & intentional choices are what drives him. "Less is more & doing more with less more is what I believe (in). Timing is everything & everything takes time."
Wintana Kidane is an African Australia podcaster, presenter and the co-creator of the Bittersweet Podcast. She is Trocadero's Special Programs Curator.
-
Outside the Box explores and celebrates cultural shifts driven by diverse creators in Melbourne. Program curator Wintana Kidane takes us on an intimate journey through the stories of inspirational Black and Indigenous creators, artists and businesspeople. Together, we hold a space for storytelling and conversations that both inspire and challenge our perspectives. These conversations are about identity, ownership, representation and building sustainable communities.
-
In line with COVID-19 state government advice, all gallery visitors are asked to wear a mask, sign in via a QR code, and maintain social distancing. Tickets are limited as COVID density quota rules apply.
-
Trocadero sits on the traditional lands of the Boon Wurrung and Woi Wurrung people of the Kulin Nation. We offer our respects to Elders past, present and emerging, and acknowledge that sovereignty was never ceded. Always was, always will be Aboriginal land.
-
Trocadero Art Space: Suite 1, 1/119 Hopkins Street, Footscray VIC 3011
1/119 Hopkins Street is only accessible via a staircase. Please contact us to discuss any accessibility needs.
-
Trocadero is supported by the City of Maribyrnong
Organiser of Outside the Box | Conversations: Creative Careers
Trocadero Art Space is an artist-run initiative presenting a diverse and experimental program of exhibitions and events. A non-profit art space run by volunteers, Trocadero strives to provide a safe and engaging environment for artists to exhibit in, develop from, and contribute to the Maribyrnong community.