Join Wintana Kidane and guest speakers Sabina McKenna, Sky Thomas and Mariam Koslay in the first of four conversations in the gallery.
About this Event
Outside the Box is a four-part conversation series that explores and celebrates cultural shifts driven by diverse creators in Melbourne. Trocadero's Special Programs Curator Wintana Kidane will take the audience on an intimate journey through the stories of Black and Indigenous artists, creators and businesspeople.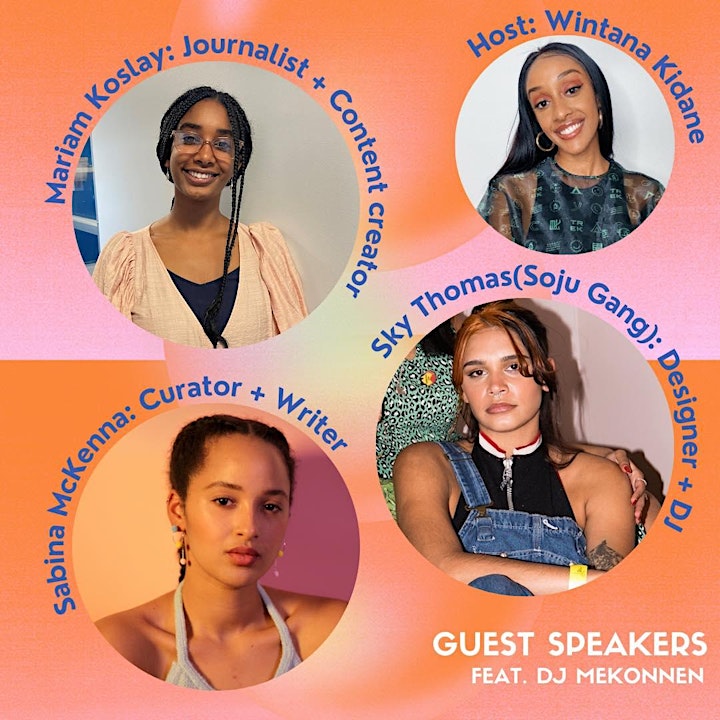 Sabina McKenna is an Australian writer and curator of Nigerian-Irish heritage. She is the creator of The Where Are You From? project, a photojournalistic series about cultural identity. Sabina writes predominantly in interview style and has been featured locally and internationally in publications that include Art Almanac, Broadsheet, Archer, Acclaim, i-D, G-IRL (London), Ladies of Leisure, Catalogue Magazine, and Hopes and Fears (NYC). Her diverse creative portfolio explores themes of identity and belonging, and she is involved in a range of creative initiatives.
Sky Thomas, better known as Soju Gang, is a multi-disciplinary creative from Naarm (Melbourne) who's been continuously developing herself as a figurehead in the city's nightlife and arts scenes. From 2013, Soju has grown from being a popular promoter and host for some of Melbourne's most live party spots, to a successful dj, projects producer, designer and a strong community advocate.
Mariam Koslay is a former journalist, creative and self-appointed community member based in Melbourne, Australia. She is the creator of the rolling photos series #YourBlacknessisBeautiful and a Communications Manager for Parkville College – a school which operates within Victoria's youth custodial setting. A writer at her core, she believes in the power of storytelling and amplifying the perspectives of people who have- for whatever reason - been forgotten.
-
Outside the Box is a unique opportunity to get to know local creators and connect with the community. Together, we hold a space for storytelling and conversations that both inspire and challenge our perspectives. These conversations are about identity, ownership, representation and building sustainable communities.
-
Trocadero sits on the traditional lands of the Boon Wurrung and Woi Wurrung people of the Kulin Nation. We offer our respects to Elders past, present and emerging, and acknowledge that sovereignty was never ceded. Always was, always will be Aboriginal land.
-
In line with COVID-19 state government advice, all gallery visitors are asked to maintain social distancing, wear a mask, and sign in via a QR code. This event can admit up to 22 visitors under the current COVID density quota rules.
_
Trocadero Art Space: Suite 1, 1/119 Hopkins Street, Footscray VIC 3011
Please note: 1/119 Hopkins Street is only accessible via a staircase. Please contact us to discuss any accessibility needs.
Trocadero is supported by the City of Maribyrnong