About this Event
Jennifer Weller, Leader, Innovator and Business Specialist.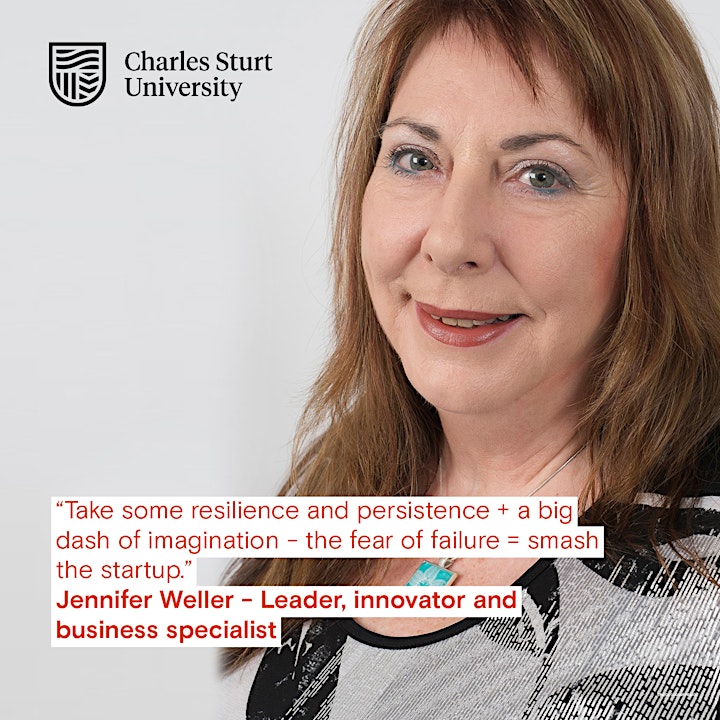 Charles Sturt University Innovation Hubs is proud to present the second Masterclass of four in this series: Smash the startup journey: An ONLINE masterclass series for COEs (Chiefs of Everything).
Join us for Workshop 2 of Smash the Startup Journey: Outside of the Square: Strategic Ideation. Learning to think differently and innovate to smash your business goals, delivered by Leader, Innovator and Business Specialist, Jennifer Weller!
Jennifer is a recognised business and community leader with a powerful network across Australia and a proven record of championing regional development, entrepreneurship, business growth and local employment opportunity.
Outside of the Square: Strategic Ideation. Learning to think differently and innovate to smash your business goals.
Ideation is not just about coming up with ideas, but it is about the process of learning to think in a different way using the principals of Design Lead Thinking and Complex Adaptive Systems, allowing you to solve a wide range of problems across your business.
You may not realise it, but your brain is very effective in making quick decisions by linking together current known information. That works well when you want more of the same but when you need different thinking this process actually stops you from seeing new ideas and associations. To think 'outside the square' as coined by Edward DeBono, you need to use thinking techniques that will take you well outside of your comfort zone: where all the best ideas and solutions come from!
In this workshop we'll:
• Design the ideal user experience for clients and customers
• Look at the systems and processes you need to meet the needs of your clients and your growing business
• Look at how strategic planning is critical to your business
• Look at ways in which the international business space differs from local
• Discuss ways to gain valuable buy-in from your team and ensure your culture is ready for change.
At the end of the workshop, you'll leave with practical ways to:
• Improve your strategic ideation
• Create an awesome customer/client experience
• Think and plan strategically to grow your business
• Plan for the systems and processes your business needs
• Develop a process to manage change.
Register now to secure your spot and get ready to transform! Limited places.
To make this online workshop more convenient for busy folk like you, we are offering a choice of possible start dates with the workshop now broken into three 1.5 hour sessions spread across three weeks.
Choose between the following options (sorry, no mixing of dates is possible):
This project is supported by the Australian Government Department of Industry, Innovation and Science through Incubator Support initiative funding as part of the Entrepreneurs' Programme.