Description
A one-day workshop for primary educators
Join us at this one-day workshop to find out how you can incorporate outdoor learning into your curriculum to provide an authentic and rigorous learning experience.

You will gain a greater understanding of the benefits of outdoor learning as we share our experience of incorporating it throughout the primary years, from Foundation to Year 6. We will provide information, advice and tools to help you overcome barriers and embrace learning in nature
When?
Date: Friday 20 March

Time: 9.00am to 3.30pm

NB: Suitable for able-bodied participants who can comfortably walk 2-5km.
This workshop will provide you with the knowledge, skills and principles that you can apply immediately to your planning and within your classroom.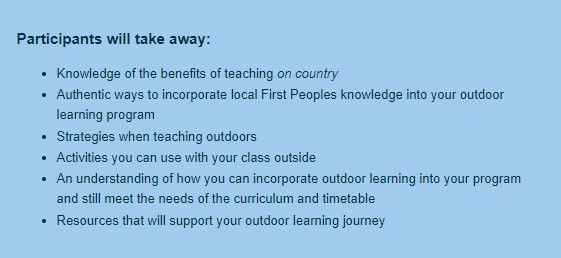 Presented by outstanding educators Sam Millar and Alex Parrington
Sam, a Year 5 teacher, and Alex, a Year 1 teacher, will share their experience of practising outdoor learning in a workshop combining theoretical and practical knowledge.
They are compelling presenters who have published a number of articles, including 'How connecting children to their land provides authentic inquiry learning' on the International Baccalaureate's PYP Teachers' blog; 'Outdoor learning and maths: the She Oak Challenge' in Prime Number, the primary journal of the Mathematical Association of Victoria; 'Risky Maths' in the Royal Society for the Protection of Birds newsletter and 'Dhumba-dha biik; Talk Country' in Remember The Wild blog.