Out of the shadows: the case for investing in women's mental health
Description
Event booked out? Don't miss out... sign up to receive access to the live recording of this special event with Professor Kleinman when it becomes available.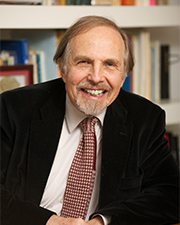 Attend an inspiring public lecture by Professor Arthur Kleinman, internationally renowned leader in global health at Harvard University.
Professor Kleinman will be speaking on 'Out of the shadows: the case for investing in women's mental health'.
Mental health problems cost the global economy USD 1 trillion a year by reducing participation and productivity. Worldwide women experience the highest burden of common mental disorders, including depression and anxiety. Global strategies aim to enable full economic and social participation by keeping women's health and wellbeing at the heart of every nation's sustainable development agenda. Mental health is central to achieving these goals, but there are major gaps in evidence, policy and service provision.
Arthur Kleinman is Professor of Psychiatry and Professor of Medical Anthropology in the Department of Global Health and Social Medicine at Harvard Medical School. He was the Victor and William Fung Director of Harvard University's Asia Center from 2008-2016. Professor Kleinman has made major contributions to global mental health; understandings of social suffering, reforming medical education via the medical humanities and moral experience and caregiving.
In April 2016, due to Professor Kleinman's significant efforts the World Bank Group and the World Health Organisation co-hosted a high level event Out of the Shadows: Making Mental Health a Global Development Priority with the aim of bringing mental health in from the periphery to the centre of the global development agenda.
At this special public lecture in Melbourne, Professor Kleinman will present the case for strengthening action on women's mental health and discuss challenges and innovations in this critical area for Australia and the Asia Pacific Region. For anyone with interests in international development, the economy, global health and women, this is a rare chance to hear insights from a world leader.