What does it mean to be a community-engaged, missional church? How can we make our churches more 'now' and inter-cultural?
About this event
This 3-Day conference is about exploring what it means to be a missional Church in an ever changing world. This is a fantastic weekend for anyone who wants to explore what it means to engage their wider community in Mission.
There will be three talks from world-renowned speakers of the field, and a number of workshops that will inform and instruct on a variety of issues around Mission in our world.
Attendees will have an opportunity to sharpen their understanding of what it means for the church and believers to engage in mission, to join with experts and other colleagues in discussion on how to tackle the challenges that face us today.

Day 1: Friday
Pioneers Gathering (3pm)
Have dinner with Rev Dr Mike Frost and an expert panel of practitioners
Day 2: Saturday
Start the day with Worship
Listen to a keynote session
Engage in workshops - four streams to choose from
Have dinner with Keynote Speaker
Day 3: Sunday
Visit a host church for Sunday morning services
Visit a 'Fresh Expression' project in the afternoon

GUEST SPEAKERS
Prof Dr Sathianathan Clarke
Dr Sathianathan ("Sathi") Clarke is a presbyter of the Church of South India. Dr. Clarke bridges the world between establishment and the marginalized, the global and the local, and academy and the congregation. For several years (1996-2004), he was on the faculty at United Theological College, Bangalore, India. He was also a visiting professor at Harvard Divinity School. For the last twenty years, he has taught and lectured on global Christianity, contextual theology, postcolonial mission, and interreligious dialogue in India, U.S.A., United Kingdom, Germany, Sri Lanka, Korea, South Africa, and Liberia.
Rev Dr Karina Kreminski
Rev Dr Karina Kreminski has worked in the fields of English teaching and journalism. She has been a Senior Minister in the Church and was Missiology Lecturer at Morling College in Sydney. Karina has a doctorate in missional formation and writes and blogs about spirituality, mission and theology. She has also been on various denominational boards and vision committees. She loves forming people for leadership and speaks regularly at churches and conferences on neighbourhood and community mission and activism.
Rev Dr Michael Frost
Michael Frost is an internationally recognised Australian missiologist and one of the leading voices in the missional church movement. Since 1999, Dr Frost has been the founding director of the Tinsley Institute, a mission study centre located at Morling College in Sydney, Australia. He has also been an adjunct lecturer at various seminaries the United States. He is the author or editor of nineteen theological books, the best known of which are the popular and award-winning, The Shaping of Things to Come (2003), Exiles (2006), The Road to Missional (2011) and Surprise the World! (2016). Frost's work has been translated into German, Korean, Swedish, Portuguese and Spanish.

Cost:
Friday Night only - $50
Saturday & Sunday only - $50
Whole Weekend - $90
Location:
Centre For Ministry
16 Masons Drive
North Parramatta NSW 2151
* Some sessions will be available by Zoom - check the program for details
More Information
Please click on the link below to the UME website:
Registration Difficulties?
If you experience any difficulty registering, please contact -
UME Admin | umeinfo@nswact.uca.org.au | 02 8838 8946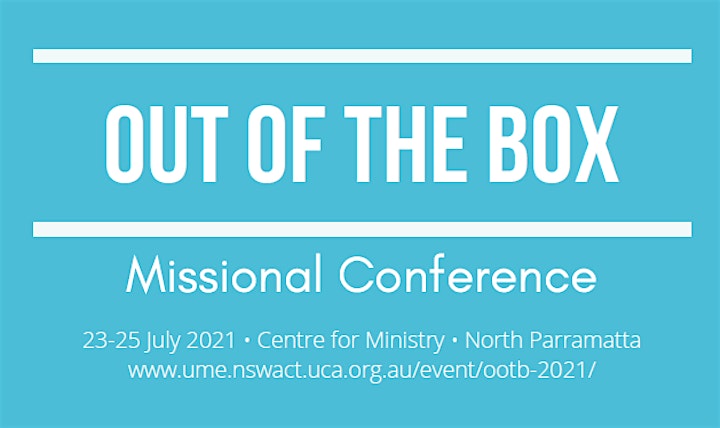 Organiser of Out of the Box Missional Conference
Uniting Mission and Education is an arm of the Uniting Church in Australia, NSW & ACT Synod.
UME staff assist the Church to provide: education, theological insight, strategy, research and resources for: leadership, discipleship, ministry and mission, to serve Christ who rules and renews the Church and seeks the reconciliation of creation.
General Inquiries -
Ph: 02 8838 8900
E-mail: umeinfo@nswact.uca.org.au