Event Information
Location
The Briars
450 Nepean Highway
Mount Martha, VIC 3934
Australia
Refund policy
Contact the organiser to request a refund.
Eventbrite's fee is nonrefundable.
Our Survival Day 2022 - Reconnection
About this event
We would like to acknowledge and pay our respects to the Traditional Custodians across Australia, extending this acknowledgement to all our stolen children yet to find home, and to all First Nations people across the world. Thank you to all of our ancestors who protected and nurtured the land for us.
Who:
Our Survival Day is brought to you by Our Songlines, a 100% Aboriginal-owned and woman-led organisation that is passionate about making Indigenous culture accessible to First Nations and allies alike, in a supportive, safe environment.
Theme of Our Survival Day 2022:
This year's theme is reconnection: to mob, to ceremony, to song, to dance, to earth, to community, to culture. In alignment with this theme, and the Our Songlines values which are ingrained in protecting and reconnecting to Mother Earth, we are planning to make this event the most sustainable one yet!
Where:
We are honoured to be hosting Our Survival Day at The Briars, Mt Martha on Bunurong land, of the Boon Wurrung Language Group within the Kulin Nation, amongst Indigenous plants, trees, birds, and habitat for wildlife.
What:
With a focus on Indigenous education, cultural entertainment, food and sustainability through the theme of 'Reconnection', Our Survival Day 2022 will have something for everyone to enjoy. It is a culturally safe and environmentally friendly space set amongst the hills of The Briars. You will feel the connection as soon as you walk onto Bunurong land: be welcomed by the trees, the birds, the First Nations musical voices, the smell of Indigenous bush foods, friends enjoying picnics and playing games, cultural workshops, dancing, families of diverse backgrounds and many activities to participate in at your leisure. This is an all-inclusive supportive space, so if you have any requirements you'd like us to accommodate please do not hesitate to reach out to us.
Reconnect to ceremony:
The day will begin with a Welcome to Country and smoking ceremony.
Our Master of Ceremonies for the day will be the incredible Jony Berry. A man of Palawa and Portuguese heritage, Jony was the first Aboriginal person to represent Australia at the Mr World competition, using his platform as a model and performer to advocate for causes close to his heart.
Reconnect to song & dance:
(Our all First Nations line up)
Ganga Giri is a didgeridoo virtuoso and innovator who fuses this ancient instrument with electronic production and vocals.
Miss Hood is an Aboriginal Hip Hop artist who has been in the game for over 12 years now and is all about giving hope and strength to her people.
Jalgany is the new name for the Nola Lauch Band who formed in 2014 on the Mornington Peninsula, writing songs and performing at local venues and festivals.
Chasing Ghosts an Aboriginal led punk rock band.
Caution a writer, poet and hip hop performer.
Reconnect to culture:
Local Aboriginal man Sean from Living Culture will be your guide to the secrets of the Briars, focussing on bush food, medicinal plants and traditional understanding. Limited bookings for sessions available here.
Our Songlines will have fun creative activities for the young ones - and the young at heart.
Reconnect to culture:
Cooee Cafe will be serving authentic Indigenous foods, flavours and dishes alongside regular Australian cuisine.
For all those sweet tooths, Jala Jala Treats have got you covered: an immersion of traditional chocolates mixed with Australian bush food blends.
We will have a free BBQ available for people too.
Reconnect to earth:
We know that everything is interconnected, and with that in mind we will be adopting green initiatives to ensure that this event is a sustainable one.
Our Survival Day vendors, artists, stallholders and workshops will be caring for country by using environmentally responsible packaging, materials, and saying no single use plastics. We will also be planting trees to offset our carbon emissions from the event. You will find bins around the event including composting and recycling - with our aim to reduce our waste consumption as much as we can.
We are grateful to be on this land and we hope you will join us in gratitude by respecting the natural environment and leaving the site as clean as when you arrive. We encourage you to bring your reusable items with you including your keep cup, a drink bottle which you can fill up on the day, and of course - a bag to store your goodies purchased on the day supporting Blak businesses.
Reconnect to community:
What would a community event be without getting to take home some deadly cultural creations from some of our favourite entrepreneurs?
Deadly Wears Clothing Brand is the inspiration from two cousins, Hollie and Katherine, with the support from Katherine's partner Jakob. Katherine and Hollie are two proud Gunaikurnai, Monero Ngarigo women who live on Gunaikurnai country.
Salt & Sand Candles are hand-poured soy candles with a crystal infused twist.
Wunyun offers ancient Victorian aroma products that have been passed down from generation to generation. Wunyun also offers a range of cultural healing services.
Our Dilly Bag connects allies directly to Indigenous-owned and led products, events and information.
Jala Jala Treats is a business dedicated to the celebration of Australia's native flavours.
Important Information:
All entries will be subject to check-in and proof of vaccination according to Victorian State Government Requirements.
Our Songlines ensures that all activity selection, supervision and management practices are child safe.
Aboriginal and Torres Strait Islander people will have access to FREE tickets via our ticket link.
Getting to the event/transport:
Free shuttle buses will be collecting people from Nairm Marr Djambana in Frankston, Main Street Mornington and Rosebud Memorial Hall.
Please register for your preferred location, time will be confirmed closer to the date.
Limited free parking is available on site, however we encourage you to ride share with friends and family, bike to the event, catch public transport, or use other alternative transport options to reduce the environmental impact of the day and connect to the country you are on.
How:
The 2021 grassroots and community event was only made possible with the incredible support, donations and sponsorship of many local businesses.
Our Survival Day 2022 is fully funded and organised by the community.
Our planning team are all volunteers, coming together via the collective values they share with each other, and those of Our Songlines.
All funds collected are used to bring this event to life, with all profits going towards the 'Connected Mob Indigenous Youth Mentor Program'.
The '21 grassroots and community event was only made possible with the incredible support, donations and sponsorship of many local businesses, and we can't wait to bring you an even bigger event in 2022!
Our Survival Day is also supported by our allies:
Etch Sparkling, Coastal Cottage Creative, Taskforce, Dopeman and our list keeps growing. Please reach out if you think you would like to contribute!
Contact info / Connect with us:
Contact Person: Michael Stowers
Company: Our Songlines
Phone: 0488 940 924
www.oursurvivalday.com
Winners of the 2021 Reconciliation HART award, Our Survival Day 2022 is an Indigenous-led community event providing a safe and culturally empowering space for First Nations people and their allies to gather on January 26th.
"This day is so important to me, like it was my elders of the past. It is a day of remembering and practicing the oldest living culture in the world. Creating the opportunity for people to experience Indigenous culture in its many forms is the mission of the day and in 2021 we were recognised as being leaders in this space. The Mornington Peninsula has never been a safe place for Aboriginal or Torres Strait Islander people to be on January 26th and I'm glad that our team can start to change and challenge the conversation around this."
- Kayla Cartledge, Founder of Our Songlines
"This event is so important, I love the fact that it's community operated, it's grassroots and it's for our people"
- Mitch Tambo, musician and 2021 headline act.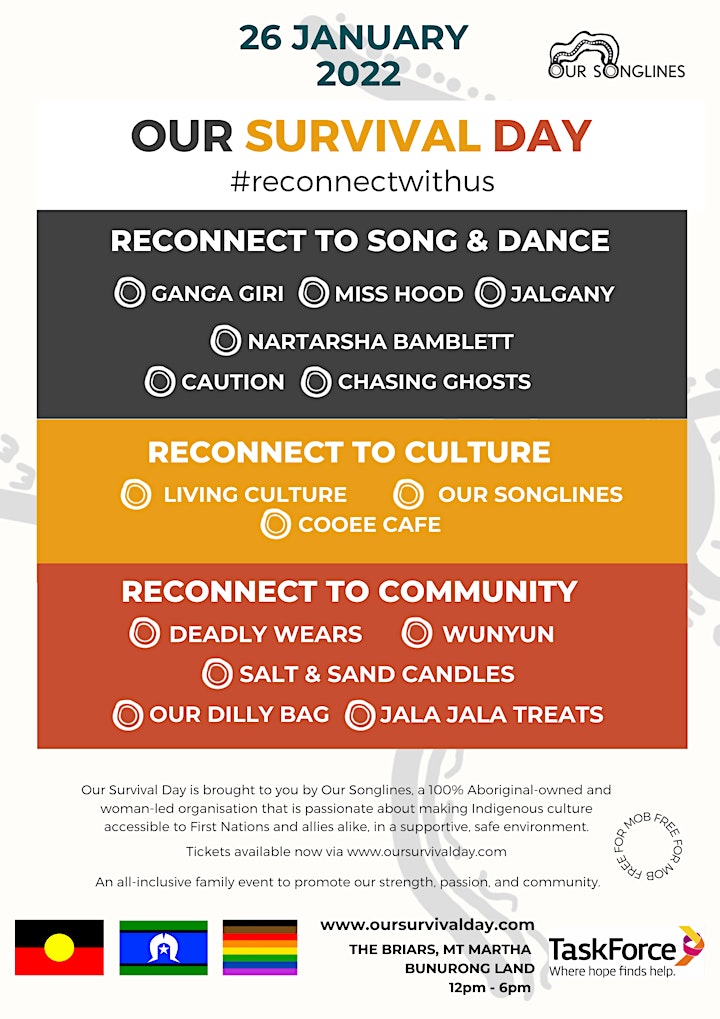 Date and time
Location
The Briars
450 Nepean Highway
Mount Martha, VIC 3934
Australia
Refund policy
Contact the organiser to request a refund.
Eventbrite's fee is nonrefundable.