Join us in this special event to hear about what it takes to succeed as a leader in Organisational Psychology!
About this event
Curious to learn about what it takes to become a leader in the field of Organisational Psychology? Whether you are a current student, have just started your career, or simply just interested in Organisational Psychology, join us to hear more about pathways to leadership within this growing discipline! This event will also be a special opportunity to celebrate our Asian Australian talent, and will provide you with the opportunity to hear from some notable leaders in the field.
The event will consist of a panel discussion followed by a networking session in break-out rooms with each of our panelists:
Part 1: Panel Discussion
Featuring three leading Asian Australian psychologists within the field of Organisational Psychology, our panelists will discuss their experiences with relevance to their unique pathways to leadership. With combined expertise across a diverse range of industries, our panelists will draw upon their personal experiences to share the poignant lessons they have learned in their careers to date, and how these lessons have shaped who they are as a leader.
Part 2: Networking Sessions
Following the panel discussion, you will have the opportunity to interact more closely with our panelists in smaller break-out rooms. This will also be a wonderful opportunity to network with the rest of the AAOP community, and learn more about what we do as a society. So bring along your burning questions to ask our panelists and the team, and join the conversation!
How to register:
You will need to register for a ticket via Eventbrite to attend this event. Please also complete the pre-event survey (https://forms.gle/kGez75wekyy4g3w46) prior to the event, in order to let us know what questions and/or topics you would like to hear about from our panelists.
We look forward to welcoming you to the event!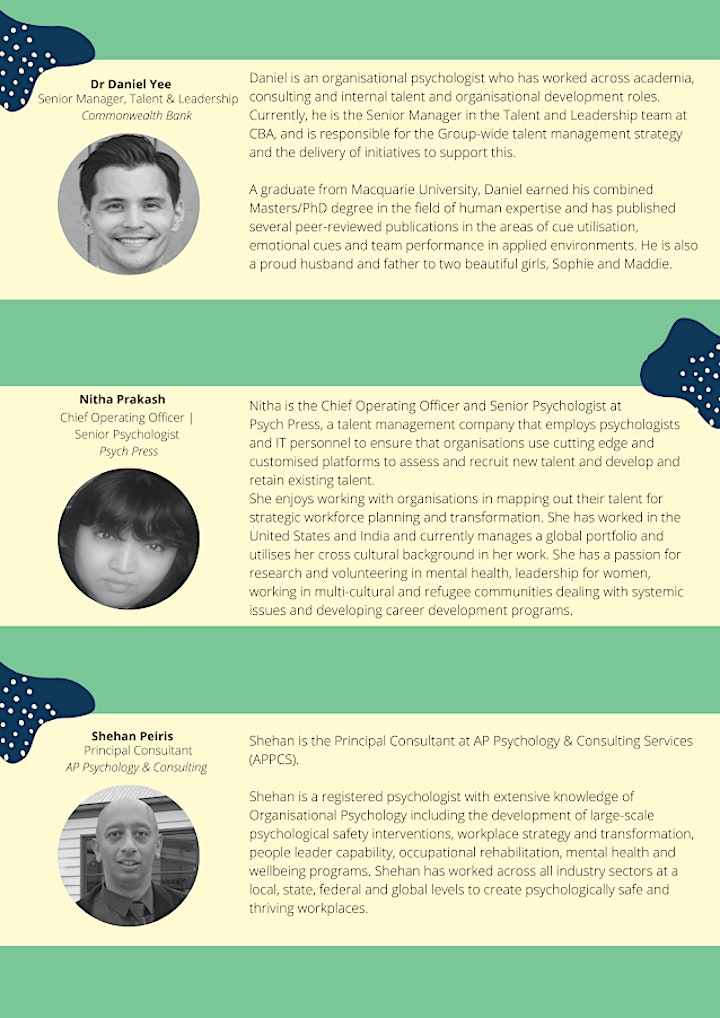 AAOP is a not-for-profit organisation run by a group of passionate psychologists. We nurture the next generation in the industry for a healthier and higher performing Asian-Australian community. Check out our website and/or follow us on LinkedIn to stay tuned for more upcoming events!