About this Event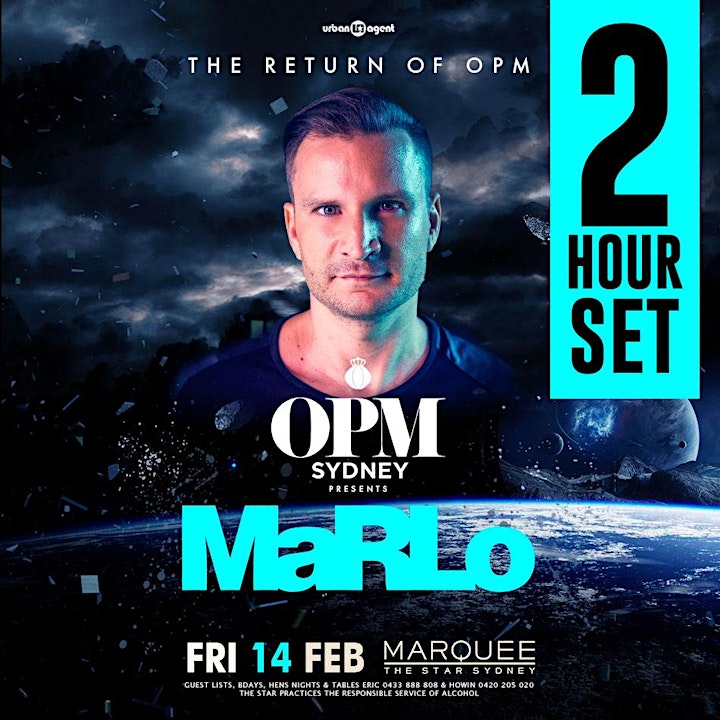 Singled out? On the fence? Struck by Cupid? We literally do not care, we just wanna party. 💘
OPM Sydney presents MaRLo, ranked the #1 DJ in Australia by ITM and #49 in the world by DJ Mag. MaRLo is renowned for spine-tingling live performances and awe-inspiring production.
▬▬▬ ♚ ✧ 𝗧𝗜𝗖𝗞𝗘𝗧𝗦 ✧ ♚ ▬▬▬
We highly recommend getting online tickets for this event to 𝘀𝗸𝗶𝗽 𝘁𝗵𝗲 𝗾𝘂𝗲𝘂𝗲𝘀 𝗮𝗻𝗱 𝗴𝘂𝗮𝗿𝗮𝗻𝘁𝗲𝗲 𝗲𝗻𝘁𝗿𝘆 – grab yours now ➜ http://bit.ly/valentinesdaywithmarlo
▬▬▬ ♚ ✧ 𝗦𝗣𝗘𝗖𝗜𝗔𝗟 𝗚𝗨𝗘𝗦𝗧 𝗗𝗝 ✧ ♚ ▬▬▬
Australia's number 1 DJ, MaRLo has become synonymous with a sound and a feeling that has electrified crowds worldwide. Dutch-born and Australian raised, the globally in-demand DJ and producer has constantly evolved his own "MaRLo sound", cementing his reputation as a genuine musical powerhouse. As well as his number 1 ranking in Australia's Inthemix voting competition, He was also ranked #49 in the DJ Mag 2016 poll.
Over the last few years MaRLo has really stepped it up a notch, He started his own concert style events named "Altitude" which have sold out in all 9 cities he has brought the shows to. Every year around 15000 people attend the Altitude events, and plans are in the works to expand them to bigger venues and in more cities around the globe. In combination with the massively popular events, He also launched his own label "Reaching Altitude", a sub label of the legendary Armada Music, and is dedicated to recognising and nurturing the next generation of talent.
For a superstar who has done it all, the future holds the most excitement and it's that drive to always progress that has made MaRLo a global name. He has one of the busiest touring schedules of any artist, playing extensively throughout the world at events likeTomorrowland , A State Of Trance, Ultra Music Festival, EDC, Creamfields, Transmission, Waterzonic, Springwave, Summersonic, Electronic Family and Beyond Wonderland.
▬▬▬ ♚ ✧ 𝗩𝗜𝗣 𝗕𝗢𝗢𝗧𝗛 𝗣𝗔𝗖𝗞𝗔𝗚𝗘𝗦 & 𝗕𝗢𝗧𝗧𝗟𝗘 𝗦𝗘𝗥𝗩𝗜𝗖𝗘𝗦 ✧ ♚ ▬▬▬
▸ Booth Packages
▸ Birthday / Hen Packages
▸ Special Alcohol Packages
▬▬▬ ♚ ✧ 𝗦𝗣𝗘𝗖𝗜𝗔𝗟 𝗗𝗥𝗜𝗡𝗞 𝗢𝗙𝗙𝗘𝗥𝗦 ✧ ♚ ▬▬▬
▸ $10 Basic Spirits
▸ $10 Alize Bleu
▸ $10 Malibu
▸ $10 Vodkas
▸ $10 Gin
▸ $10 Chambord
▸ $10 Frangelico
▬▬▬ ♚ ✧ 𝗦𝗧𝗥𝗜𝗖𝗧 𝗗𝗥𝗘𝗦𝗦 𝗖𝗢𝗗𝗘 & 𝗗𝗢𝗢𝗥 𝗣𝗢𝗟𝗜𝗖𝗬 𝗔𝗣𝗣𝗟𝗜𝗘𝗦 ✧ ♚ ▬▬▬
▸ NO Dirty shoes/runners/thongs
▸ NO Singlets
▸ NO Shorts & Trackies
▸ NO Caps/beanies
▸ NO Mullets hairstyles
▸ NO Man Bag
▸ All Tattoo's must be covered up
▸ Valid Australian ID or Passport Required
** Management reserves all rights to refuse entry.**
▬▬▬ ♚ ✧ 𝗧𝗔𝗕𝗟𝗘𝗦 & 𝗧𝗜𝗖𝗞𝗘𝗧𝗦 𝗘𝗡𝗤𝗨𝗜𝗥𝗜𝗘𝗦 ✧ ♚ ▬▬▬
▸ ERIC: ☎️ 0433 888 808 | ✉️ eric@ua.com.au
▸ HOWIN: ☎️0420 205 020 | ✉️ howin@ua.com.au
▬▬▬ ♚ ✧ 𝗦𝗧𝗔𝗬 𝗖𝗢𝗡𝗡𝗘𝗖𝗧𝗘𝗗 𝗪𝗜𝗧𝗛 𝗨𝗦 ✧ ♚ ▬▬▬
▸ Instagram: OPMSYDNEY
▸ Wechat : Urbanagent
▸ FB : https://www.facebook.com/OpmSydney/
▸ SNAPCHAT : OPM-SYDNEY
♥ Team OPM Sydney