Operations, optics and the Oval Office: National security in challenging ti...
Description
Operations, optics and the Oval Office: National security in challenging times
The role of intelligence in supporting strategy and policy is an issue of ongoing interest and debate.
In the United States, the often challenging relationship between the national security community and the Trump administration has been a focus of public attention. The recent US mid-term elections will see a majority Democrat Congress from 2019, with potential consequences for the investigation into Russia's involvement in the 2016 Presidential election, as well as national security policy making in the US.
In this seminar, Nick Rasmussen, will explore the relationship between the US national security community and the political administration, including the national security implications of the change in the balance of power in the US Congress. He will discuss the role of national security in supporting strategy and policy, with a particular focus on his experience in counterterrorism, including the global fight against ISIS and the operation to find Osama bin Laden.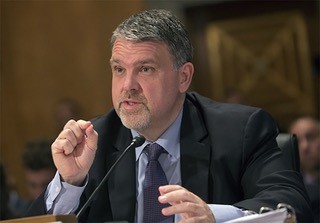 Nicholas Rasmussen, the Vice-Chancellor's Distinguished Visiting Fellow and former Director of the US National Counterterrorism Center (2014-17), and Senior Director of the McCain Institute's Counterterrorism Program and, is a national security expert with over 27 years in US government service. Rasmussen served in the US Intelligence Community from 2001 to 2017, most recently as Director of the National Counterterrorism Center (NCTC) from 2014 to 2017. Rasmussen served in senior national security appointments under Presidents Bush, Obama and Trump.

While serving as the Special Assistant to President Obama and Senior Director for Counterterrorism, Rasmussen led the development of US counterterrorism policy and strategy, including supporting policy deliberations leading up to the US military raid against Osama bin Laden.
Image by Shealah Craighead